27 Coldharbour, Docklands, London E14 9NS
Telephone: 020 7515 5222
Website: Click Here
We have visited a couple of The Gun's sister venues (have a look at our Sunday lunch reviews of The Jugged Hare and Chiswell Street Dining Rooms), and each received our top rated awards.  So, when I had the opportunity to arrange a Sunday lunch in East London, there was no contest – a table for 6 + high chair was booked.
Parking was a bit difficult, the road outside was very busy (but, we managed to find a space).  We were having lunch with family, they parked about 5-10 minutes walk away.  Outside, the sign had a huge bullet hole through it making me feel this was a place that was a bit playful :-)
We were met immediately upon entering the pub.  JW needed changing, so we got to see (and use) the baby changing facilities straight away!  I had a look around The Gun:  an amazing view of the river and also the O2 from the terrace (which is RIGHT ON THE RIVER!), a few cubbyhole areas with blazing fires, this was definitely an interesting and welcoming place.
We were shown to our table in the main restaurant area.  The table was laid out with glasses and cutlery, menus given to us and specials were on the board.  A large wine selection was available (a couple were ordered for the table).  To keep this review length short (ish), I decided to just focus on Claire's and my choices.
Claire ordered the Watercress Soup and ordered the Pork Belly for main course.  After looking over the menu, I ordered the Chicken Terrine with the Roast Beef to follow.  Bread was brought around whilst we waited (which was amazing!  I ended up having 3 slices – and butter was on small slate plates, none of this oil and vinegar malarkey).
Our starters came out quickly, the chicken terrine looked elegant and colourful.  They theatrically served Claire's soup – the dish came out with  the crab crouton and dollops of pea puree, they then poured the soup over with a small saucepan.  Very impressive, made us all "ooohhhh".
Tucking in to my starter, I was really pleased with my choice.  I had a poor experience with a terrine previously (see Sunday lunch at The Dirty Habit), so I was hoping this would be better.  And it was!  Thick chunks of chicken with a creamy base, (I believe) parma ham wrapped around the edge of the terrine, the fruit "dollops" gave a nice twang, and there was more bread for me to devour!
Claire was very happy with her choice too – fresh flavours and very enjoyable.
Moving on to our main courses.  Presentation was once again very high quality – meat on the side of the plate, then roast potatoes, carrots and lastly green beans laid across the Yorkshire pudding.  The meat was topped with gravy.  Claire's pork belly had apple sauce on top too.
My meat was excellent – very tasty and cooked how I like it (medium-rare, burnt on the outside).  I tried some of the pork belly – wow!  Very tender meat with excellent crackling on the outside.  Superb!
The roast potatoes were excellent, crispy and fluffy with a nice flavour.  I would have preferred some more vegetables, just carrots and green beans wasn't enough – mind you, The Jugged Hare served carrots and sliced cabbage with the meal costing a similar price, so I shouldn't mark them down for this.
The Yorkshire pudding was wonderful.  Only other thing was the gravy / jus – extremely flavoursome and rich, I asked for more as I only had some over my meat (a Sunday roast is notoriously dry without enough gravy).  This was promptly brought over without any fuss, and in a nice jug too!
So, after such a nice starter and main course, it would be incredibly rude not to give the desserts a go.  An interesting selection, including rice pudding (seems to be making a comeback, Claire's Mum ordered one in our Sunday lunch review of The Bull Hotel in Wrotham previously).  After a bit of umm-ing and ahh-ing, I ordered the Banoffee Cheesecake.  Someone ordered the ice cream to share, so I thought I'd include the photo of their's below too.  Coffees were also ordered all round.
Desserts were out quickly again – they were impressively presented!  The rum ice cream was on biscuit crumbs, meringues were dotted around the plate and the cheesecake was on toffee sauce.  It was absolutely delicious, one of the best desserts I have ever had, and would definitely order again!
The ice creams consisted of: salted pistachio, rum & ginger and vanilla & apricot.  It was so beautifully served, with (I believe) honeycomb smashed together.  The people were very pleased with the dessert (so much better than the ice creams ordered by Claire at The Kits Coty).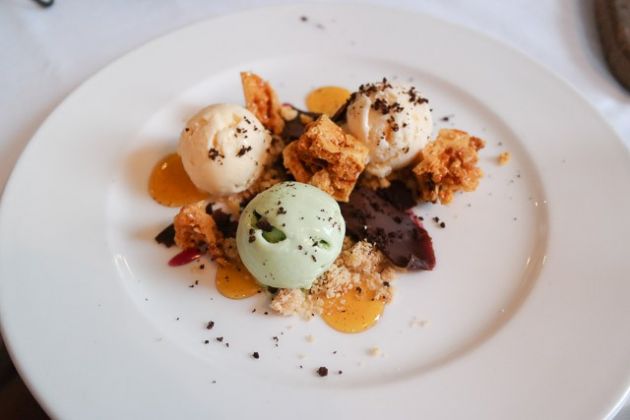 After desserts came coffee – and petit fours! A great addition to the meal and something we all enjoyed!
So, on to my conclusion. The service here was really good, they were kind and accommodating with John William (friendly and didn't make us feel uncomfortable – they even looked after the pushchair for us and brought it back ready for us to leave). The food quality and presentation was excellent – our starters were fresh and colourful (the performance with Claire's soup was a welcome surprise), and the Sunday lunch was fantastic. As mentioned, I would have liked some extra vegetables, but the ones served were fresh and cooked nicely. The pork belly was wonderful, especially the crackling. Lastly, the desserts – amazing!  The venue itself was a cross between a smart gastro-pub and, with the cosy chairs and blazing fires, a country inn. The terrace offered unadulterated views across the Thames.
Overall, I think it's plain to see we thoroughly enjoyed our Sunday lunch at The Gun in Docklands. Suitable for everyone, from family celebrations to romantic meals. A Top Rated lunch, and on par with the other roasts at Chiswell Street Dining Rooms and The Jugged Hare.
John
Rating: 
Share the love of a Sunday lunch!