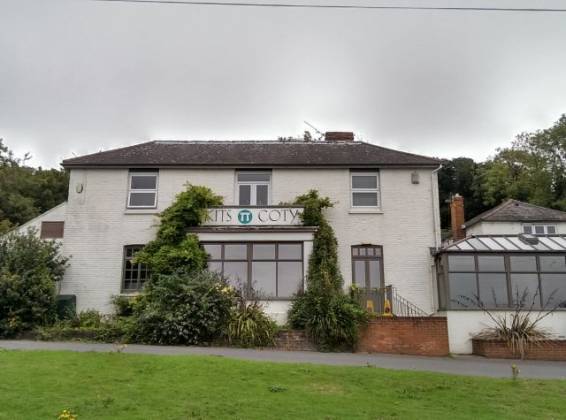 Old Chatham Hill, Bluebell Hill, Aylesford, Kent ME20 7EZ
Telephone: 01634 684445
Website: Click Here
Cost for a Sunday lunch: 2 courses – £16.50, 3 courses – £19.50
We were visiting family in Rochester. I searched online and found Kits Coty, which is just behind Bluebell Hill, and the Sunday roast sounded good. One quick call and we were booked in for 12:30 that day.
In preparing for the drive, I needed the postcode for my GPS – I couldn't find it anywhere on the website. They had a helpful map and instructions, but I'm from the new school of driving and need postcodes! So, if you are going to visit, make sure you grab it from the address at the top of this review :-)
Anyway, it was fairly easy to get to, with a quick turn off the A229, then up and over a couple of road junctions. The car park was on the left, Kits Coty on the right hand side. A fun, old fashioned street lamp with one bar missing was in the car park (homage to The Magicians Nephew / The Lion, The Witch and The Wardrobe books perhaps?).  It was also very "green" with trees and grass, making me feel like we were in the middle of the countryside!
One thing to note immediately, this wasn't the place for disabled visitors. Quite steep stairs on one side, and steps up to another door (they may possibly have another entrance for disabled access, but we didn't see one). This meant it was a bit of a struggle to get the pushchair up but we managed it. With a barbecue and patio seating area outside, this would be a good place to visit in the summer.
Through the doors, we entered the bar area, with comfy seating. We were met straight away and shown to our table in the conservatory type area (down some more stairs). They kindly put us in the corner on a large table to make it easier to look after John William.  We took the offer of a high chair, and I was pleased to note it was very clean (freshly wiped).
Menus were given and a drinks order was taken (a pint of Peroni for me at £3.60, a soda water for Claire at £0.50).
For lunch, we decided to share an Italian Cured Meat Selection, and we each chose Roast Beef for our Sunday lunch. Dessert order was to follow ;-)
Now, on to the venue description. Walls were painted a light grey /cream colour.  Our table was ready laid out and where we were sitting was light.  We had large windows over looking the car park and one of the very best views we have had on a Sunday review (even beating the beautiful sea view of The Pearson Arms in Whitstable!)  We could see right across the valley with the various towns and villages. Amazing!
Our meat platter came out fairly quickly, and looked (and tasted) good! Just enough to whet our appetite for the main course!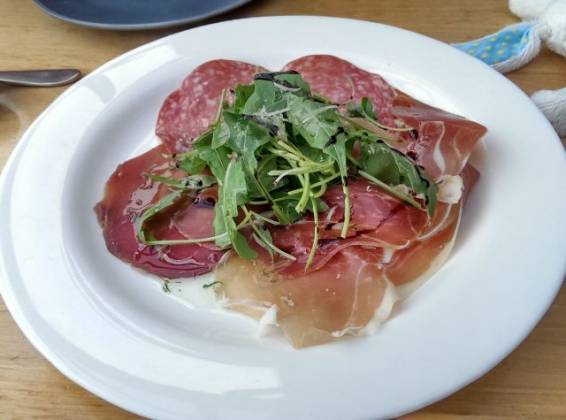 Once that was cleared, we had our main course brought out. It looked great, a few slices of beef, some roast potatoes, Yorkshire pudding and gravy. A large dish was put down with our veg.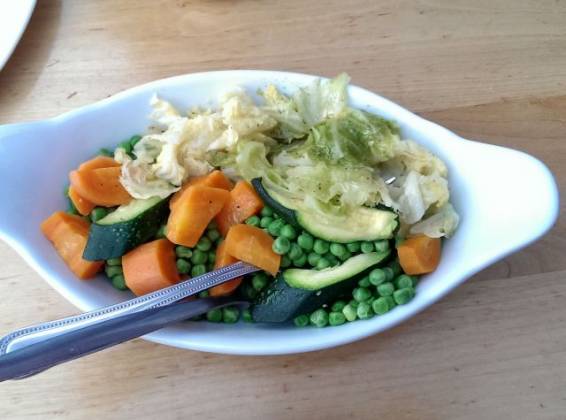 Tucking in, the roast beef was cooked excellently. I asked for mine to be rare, and it certainly was! Very tender, with a nicely seared outside. Claire was very happy with her beef too.
The roast potatoes were superb! A good size, extremely crispy and fluffy inside.  Claire remarked that they were some of the best she has eaten when dining out.
The vegetable selection was nice,  consisting of cabbage, courgettes, carrots and peas. I do not like courgettes at the best of times, but Claire was there to take that bullet, thankfully. The rest of the veg were cooked to my liking, carrots had a slight bite to them, cabbage was nice too.
On to another fantastic aspect of the Sunday roast – the Yorkshire pudding.  It was muffin tin shaped and quite large. It almost had the consistency of pastry when cutting into it, the outside was flaky and WONDERFUL! I have never had a Yorkshire pudding this good before.
So, with our plates completely cleaned, it was on to dessert selections. After a bit of deliberation, I went for the Apple and Berry Crumble,  Claire asked for the Home-Made Ice Cream (vanilla, cherry and honeycomb).
The presentation of each dessert was good, I liked that I had a small jug with my custard.  Also, I  thought that the individual compartments of Claire's ice cream was a nice touch with the different flavours separated.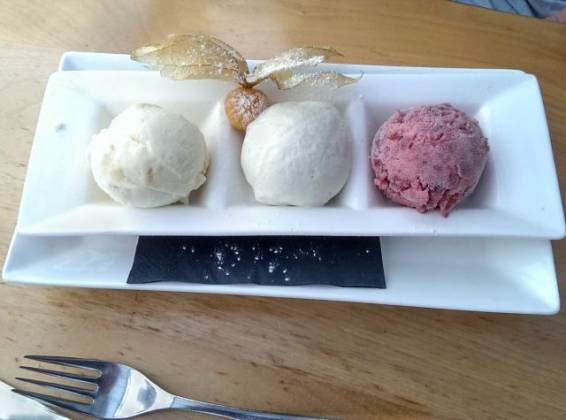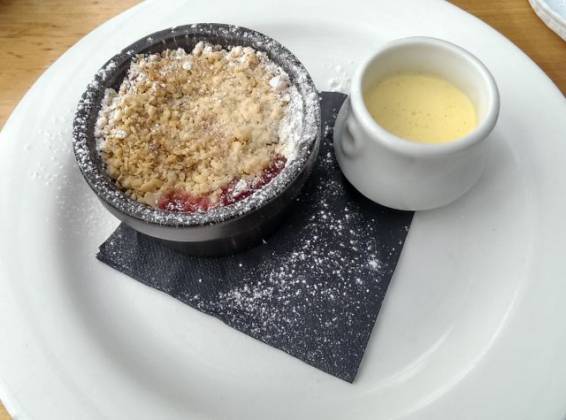 My crumble was very good, hot in temperature and sweet in taste. I would definitely order this again.  Claire was quite disappointed with the ice cream; the cherries were large and difficult to eat (so, cherries IN ice cream rather than cherry ice cream, if that makes sense), and the honeycomb wasn't very strong in taste. The vanilla was good though (I enjoyed all of them, but did agree about the cherry ice cream).
I also ordered a Cappuccino,  which came out with a chocolate :-)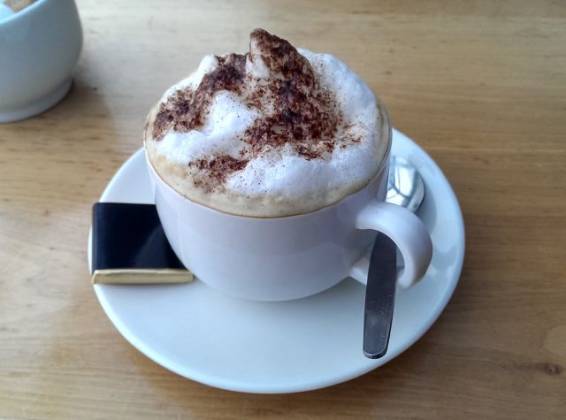 So, how would I sum up my experience? The view at Kits Coty was amazing. The venue was well looked after, being comfortable and with a relaxed atmosphere. The staff were very welcoming, professional and attentive. The food was, on the most part, excellent – especially the roast potatoes and the Yorkshire pudding. I'd give the ice cream a miss though. I felt the menu provided good value, being for £16.50 2 courses and £19.50 for 3. Also, they offer a decent children's menu (which we'll take advantage of in a few years!)
So, without hesitation, Sunday lunch at Kits Coty receive a very deserving Top Rated award.
John
Rating:
Share the love of a Sunday lunch!