9 Coopersale St, Epping, Essex CM16 7QJ
Telephone: 01992 572618
Website: Click Here
Cost for a Sunday lunch: 3 courses – £19.95; Kids Roast inc fruit salad – £5.00
We were visiting some family near Lakeside a few weekends ago, so I decided to try somewhere we hadn't been before – the Theydon Oak near Epping.  Booking was easy, I just gave them a call, they said they can accommodate our dietary requirements (our toddler son is wheat, gluten and dairy free).
When we arrived, the car park was full – we had to park a little way down in front of some houses.  There was a large children's play area on the left of the pub, and a patio / drinking area on the right.  Upon entering, we could tell why the car park was full – it was packed!  We found someone to show us to our table, which was laid out with linen napkins and leather place-mats.
Looking around the room, it was a very traditional country pub with LOTS of brass ornaments and tea pots hanging from the Tudor beams.
Drinks
We ordered a glass of processco for Claire and a blackcurrant and soda for me.
Starters
We were quite ravenous so decided to order a starter.  The menu was very (1970's) traditional – Claire ordered the Prawn Cocktail, I asked for the pate.  We asked for JW's main to come with our starter.  Claire's prawn cocktail didn't come with any sauce.  My pate was ok, a large slice with a few small slices of toast – nice enough.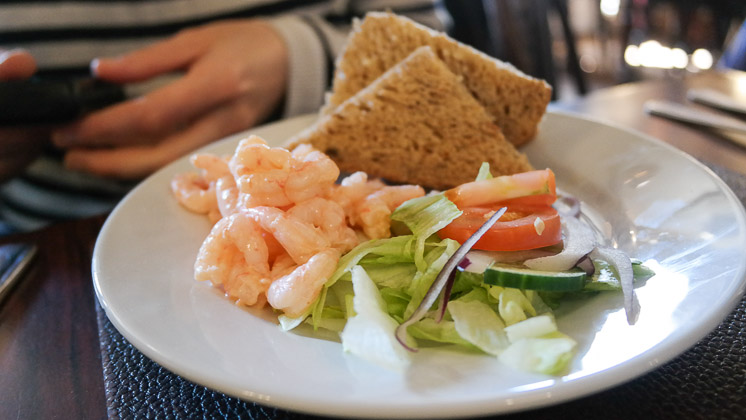 Sunday lunch
We ordered JW a roast beef, which was very tender and came with carrots, roast potatoes, red cabbage, broccoli and (thankfully) gluten/dairy free gravy.  I ordered a roast lamb – it was carved very thinly and served with 3 large roast potatoes, broccoli, carrots, red cabbage and a Yorkshire pudding.
The roast potatoes were very crispy on the most part (I had one that wasn't).  The vegetables were overdone for our liking and don't have any flavour.  In fact, unfortunately the lunch seemed completely absence of any flavour at all.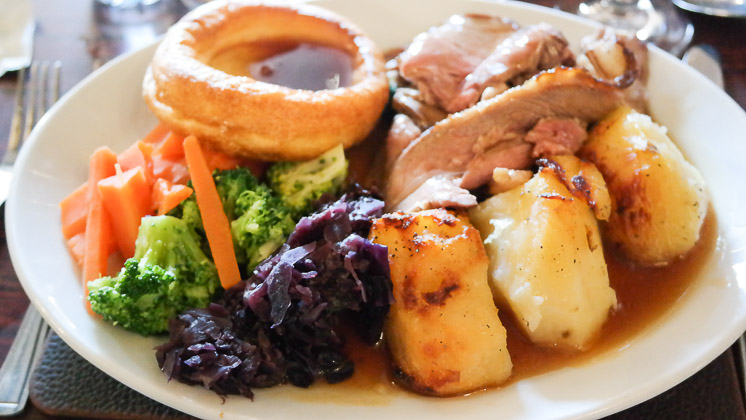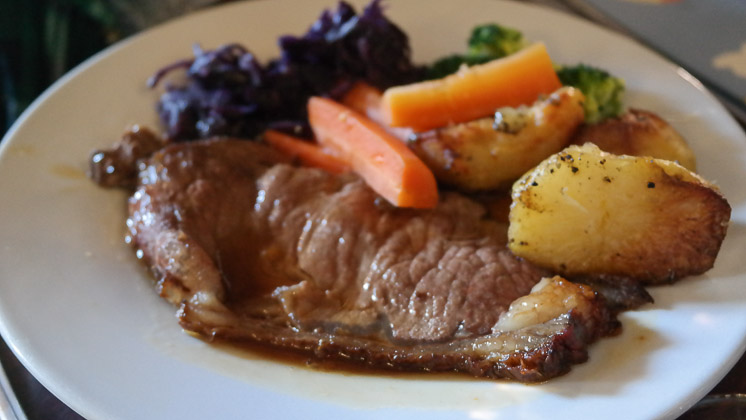 Desserts
After a disappointing main course, I thought I'd try the desserts.  We ordered JW a fruit salad (they did have a lot of sorbets, but we were told they all had milk in them!), I asked for the Apple and Cherry Crumble with custard – along with a coffee to have outside.  Claire ordered the cheese and biscuits .
I also settled the bill – which took a while – and then had to carry out the desserts and coffee on a tray outside (table service seemed to be limited to in the restaurant!).
The desserts were a complete contrast to the Sunday lunches.  My crumble was delicious – sweet and tart with a good flavour.  JW's fruit salad was huge, he had to leave quite a bit of it.  The cheese and biscuit – which normally consist of massive slices of cheese – were a perfect size for Claire.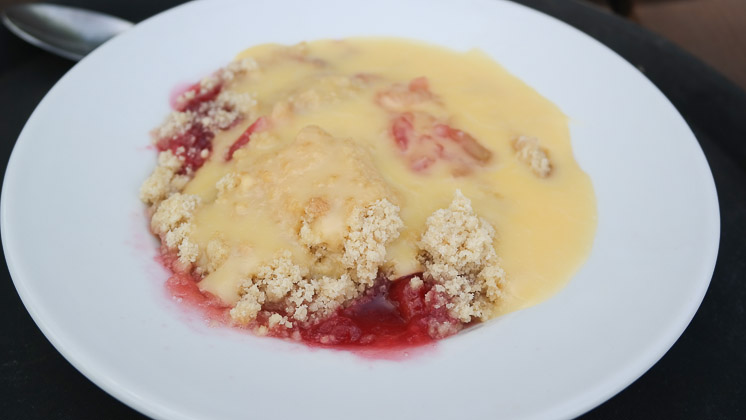 Children's Facilities
Inside, whilst there were a few families with children, I was a bit concerned with JW being not welcome – I needn't have worried, it was just that all the children were outside!  The roast for JW was a good size and he ate most of it.  The fruit salad was good for him too.  Really though, it was all about the kids play area outside – lots of climbing areas and various things to keep them actively amused – it even had the bouncy tarmac.  I understand Rod Stewart (yep – THE Rod Stewart) "opened" the play area recently!
Conclusion
A confusing bag this one – a very traditional, 1970s menu and venue – perhaps this is what the area demands as it was very busy.  At £19.95 for 3 courses, and £5.00 for a kids roast, it was reasonably priced.  The starters were ok, the roast potatoes with the Sunday lunch were crispy, but it all lacked flavour so it wasn't overly pleasurable eating it.  The desserts were the exact opposite – delicious crumble and an excellent cheese board.  The outside children facilities were superb – so this is a great place for families. The roast was 2.5 / 5, but the desserts and outside brought the score up to 3/5.
Thanks,
John
Rating:
Share the love of a Sunday lunch!