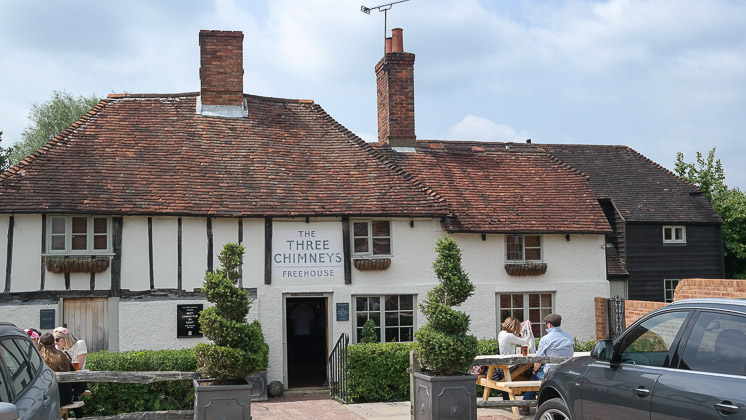 Hareplain Rd, Biddenden, Ashford TN27 8LW
Telephone: 01580 291472
Website: Click Here
Cost for a Sunday lunch: Roast Pork – £14.95; Kids Roast Pork – £8.95;
I had been recommended The Three Chimneys by a few people (two of whom recommended The Milk House in Sissinghurst, which we didn't rate very highly for a Sunday lunch).  I gave them a call and booked for Sunday lunch a couple of weekends time (for Claire's birthday).
A large car park meant we were able to park up outside – it was quite busy at 12:30, a few people outside on benches enjoying the sunshine.  The Venue was an old country inn with lots of hidey-holes.  We walked through the bar to the restaurant area.  It had a nice smokey smell from an old fire, hops were strung along the tops of the walls.  It was a bit dark where our table was, but we got used to it.  If needs be, I'm sure we could have moved to the bright conservatory (something to mention when booking  if you have someone in your party who have difficulty in low-light areas).  The conservatory also had views of a pretty garden.
Drinks
Claire ordered a glass of processco – I just drank the table water – and a bottle of apple juice for JW.  The drinks were served so quickly, I felt they had them on stand-by (or a camera watching us order!)
Starters
The menu was brought over on a very large blackboard – an unusual way to present, and must take some work to write out each time (there were a few – so not like they could print more) but I suppose it's better for the environment.  The waitress talked through the gluten, dairy and wheat free options (for our toddler, JW).
I ordered the pate, Claire went for something a bit more unusual, the deep fried brie.  We had some snacks for JW to nibble on whilst waiting for the main course so didn't order a starter for him.  My pate was excellent – a large slab, and 3 delicious slices of granary toast (actually – really, one and a half slices, cut half into triangles).  The brie was deep fried into cubes – Claire really enjoyed them.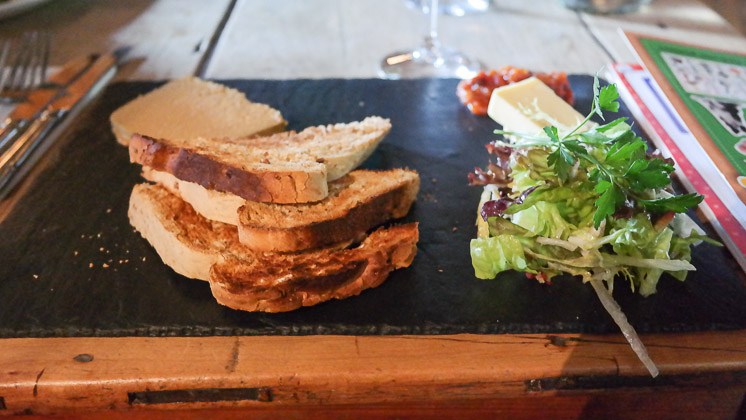 Sunday lunch
They only had one traditional Sunday lunch – roast pork.  I had fears of The Milk House (serving, in essence, bacon) – but these were abated quickly.  Our plates consisted of: thin slices of pork, 3 large roast potatoes and crackling – then a separate dish for vegetables – beans, carrots, butternut squash and CAULIFLOWER CHEESE!  Long-time readers of this site know how much I love cauliflower cheese :-)  There was also gravy and (I think freshly made) apple sauce in a dish.
The crackling was excellent – very crunchy and not too fatty.  The pork was good, the roast potatoes had a lot of flavour (and well seasoned).  The cauliflower cheese was excellent – a very deep flavour.  Oh, and wonderful (not fatty tasting) crackling!
Overall, a great Sunday lunch.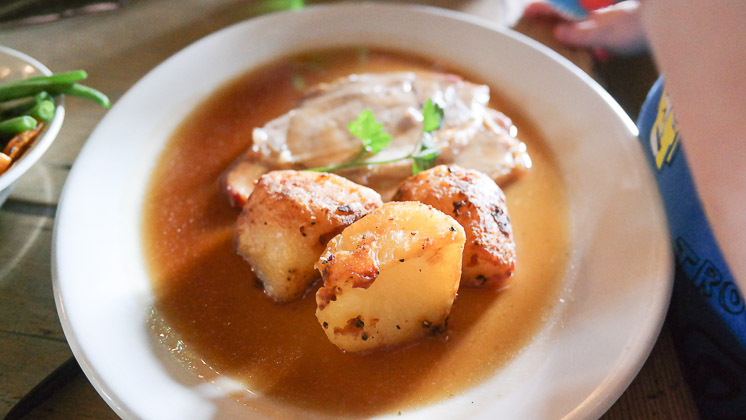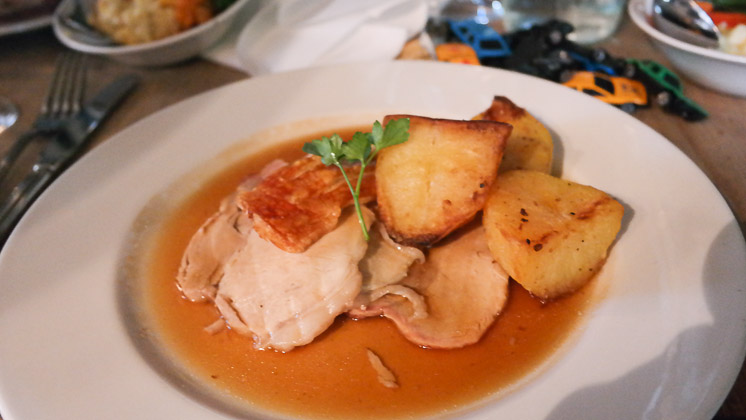 Desserts
We ordered a small mango sorbet for jw and I asked for the orange and passionfruit cheesecake for me along with an americano and peppermint tea with biscotti for Claire.  It was served very quickly.  JW loved the sorbet.  My cheesecake was delicious, lots of lovely citrus flavours.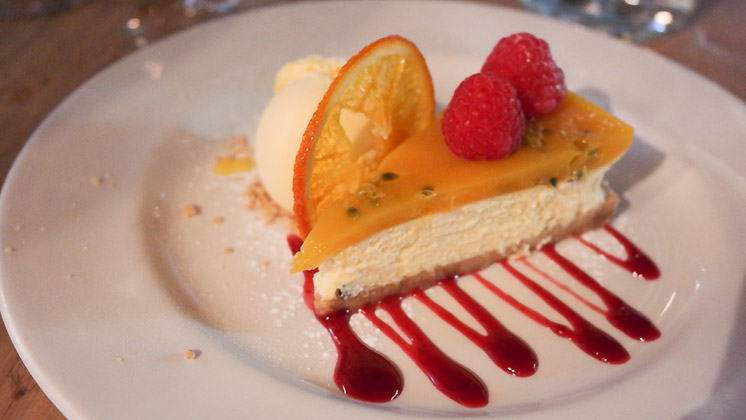 Children's Facilities
I asked before going with regards high-chair / booster seats – I was told that children are welcome, but we'd need to bring our own booster.  JW's meal with essentially half the adults portion.  We didn't need to use any baby changing facilities, but I doubt they have any due to the high chair information.  Overall, as we knew to take the booster seat, it was fine for us – there was only one other child there when we ate though, and he was around 8 years old.
Conclusion
What an excellent experience!  The service was impeccable, we were not rushed, but managed to finish a 3 course meal in an hour and twenty minutes!  The food arrived very quickly, and it was as if the drinks were ready before we ordered.  The food quality was excellent, as was the portion sizes.  We all loved the Sunday lunch at The Three Chimneys – Top Rated for family celebrations, friend get-togethers and romantic meals.
John
Rating:
Share the love of a Sunday lunch!