One Sunday I was at a loose end and instead of having Sunday lunch out, I thought I'd cook Roast Chicken. So, here's my recipe:
Ingredients:
1 whole chicken (preferably organic, if not then free range)
1 Onion
2 carrots
1 Lemon
One garlic bulb
Pepper
Salt
Olive Oil (Mild & Light – it has a higher smoking point so more suitable for cooking)
Thyme
1 glass of red wine, for the cook (semi-optional)

Roast chicken – ingredients for John style
Preheat the oven to 200 degrees (180 if fan assisted).
Chop the carrots and place them at the bottom of a heat proof dish or roasting tin.
Cut the garlic bulb, onion and lemon in half, then stuff the cavity with these and the thyme (I like having half the lemon "sealing" it all in).
Pour oil over the chicken, then rub the salt and pepper over the skin.
Place this on top of the carrots and put in the oven.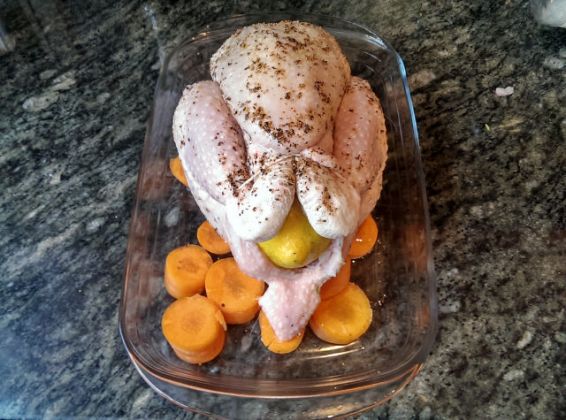 Cooking times:
45 minutes per kilo
+ 20 minutes
Remember to "baste" the chicken half way through cooking – which means spooning the hot oil over the chicken. This will keep the chicken succulent and moist.
Once cooked, take out of the oven, remove the chicken from the dish and place on a plate.  Cover the chicken in foil for 10-15 minutes to rest.
Now, you can easily make gravy from this – just mash the carrots in the dish / tin and put on the hob.  Also, if you can, remove the onions from the chicken as well as some of the garlic and thyme.  Make sure you pour  in any liquid from the plate the chicken is resting on.  Add in 250ml of chicken stock and gradually add corn flour to create your desired thickness (one dessert spoon for us).  This time round, I used a fork to mash down the carrots – previously I used the masher utensil and got gravy over the walls, drawers and all down me!  So, be warned :-).  Lastly, pour it all through a sieve in a jug to serve.
To carve, it s a matter of cutting the legs and wings off, then carving away (one of the only times I get to use my electric carving knife!).  I find it useful to then go over the chicken with a fork to pull all the meat from the harder to reach areas.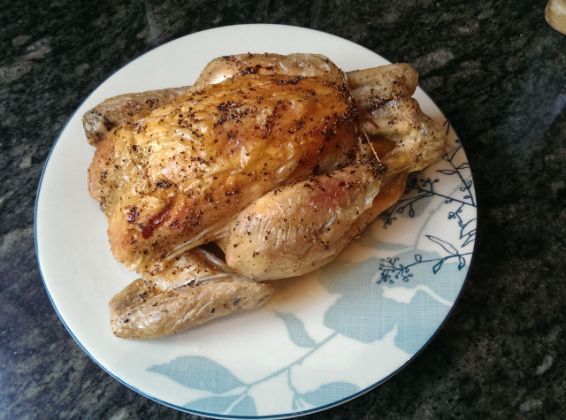 And, there you have it, a simple but nice Roast Chicken.
John
Share the love of a Sunday lunch!