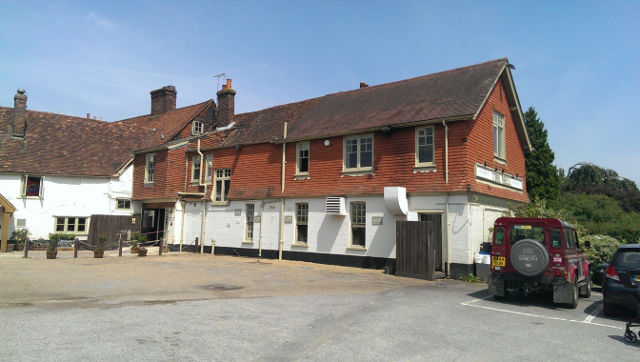 High Street, Godstone, Surrey, RH9 8DX
Telephone: 01883 743216
Website: Click Here
Cost for a Sunday Roast: Roast Lamb – £16.95, Roast Beef – £12.95, Roast Turkey – £, Roast Pork – £9.95
We have visited The Bell Inn a few years ago, I was excited to review it for Best Sunday Roast.  The Bell is actually a sister pub of a few places we have been before (see our reviews of Sunday lunch at The George in Hayes, Sunday lunch at The Plough in Eynsford and also our Sunday roast review of The White Hart in Westerham).
Booking was simple enough, a quick phone call and we were all set.
We were actually meeting my friend Dave for lunch.  We also wanted to take John William somewhere eventful, instead of "just a lunch".  In the end, we went to a place called Beaver Waterworld, about 20 minutes drive away.  They have a reptile area, as well as birds and mammals (such as meerkats!).  Only cost a couple of pounds each with all the money going to charity, and an enjoyable way to spend an hour or two.  Please check them out.
Anyway, back to the review.  The Bell Inn had a large car park which backed on to their substantial garden.  It was a very hot day, so the garden was popular.  We walked through the main entrance – if I remember correctly, it had a slope for wheelchair / pram access.  We were met almost straight away and given two options to sit – either in the conservatory or in the restaurant area.  I checked the conservatory out. If it was an overcast day, it would have been perfect.  As it was one of the hottest days of the year, we went for the restaurant area.
The Bell Inn was going for a rustic country inn feel (much like the other pubs in the group).  So, tiled floor, light coloured walls, wooden tables, a stack of logs against the wall and paintings on some wood hanging from the wall – I like the style, gave a fresh feel to lunch, and had some relaxing "Sunday" music playing in the background.  We were next to the window on to the road, so the table was bright an airy (there were also some large overhead spotlights).  A highchair was next to the table, all ready for us to use.  There was also space for the pram next to the table.  Very positive first impressions.
Menus were presented to us as we sat down, and a drinks order was taken.  Soft drinks for everyone this time – pint of diet coke (£2.55) for Dave, soda water (£0!) for Claire and a blackcurrant and soda (a whole £0.85) for me.
Looking over the menu, we decided to have a starter as well as a main course.  I went for the chicken wings (£5.95) and then the roast beef (£12.95), Claire ordered the fish cake (£6.95) with turkey as the main (£10.95), Dave asked for salmon starter (£7.95) with another roast beef (£12.95).  Claire asked to have the gravy on the side, John William might want a carrot or two :-)
A nice touch – we were given some bread and oil & vinegar to nibble on whilst waiting for our starters to arrive.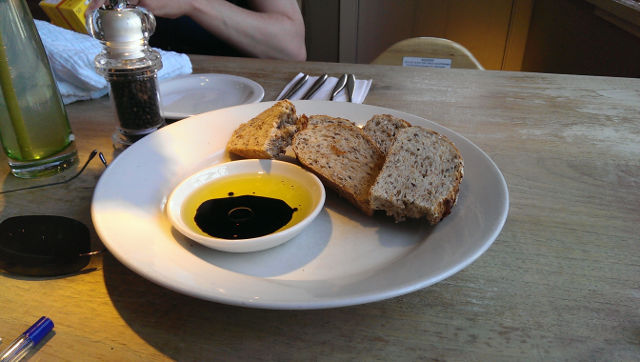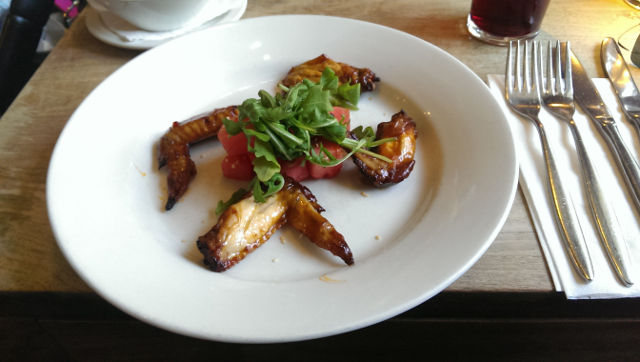 The first course came out swiftly.  I was quite surprised with my starter – it had cubes of watermelon as well as the chicken wings (in a plum sauce).  This kept me occupied!  Claire and Dave both remarked how nice their starters were.  So far, so good.
On to the main course.  Now, I have to say that I asked for the mains to be delayed by 10 minutes – just as they were bringing them out (ie the food was all plated up)…  John William needed some attention beforehand.  So, this affected the meal a little bit – read on.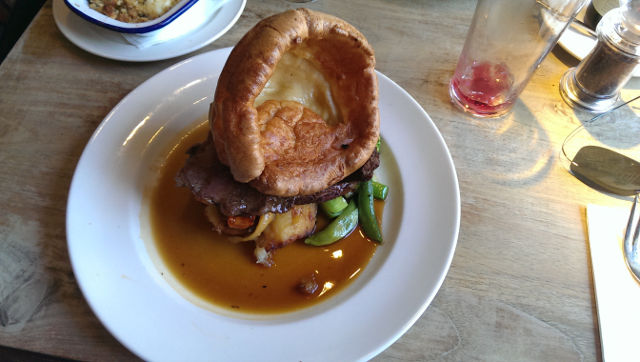 The roast beef plates were impressive – a massive Yorkshire pudding on top of the beef, with the roast potatoes and veg hiding underneath.  Claire didn't have a Yorkshire (she doesn't really eat them anyway), but did have pigs in blanket (sausage wrapped in bacon) and apricot stuffing – in her view a vastly superior trade-off!  She also had a jug of gravy on the side as requested.
The beef was slightly overdone, but this was down to the fact we had to delay the order coming out for 10 minutes (it's either that, or cold food).  The roast beef had a good flavour; Dave and I had two and a bit slices each, Claire had 3 slices of turkey.
The roast potatoes were excellent, we each had 4 good sized ones.  They had excellent flavour, fluffy inside and crispy outside.
The vegetable selection was good, being roasted parsnip, honey-roasted carrots, broccoli, leeks and sugar snap peas.  All cooked to my liking (ie more al-dente than over-done).  The cauliflower cheese was in it's own blue dish, with some breadcrumbs on top.  I really enjoyed it – Claire had a floret or two, but Dave seems to think that cauliflower cheese is the devil's work.  More for me!
The Yorkshire pudding was also excellent, huge and fresh tasting.  I really appreciated that whilst the meat was a bit overdone due to our request for the delay, they had the sense to remove the Yorkshire before keeping the rest warm.  We had recently been to a restaurant where the Yorkshire pudding must have been under a heat lamp for too long before being served as it was very burnt which made the meal quite unpleasant.  Whereas, at The Bell Inn, it was perfect.
Lastly, the gravy – it could have been a bit thicker, but good flavourings and, once I raided Claire's, enough to last the 4 roast potatoes and Yorkshire pud.
On to the desserts.  Claire declined, whereas Dave and I dived in.  He went for the baked cheesecake (£5.95), I almost ordered the sticky toffee pudding but threw a curveball at the last moment and asked for the mango frozen yoghurt (£4.95).
The desserts came out pretty quickly – Dave was very pleased with his choice (although suitably stuffed once finished).  My yoghurt was great – a natural flavour and a mango one, with some fruit as well.  Very refreshing and light, just what I needed on a hot day after a Sunday lunch.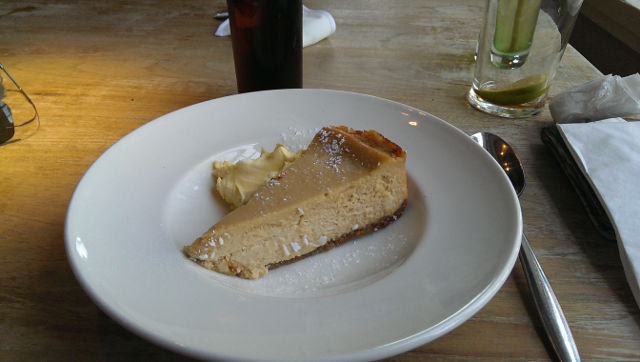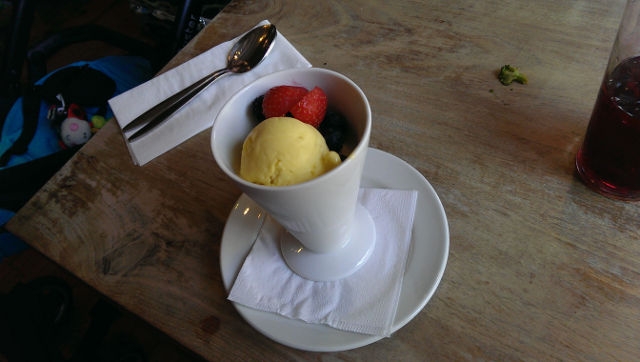 So, on to my conclusion.  The service was very friendly, we were shown straight to our table and the waitress was on hand if we needed anything.  The venue itself was fresh and light, a very contemporary country inn.  We all enjoyed our starters, as well as the free bread beforehand.  Our main courses were good, it was a shame the meat was a bit overdone but I can't mark them down on this – it was at our request they delay bringing out the plates.  The roast potatoes and Yorkshire puddings were great, as was the vegetable selection.   The cauliflower cheese was worth the money (so make sure you order it!), and the gravy was good too.  Do I have anything to complain about?  Not really – this was a perfect choice after visiting Beaverwater World, and was good for families too.
So, The Bell Inn in Godstone get's a Top Rated award – 5/5 for their Sunday lunch!
John
Rating: 
Share the love of a Sunday lunch!