Riverside, Eynsford, Dartford, Kent, DA4 0AE
Telephone: 01322 862 281
Website: Click here
Cost of a Sunday lunch: Roast Lamb – £16.95, Roast Beef – £12.95, Roast Chicken – £10.95, Roast Pork – £9.95
Down a small country lane, over a little bridge and opposite a quaint canal stands The Plough Inn, in Eynsford, Dartford. We were meeting my friend and Superman star of Take Me Out, Simon Stanley (you can follow him on Twitter here – https://twitter.com/#!/isNotGokWan). I chose The Plough as it was in around halfway each and we had visited their sister pubs, The George (review here) and The White Horse in Bearstead, nr Maidstone.
We joined each other outside and walked through the doors through to the bar area. We had a drink before eating, Claire went for a diet coke (she was driving), Simon had a small cider and I had a Becks Vier. They had a good selection of draft lager as well as a nice selection of wine. The bar area was airy and relaxed. I had a very good feeling about this Sunday roast.
After a couple of minutes, we wandered through to the restaurant area.  We were met by someone at a "Maitre d" like area – they had fresh artisan bread here too – and were shown to our table, in-between two windows with white curtains.  Our chairs were novelly covered buy real sheepskin – I had to continue to stop myself stroking the chair throughout the meal!  There were some paintings of ducks on planks for wood adorning the walls, the tables were rustic.  The Plough seemed to be aiming for a high-quality country inn / house – and they hit the mark!  The windows looked out upon the road, the canal just past it and then the open fields.  Extremely picturesque and relaxing.
We were given some menus as we sat down.  After a couple of minutes perusing, the waitress came over to take our orders.  Claire decided on the Roast Chicken , Simon went for the Roast Beef, I was once again craving for Roast Lamb (I love mint sauce).
Moments after we ordered, the waitress brought over a very nice bread board, with a selection of chunky bread!  This included some balsamic vinegar and oil – I am quite un-couth when it comes to bread and nothing is better than a bit of salted butter, this was brought over with the bread without any fuss.
Around 10-15 minutes later, our lunch was brought out.  Presentation was excellent, this Sunday Roast looked amazing!  My lamb was sliced, and nicely arranged on the plate, with a large homemade Yorkshire pudding, a varied selection of vegetables and a slice of stuffing crowning it all.  The stuffing was swapped on Claire's plate for a "pigs in blanket!" (chipolata sausage wrapped in bacon).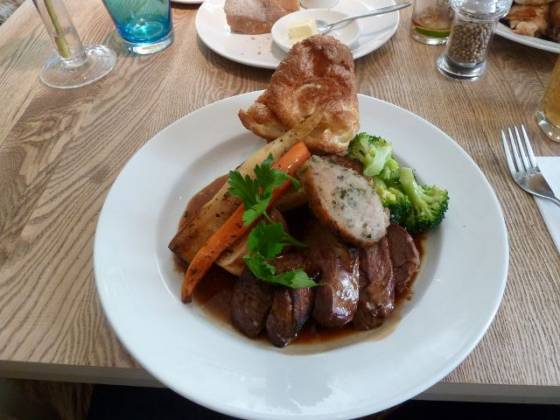 My lamb we excellent, crispy and seared to a crisp on the outside whilst being very succulent on the inside.  There was a small amount of fat around the top giving it a nice flavour.  Claire had half a chicken, cut in two, which included a lot of white meat.  Simon's roast beef was cooked to medium – exactly how it should be!
We each had a couple of fair-sized potatoes hidden beneath our meats, again excellently cooked – crispy on the outside and fluffy in the middle.  Also, unusually for a gastropub but very welcome, some seasoning too.
The Yorkshire was crispy and fresh, tasting homemade.  Th selection of vegetables included a roasted carrot, parsnip and broccolli – all tasted fresh and good quality.  Lastly, to round all this off, was some very nice, flavoursome gravy – and just enough quality to ensure the meal was moist without swamping the food.
After finishing all of this (Claire had to leave quite a bit, there was SO much chicken), the waitress asked if we wanted dessert.  Simon and I had already scouted and discussed the dessert menu so no need for a second viewing – he went for the Eton Mess,   I chose the Gypsy Tart.   Simon also ordered a green tea, I asked for a blackcurrant and soda.
After a couple of minutes passed, we were brought our desserts.  Simon's Eton Mess looked large, with layers of cream and lashings of chocolate sauce.  My Gypsy Tart paled in comparison, to be honest.  It was nice, tasted ok, although wasn't really what I expected (I remember eating many of these when I was a teenager).After tucking in, Simon realised that chunks of chocolate brownie also in the Mess.  Paraphrasing him, "each mouthful was an adventure – you don't know what you are going to get".  Each were good value though, being £3.00 each (just that Simon's was better :-))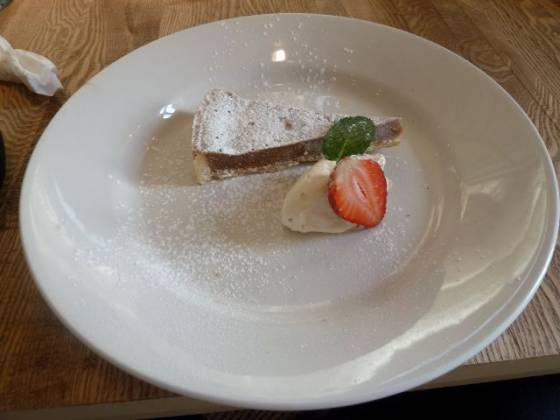 I did need to chase our second round of drinks, but they were quite busy and I am sure this was a one-off, every other part of the service was top-notch – even making sure that our meals were ok etc.
So, on to a conclusion.  The Plough Inn in Eynsford, Dartford is an excellent choice for a special occasion such as Mother's Day, Christmas, Birthdays, Easter or even because it's a Sunday.  Excellent food, great service and a welcoming venue.  The roasts were excellent and the puddings very reasonably priced.  It's hard to find a fault with The Plough Inn, so I am not going to!
Top Marks!
John
Rating:
Share the love of a Sunday lunch!