31 Perry Vale, London SE23 2AR
Telephone: 0208 291 0432
Website: Click Here
Cost for a Sunday lunch: Roast Beef – £13.50; Kids Roast Beef – £5.50;
The Perryvale is the sister venue to The Crooked Well, which we had a great time when visited/reviewed – you can read it here.  So, when we had a spare Sunday afternoon, I made sure we went out of our way and booked a table at The Perryvale in Forest Hill.  Parking was easy, we were able to park on some single yellow lines – I believe it would be more difficult during the week, but they are right opposite Forest Hill train station which might help some people?
We were met at the door and shown to a table in the window as we were quite a bit early.  Some jazz music was playing over speakers.  Large mirrors and bird pictures on the wall and white brickwork gave the venue a nice and light feel.  Our table was in the corner, Claire and JW (our toddler) shared the comfy sofa type seating on one side.
Drinks
Claire ordered a glass of processco, I asked for a pint of pale ale.  We also had some table water brought over, which is always appreciated.
Starters
We skipped starters, but we're brought over some delicious bread to nibble on whilst waiting (no gluten free bread for JW unfortunately).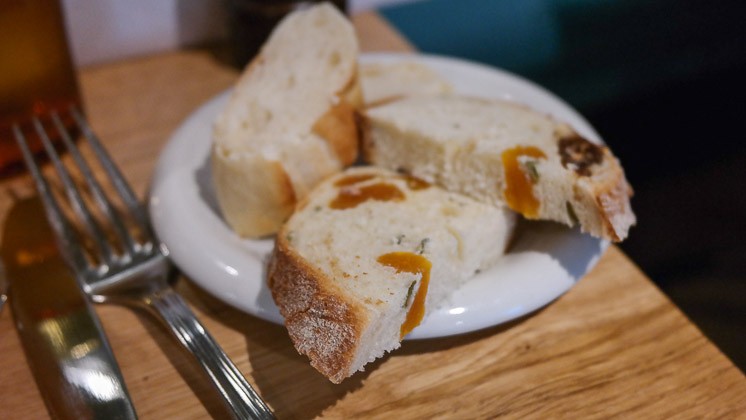 Sunday lunch
It was quite easy to choose what to have for Sunday lunch, the roast beef x 3 please!
Service took a bit longer than usual, but it was worth the wait.  There were large chunks of beef, 3 roast potatoes, vegetables and a Yorkshire pudding.
Tucking in,  the beef was good – seared on the outside, pink and tender for most of it.  To be honest, we would have actually preferred smaller amounts.  The roast potatoes were dusted with salt and were good, along with the nice Yorkshire pudding.  Carrots were cooked nicely and to my liking.  One thing we did find was that the thick jus was very overpowering – it made the whole meal feel very rich.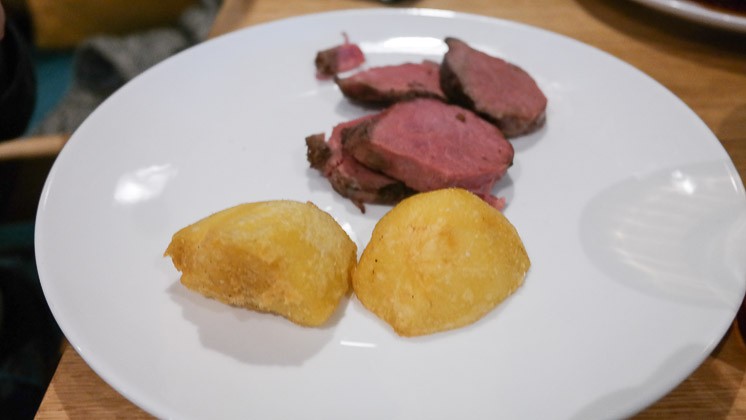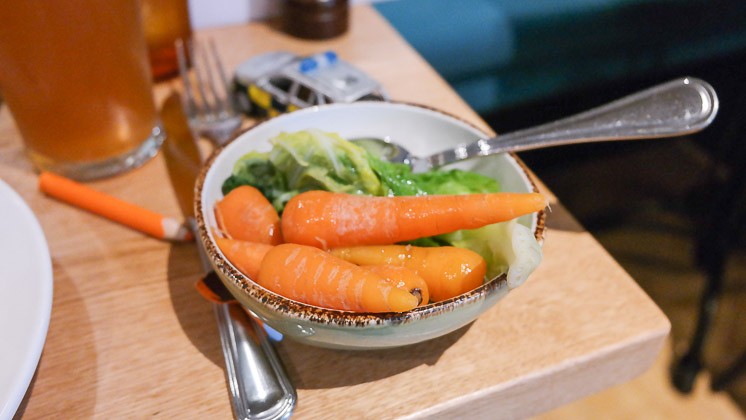 Dessert
Claire ordered the chocolate and peanut butter brownie, I asked for the treacle tart.  They were also able to provide a child's sorbet for JW to eat.
The tart and orange cream was delicious, Claire could only manage a small amount of her brownie as it was so large and dense (I tried to help, between us, we managed half).
We were also given some fudge to nibble on after our meal which was nice touch.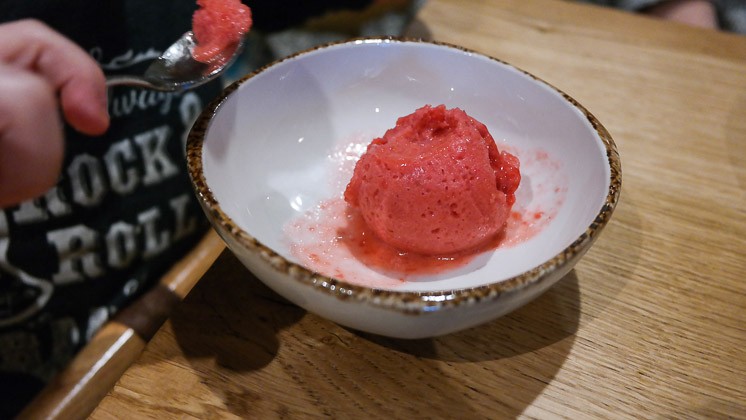 Children's facilities
Whilst they were able to provide a child's roast at a reasonable £5.50, I did feel this was more of an adult's only Bistro rather than a venue for families with young children.  The staff were friendly enough with JW, it was more the clientèle – don't let it put you off, but just be aware that The Crooked Well is a lot better suited to families.
Conclusion
A smart Bistro in an urban surrounding, The Perryvale certainly is a gem.  The food, whilst perhaps a bit overpowering and rich in places, was good.  The venue was fresh and light and staff friendly.  We enjoyed the beef and roast potatoes.  I did feel the jus spoilt the lunch, it would have been nicer being less rich.   Overall though, a good place to go to if you are looking for a quiet lunch as a couple or with some friends.
John
Rating:
Share the love of a Sunday lunch!