16 Grove Lane, London SE5 8SY
Telephone: 020 7252 7798
Website: Click Here
Cost for a Sunday lunch: Sharing Roast Lamb – £38.00; Kids Roast – £5.50
I had been approached by The Crooked Well via Twitter about 4 years ago (when I first launched bestsundayroast.co.uk). I thought it was high-time we visited, so I booked (anonymously) through Open Table, adding notes about the dietry requirements for our toddler (no wheat, gluten or dairy).
Whilst being zone 2 in London, as it was the weekend there were lots of (free) spaces to park outside of the pub. There was some seating outside, with people enjoying lunch al fresco (it was quite nice weather). We were met at the door and shown to our table in the restaurant area on the right – a high chair was ready for us, which was a sturdy booster seat and good quality. The venue itself was light and airy with pretty bird wallpaper and a large chandelier in the centre of the very high ceiling. Think fresh and elegant dining room rather than gaudy.
Drinks
A glass of processco for Claire, and a pint of London lager for me.
Starter
We had some delicious fig and apricot bread to nibble on – we decided to go straight to main course.
Sunday lunch
Amazingly, they offered a sharing roast lamb – Claire and I haven't actually ever had this out before, so this was dutifully ordered, along with a yorkshire pudding as an extra. We ordered JW the child's roast beef.
Lunch took longer to come out than we expected – we were explained that the sharing roast does take longer to cook. When it did comeout, it was well worth waiting for – very well presented with individual dishes and a jug of jus. It was fun carving up the lamb, but in the end we just when for 'chunks'!
The lamb was cooked pink – very nice and tender with some seared sides giving wonderful flavour. I had 3 roast potatoes which were well seasoned and crispy.
The vegetables consisted of greens and carrots – whilst would be nice to have a larger selection, it was so much food we wouldn't have been able to eat it and, let's be honest, the star of the show was the lamb!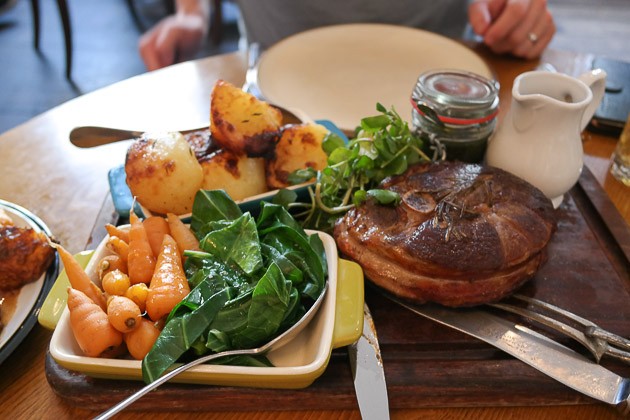 Desserts
They didn't have the chocolate brownie so I ordered a blueberry creme brulee instead. JW had orange sorbet and Claire asked for the lemon polenta cake.
There was a great snap with the creme brulee, and very blue inside. I had a sneaky try of JW's sorbet (for the sake of my readers, of course) – it was sweet, cold and very orangey. Claire's polenta cake very lemony and a bit warm, the plums were caramelised nicely.
As a nice touch, chocolate and nut fudge was brought with the bill :-)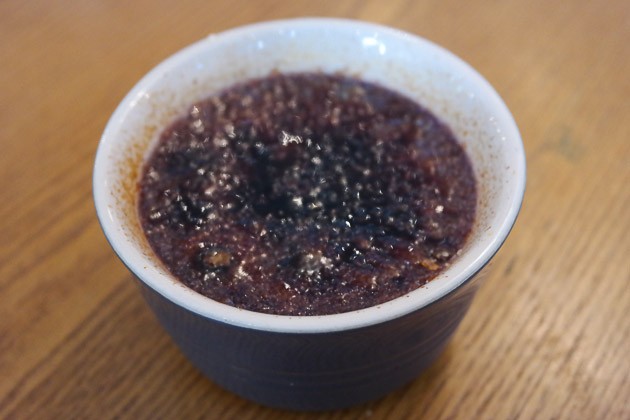 Children's facilities
The staff at The Crooked Well were very friendly with us and JW – we felt looked after. They had the booster seat all set up for us.  We were easily able to order a Sunday roast for JW too – overall, a very good place to take children.
Conclusion
I was expecting a good Sunday lunch at The Crooked Well, and I wasn't disappointed.  The staff were excellent, very friendly without being intrusive.  The food was wonderful, Claire and I really liked the sharing platter of lamb.  Overall, a Top Rated Sunday lunch suitable for lunch with friends as well as celebrations!
John
Rating:
Share the love of a Sunday lunch!