6 Turnham Green Terrace, London W4 1QP
Telephone: 020 8742 3590
Website: Click Here
Cost for a Sunday Lunch: Roast Beef, Chicken or Pork- £15.00; Child's Roast – £7.50
We had visited a sister branch of Chatlottes Bistro (read our Sunday lunch review of Charlottes Place in Ealing – a few years old now!), so when we were deciding where to eat with some friends, it made sense to book this one in Chiswick. Quick disclaimer – Charlotte's Bistro were aware of us visiting, we didn't receive any special treatment or discounts. To make it fair, we will not be providing a score.
Parking is a challenge in Chiswick – thankfully we were visiting on a Sunday so some of the roads had more relaxed regulations as we parked up past Turnham Green tube station.
Upon walking through the door, there was a bar on the left hand side, and some stairs in front leading to the restaurant. We were met at door and shown to our table. Two things were immediately apparent – there was a lot of light coming through the glass ceiling and also it was a bit warm (we got used to to the temperature quickly though).
Our table was laid out for us with linen napkins. There were theatrical photos in frames on the wall, and a few booth areas available. Still and sparkling water were brought to the table.
Drinks
A large selection of drinks were available via the menu – we were a bit boring and went with a few of Pale Ale beers and a glass of processco for Claire.
Starters
We skipped starters and went straight to main courses – mostly because a couple of us have a sweet tooth (or a whole mouth full in my case). We had some delicious bread to nibble on while waiting – and they even brought out JW (our diary/gluten free toddler) some gluten free toast!
Sunday lunch
As mentioned previously, our toddler JW cannot have gluten, wheat or dairy. It was a very pleasant surprise to see that Charlotte's Bistro provide a gluten and dairy free menu!
We ordered roast beefs for all of us. It didn't take long to come out and consisted of two large slices of beef, beautiful roast potatoes, cauliflower cheese, greens, swede and carrot puree, Yorkshire pudding, and gravy. We had some horseradish cream brought out too.
The beef was nice and tender, slightly seared on the outside. The roast potatoes were perfect.
Pleased to say that the cauliflower cheese was excellent, not just a creamy sauce, but with a lots of melted cheese on top too.  The swede and carrot puree was flavoursome, I personally prefer carrots whole but I know Claire really enjoys it like this.
The Yorkshire pudding was good, it had a nice texture and didn't taste of oil. Lastly, lots of lovely tasting gravy.  None of us were sure with the horseradish cream – very fluffy, light and not hot…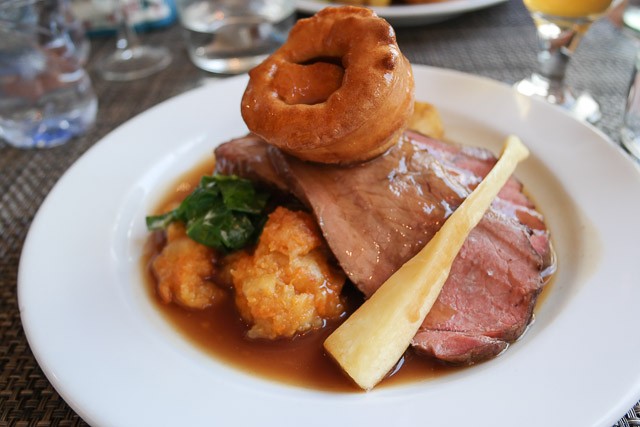 Desserts
So, as we decided not to have a starter, a dessert was very much on the cards. I ordered the brioche doughnut with salted caramel. Claire asked for the gooseberry and elderflower sorbet with candied apple.
I tried the sorbet, the candied apple certainly gave it a nice flavour – delicious, sugary goodness.
My brioche doughnut was pretty much that – again, an excellent sugary dessert with wonderful ice-cream.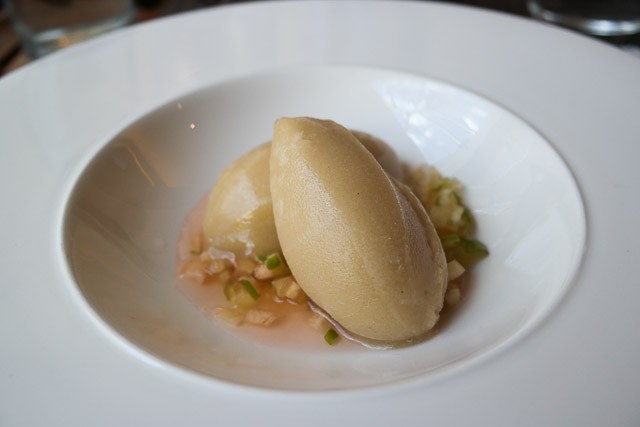 Children's facilities
We didn't notice any baby changing facilities, but didn't need to use them anyway. We were very pleased they provided a gluten and dairy free menu for people with dietary requirements. The highchairs were clean and in good repair. The most important thing – we were not made to feel awkward when the toddlers decided to make a (small) bit of noise.
Conclusion
I had high hopes with Charlotte's Bistro, having visited the one in Ealing so many years ago. We were not disappointed, the food was excellent, I especially liked the beef, cauliflower cheese and gravy. The venue itself was nicely decorated and had a good atmosphere. And lastly, the staff were extremely attentive – almost telepathic!
So, overall a great Sunday lunch at Chatlotte's Bistro, one for celebrations and family lunch.
John
Share the love of a Sunday lunch!