16 St Matthews Road, London W5 3JT
Telephone: 020 8567 7541
Website:  Click Here
Cost for Sunday lunch: £12.50
On arrival we were bemused to find the entrance to be a 'normal' front door, looking like a residential address. We even had to ring the doorbell for admission. The homely feel didn't end there though; when the door was answered, we were welcomed in, and in the hallway were asked if we wanted to hang up our coats (there was a row of numbered hooks, corresponding to the tables) or we could take our coats with us.
The menu only had 1 roast option, Sirloin of Beef. The other options were things like Salmon Fillet or Pork Chop. In the interest of this site, we just had to order roast beef and Yorkshire pudding. The waitress explained that the beef is a large joint and they can therefore offer it either pink or well-done – I went for pink and Claire went for well-done (I know, I know, but if that's how she likes the beef and therefore enjoys it, then surely that's a good enough reason?!).
When deciding on wine, we asked the waitresses opinion. Initially, she recommended the more expensive of our two choices (always the way!), but then went on to suggest one we hadn't thought of at the same price as our more expensive choice, but telling us it was a lot better. And it was a very nice bottle!
After about 20 minutes, out came the roasts. As you can see by the pictures below, presentation was fantastic! The meal consisted of beef (pink for me, well done for Claire), roast potatoes, a large Yorkshire pudding, green beans, roasted carrots and parsnips, some kale (I think), bread sauce (again, I think as I don't usually eat bread sauce). Plenty of gravy was provided, and it tasted good without being an overpowering taste. The horseradish sauce that came out seemed to be home made, it was really delicious and complemented the meat. The potatoes were perfect, crisp on the outside and fluffy inside, and surprisingly generous portions.
The beef was cooked exactly how I wanted it and tasted good. The portion seemed a bit smaller than some places we have been to, but there was enough there for me (the meal as a whole was very generous and even though Claire tried her hardest she couldn't quite finish it all – oh the shame). The vegetables were cooked perfectly and tasted really good. The Yorkshire pudding was perfect, light and crispy and incredibly huge!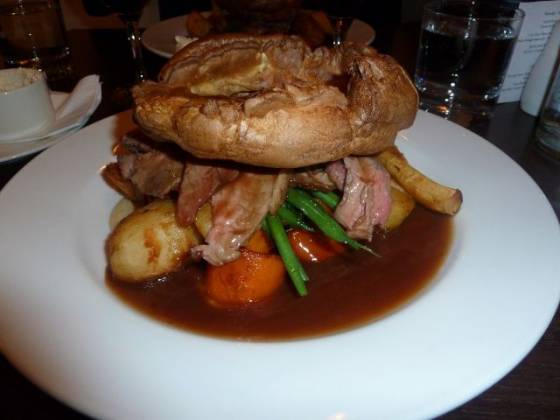 The ambiance of the place was nice, it was relatively quiet but then we did go in at 5.30 on a Sunday evening (we originally tried to book a table for the afternoon but they were fully booked). The music was good, it fitted well with the atmosphere.
Lastly, we have to mention the service. The waitress who took our order was very friendly and professional. The food came out quickly, whilst still giving us time to relax. We were not rushed at any point in the meal. Amusingly, the waiter who took over looking after us was growing a moustache for "mo-vember" – it was nice to see someone standing proud with the full on Mo!
I wasn't sure we'd find another roast to even compare to our last one so quickly but we have!
Another well deserved top marks from us, well done Charlotte's Place!
John
Rating:
Share the love of a Sunday lunch!