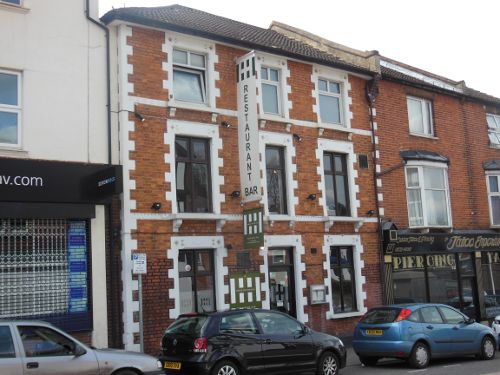 115 London Rd, Sevenoaks, Kent TN13 1BH
Telephone: 01732 450120
Website: Click Here
Cost for a Sunday lunch: two courses – £17.95, three courses – £20.95
I discovered House on the Hill in Sevenoaks whilst looking for a Sunday roast venue to visit with my Dad and Lesley. The reviews sounded good, and I liked the fact they have a fish and  vegetarian option as well as the roast.  Booking Sunday lunch was simple, I just used the online engine, and we were all set.
There was ample parking outside – free parking on Sunday's.  Upon entering, there was a bar on the left hand side, and comfy seating on the right for relaxing drinks.  We were met straight away, and as we had John William, we asked to go straight to our table (Dad and Lesley were waiting for us).  Our table was on the same floor, and we could see straight into the kitchen (made me feel like we were eating in a gastropub – not necessarily a bad thing).  There were stairs to go up to the restaurant area, it was a shame we didn't have a look around but it did show they are accommodating for families with prams.
Menus were presented straight away, and a drinks order was taken – 1 pint of Cristel lager (£4.00) and a soda water (£2.00).  We perused the menu; some interesting choices available for starters. I went for the twice baked cheese souffle and the roast pork belly for main.  Claire ordered the goats cheese crostini with the roast chicken.  Lesley chose the goats cheese starter too and the butternut squash gnocchi. Lastly Dad requested fried buffalo corozzo starter and roasted cod fillet to follow.
Our starters came out quite quickly and they were presented well.  The souffle looked especially inviting.  We all thoroughly enjoyed our choices, Lesley especially liked the cherry tomatoes from Dad's plate and how they were prepared.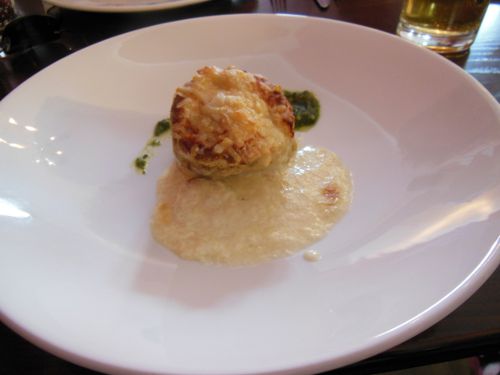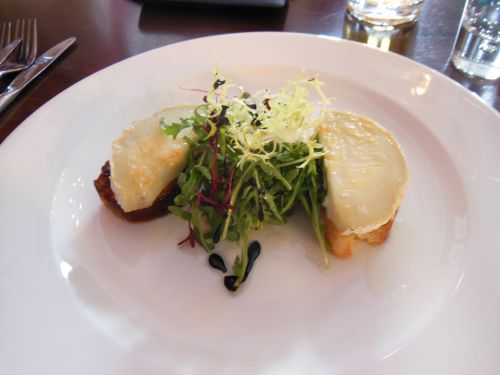 The mains were brought out soon after we finished our starters.  Again, presentation was good, although my Sunday roast looked a bit lop-sided on the plate.  I was pleased to see a few pieces of square crackling, as well as a small yorkshire and a few roast potatoes.  Claire's roast chicken was sliced and she appeared to have more gravy :-).  Dad's roasted cod fillet was probably the best in presentation, balanced well in the middle of the plate with some garnish on top.  He also had a small dish of extra vegetables.  Lesley was pleased with her dish, which was the butternut gnocchi with roasted squash, smoked cherry tomatoes, rocket leaves, Parmesan (this was requested to be left off, as it's not actually vegetarian cheese) and two types of salsa – unfortunately the picture didn't come out so I can't show you how it looked.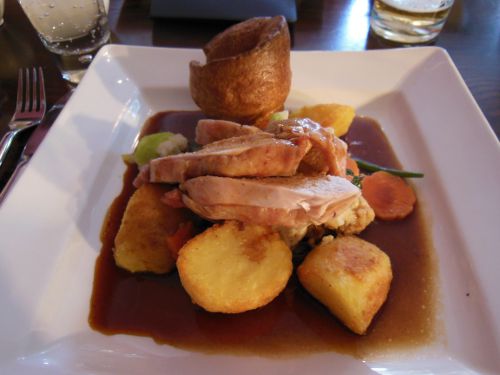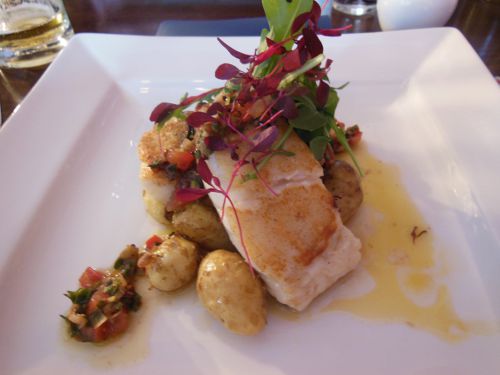 Tucking in, the roasted pork belly was cooked properly – moist and tender, without tasting fatty.  The pork crackling was crunchy, and again didn't taste fatty (quite often you get the soft, fatty part of the crackling underneath which makes it very soggy).  My roast potatoes were cooked well: crunchy and fluffy and, with 3-4 on Claire's and my plate, a good size and number.  I prefer yorkshire puddings more expansive and raised, but it tasted fresh and didn't have the oily aftertaste so often found with others.
Claire really enjoyed her Sunday lunch, much more than many others we have had recently.
Lesley commented before her meal that she was a slightly disappointed they only had one vegetarian main meal.  Once she had started the butternut squash gnocchi, the disappointment was dissipated – she said it was really good (and had her own cherry tomatoes too!)
Dad was also delighted on his meal too – the cod was good well, the potatoes and the vegetables were tasty.
So, all in all, a successful main course as well as the starter.  Now, on to puddings.  There were some interesting selections, including pavlova.  I thought I'd try something a bit different (on the recommendation of the waitress) and went for the "Eskimo Brownie".   Claire ordered a decaff coffee (£2.50), Dad had an americano (£2.50), Lesley asked for a chamomile tea (£2.00 – a good selection of teas were available, including green, peppermint and varying fruit flavours) and I requested a single espresso (£2.00).
Dessert and coffees were swiftly served.  My pudding was fun (it was really a child's dessert :-)) – frozen chocolate around brownie and ice cream.  A pot of hot caramel sauce and then a "saucy smile".  Oh, and a bowl of hot water – no cutlery for this "hands-on" dessert.  Whilst messy, it was enjoyable and took me back to being a 10 year old.
We all had a marvellous time at the House on the Hill in Sevenoaks.  The service was excellent, being accommodating with us and John William (no baby changing facilities per se, but we were able to use the round table in the ladies / disabled toilet).  The Sunday lunch was excellent – on the right side of fun but still holding it's on with presentation and quality.  I liked the fact they were able to offer a meal for most lifestyle choices (meat, fish and veg options), and the vegetarian meal was quite inventive.  Any downsides?  If I was being picky, there was only one lager on tap and my yorkshire pudding could have been better.  These are not things to mark the House on the Hill down though, as everything else was very good.
So, overall, I am awarding Sunday lunch at House on the Hill in Sevenoaks, Kent a 5 out of 5 – Top Rated!
John
Rating:
Share the love of a Sunday lunch!