The Chapel Down Winery, Tenterden, Kent TN30 7NF
Telephone: 01580 761616
Website:Click Here
Cost for a Sunday lunch: 3 Course Sunday lunch – £24.50 ; Kids Roast Beef – £12.00;
We have known about The Swan at Chapel Down for a while now, having visited the area a few years ago (and enjoying their wonderful / award winning sparkling wine).  Our anniversary was coming up so I jumped at the chance to review The Swan, a sister venue to The Beacon (read the review here).
Upon entering the ground, you are met with a garden/green area in front of the car park, which includes a nice walk through a gated area (a herb garden, I believe).  The restaurant is actually above a farm type shop (selling the delicious wine / beer and gourmet food) – up some metal stairs to a terrace area and a door.  We were met at the desk and shown to a table in the restaurant. It was nice and warm, a huge contrast to the cold outdoors.
We were a bit nervous initially with JW, our toddler, but the staff very friendly and venue had a buzzy atmosphere which helped up relax somewhat.  The high ceilings helped with the acoustics, and had very funky lights dotted about. The table was laid out, and had some squashes in the middle.
Drinks
It would have been an insult not to have ordered some Chapel Down produce – so Claire ordered a glass of the Brut.  I asked for a Curious Brew, also produced by Chapel Down.
Starters
As this was a special meal, we decided to order starters.  Claire ordered the Crayfish starter, I asked for the Duck and Quince.  We asked for JW's meal to come out with our starter.  Before the starters were served, we were offered some bread to nibble on.  We remembered to ask for some gluten free bread for JW, which they thankfully had!
My duck starter was absolutely amazing!  Delicious – I hadn't eaten candied walnuts before, certainly a treat to have with a starter!  Claire really enjoyed her crayfish too.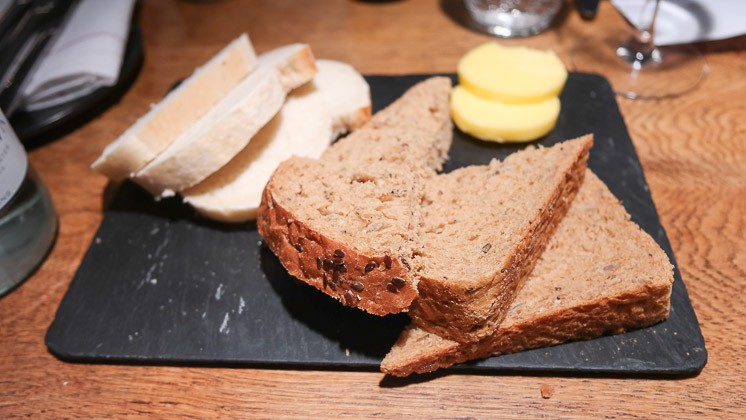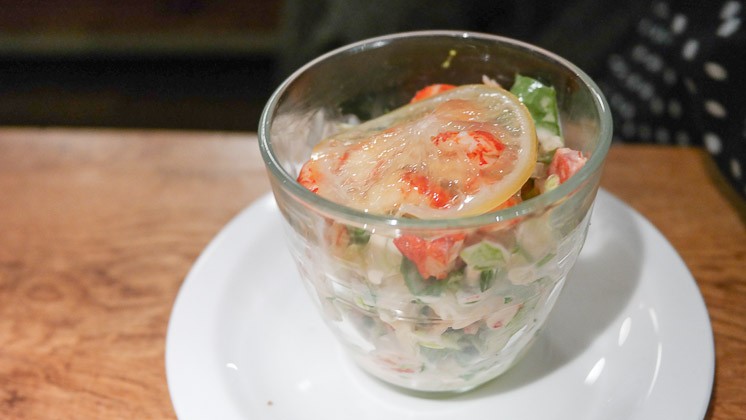 Sunday lunch
We ordered 2 roast beef for Claire and me, and a child's one for JW.  It was served soon after the starter – and looked wonderful.  Two large slices of beef with horseradish cream, and a dish contacting 6 (yes – 6!) roast potatoes each, kale, parsnips and carrot puree, along with a HUGE Yorkshire pudding to share with Claire (not gluten / dairy free for JW unfortunately).  We also had a jug of jus on the side.
The beef was excellent, perfectly cooked.  Perfect roast potatoes too, and I enjoyed half the Yorkshire pudding (well, we had to leave some, it was so large).  Overall, an excellent Sunday lunch – now on to dessert!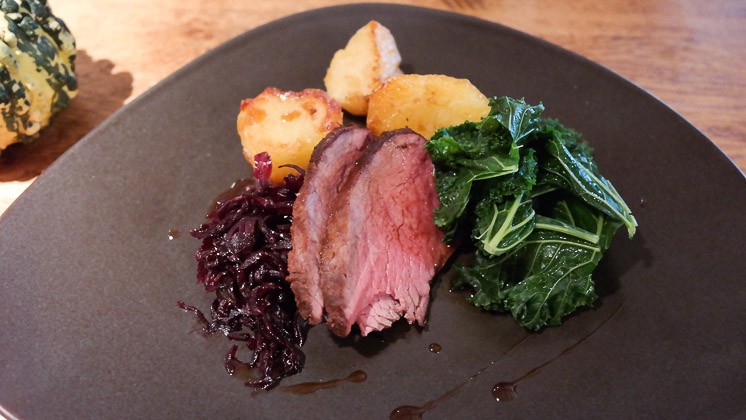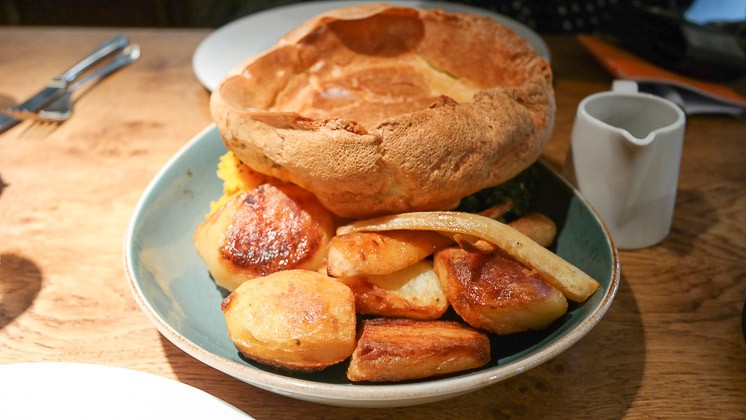 Dessert
I ordered the deconstructed cheesecake – the circular pearls was great, and the cheesecake delightful!  Claire ordered the chocolate torte, I had to help her eat it – again, superb!  We also ordered some sorbet for JW, which he enjoyed.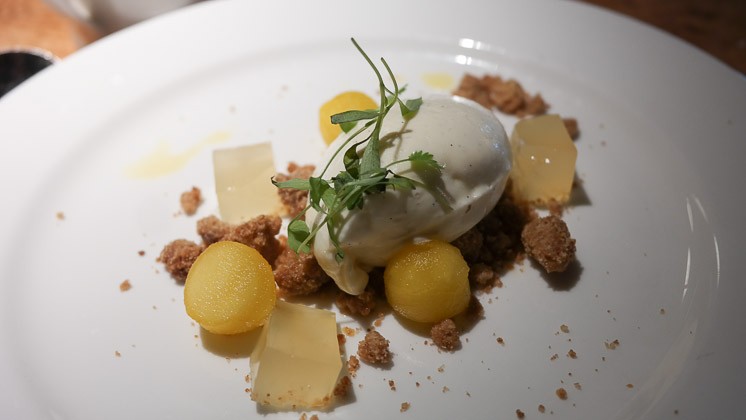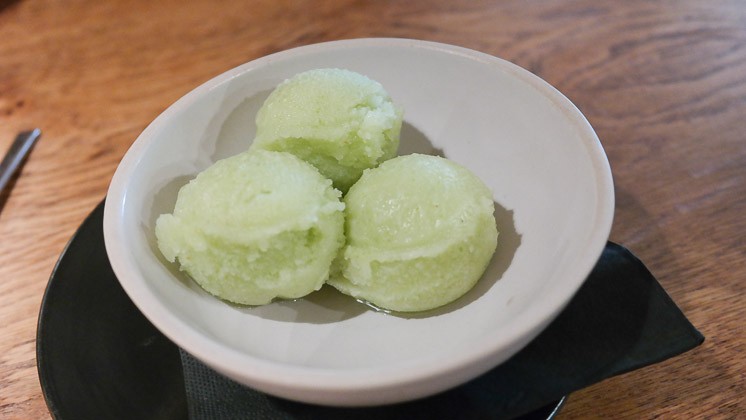 Children's Facilities
JW was well catered for – the staff were very friendly towards him, and we didn't feel awkward at all throughout the meal.  We didn't need to use any baby changing facilities so couldn't say if they had them nor the condition.  The cost of his main course was quite high (£12 – more than most adult mains we have reviewed!), but it was worth it – the quality of the food was excellent for him.  And – he really liked his sorbet.  So, overall, a good place for families – as long as they have some deep pockets, that is!
Conclusion
We knew The Swan at Chapel Down would be special, especially after our experience at The Beacon, and it certainly lived up to expectations.  The venue was great – lots of high ceilings and plush furnishings helped with the acoustics (a general hubbub mostly).  The staff were very friendly and welcoming, including towards our toddler.  The food quality was excellent, the beef cooked perfectly along with plentiful amounts of potatoes.  Our desserts were equally delicious.
Overall, a wonderful venue – one suitable for celebrations or simply a Sunday lunch for 2 (remember to visit the shop as you leave to get some wine!).
John
Rating:
Share the love of a Sunday lunch!