Tea Garden Ln, Tea Garden Lane, Royal Tunbridge Wells, Kent TN3 9JH
Telephone: 01892 524252
Website: Click Here
Cost for a Sunday lunch: Roast Lamb – £17.00; Roast Chicken – £15.00; Child's Roast Beef – £6.50
We were at a loose end one Sunday so booked The Beacon near Tunbridge Wells. It was a pleasant drive through various country lanes; when we arrived, there were a few spaces available to park outside the venue, it did get very busy later on (there were a couple of parties).
Walking through the doors, we walked into a beautiful hallway, on the right a private dining room cum sitting room and downstairs to the restaurant.
We were met at the entrance and shown to our table in a wonderful room with an amazing view across the valley, which I was fully able to appreciate once my vertigo eased off!  The room was decorated in grey and cream, chandelier lighting with Edison bulbs (filaments were on display as a feature), and there were candlebras with lit candles dotted around the room.  There was a small bar area in the corner, and a member of staff always present (not sure if that was to help with us, or keep an eye on the candles!)
Our table had the window alcove, looking out across the valley and the outdoor dining. It was laid out with very pretty plates, silver cutlery and linen napkins along with some squash and pumpkins in the middle. Simply and absolutely beautiful.
Drinks
Claire ordered the Chapel Down brut, I asked for a Curious Brew.
Starters
We decided to skip starters and go straight to the main course – mostly because our toddler would start to get restless.  Some delicious bread was brought over – we didn't think to ask if they had anything gluten free for JW (a table behind us ordered some gluten free bread, doh!)
Sunday lunch
We ordered the roast beef for JW (gluten, wheat and dairy free please), Claire asked for roast chicken and I requested the lamb.  I had two large, very thick slices of lamb – seared on the outside, pink in the middle and delicious.  I tried Claire's chicken, it was cooked on a spit and was both moist and flavoursome.  The mint salad dressing with my lamb was a different yet interesting addition.  The roast potatoes were excellent, very crispy and fluffy.  My Yorkshire pudding was good – flaky and light.  The kale and red cabbage were also good.  Lastly, very enjoyable gravy/jus – all in all, a superb Sunday lunch, and was really looking forward to dessert!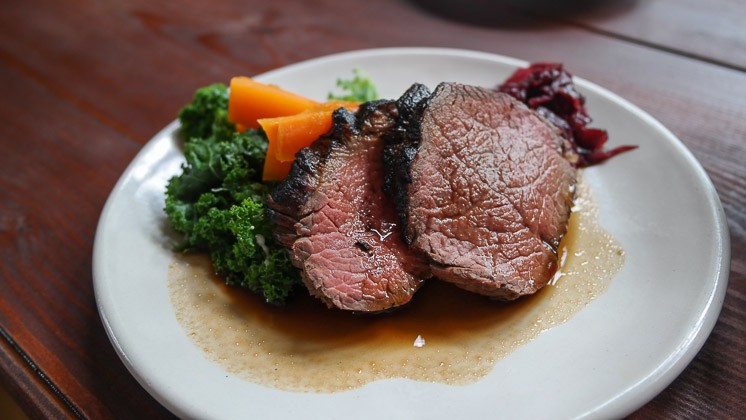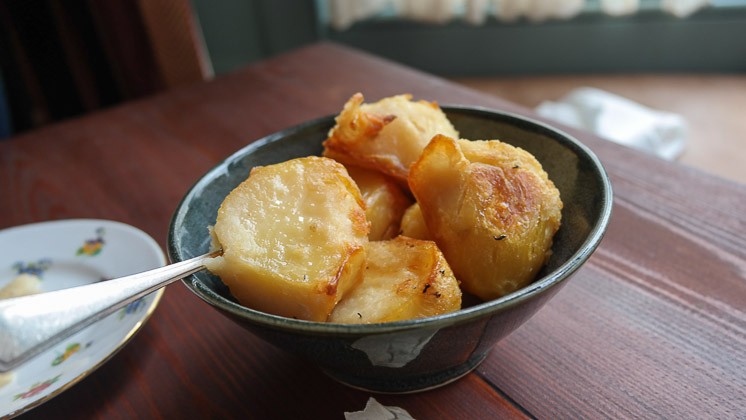 Dessert
Claire was being good and decided not to have a dessert.  We ordered JW a fruit salad and I asked for the dark chocolate and caramel trifle.  The trifle was wonderful – very filling and solid, caramel at the bottom with a humongous amount of chocolate, I couldn't think of a better dessert!
Children's facilities
We didn't need to use baby changing facilities, but I believe they did have some available.  We could have used a high chair, but instead decided to have him sitting in the alcove.  The child's roast was a generous portion (and looked delicious) – also, the staff were excellent with regards our toddler.
Conclusion
What an amazing venue for a Sunday lunch!  It was an impeccable experience – the staff were excellent, always on hand in case we required anything.  The venue was splendid – amazing views, superb inside and I didn't mention the wonderful grounds (we had a long walk after dinner – lots of grass to play, along with their own babbling brook).  The food was some of the best we have had, excellent roast lamb and potatoes, I also really enjoyed my dessert.
Overall a Top Rated Sunday lunch at The Beacon, worthy of any family celebration or simple a quiet, romantic Sunday lunch as a couple.
John
Rating:
Share the love of a Sunday lunch!