32 Eyhorne St, Hollingbourne, Maidstone, Kent ME17 1TR
Telephone: 01622 889000
Website: Click Here
Cost for a Sunday lunch – 3 courses – £19.95; John William's (Children's) – FREE!!!
I noticed The Windmill when browsing for a Sunday lunch to review – when I realised it was affiliated to Richard Phillips, who was also involved with the superb Pearson Arms in Whitstable, I jumped at the chance to visit!
Booking was simple, a quick call the day before and we were able to get a table – it seemed to be the last one, and we had to finish by 2pm. With a 1 year old baby needing to nap around that time, this wasn't an issue for us (and, 2 hours is more than enough time – I booked for midday).
We had actually visited Hollingbourne a few month's ago, reviewing Sunday lunch at The Dirty Habit, so I knew the way to the area ;-) One major issue I had with The Dirty Habit was the parking, the spaces were far too small and it was very cramped. Not the case here though, plenty of wide spaces behind the pub. We walked through the garden to the pub's back entrance (there was a large children's play area – seemed like it would be great to visit in the summer). There was a small, undercover seating (read – smoking) area before the pub entrance, with real animal fur runs :-)
A square bar was in front of us, which was central to the sitting area. We were met and taken to our table in front of the window with a large, wood burning fire. Comfy armchairs were in front of it, with some papers on a table – a nice place to relax whilst waiting for your table!  The waiter helped us put JW in the high chair which was appreciated.  He was also chatty and welcoming, talking about his children whilst we get him settled.
The menu looked interesting – it was tempting to order (and share, of course) the lamb shoulder for two @ £35, or even the roast rib of beef @ £42!  In the end though, Claire ordered the wood pigeon for starter, then the roast beef for main (cooked medium – well); I asked for the celeriac soup, and roast beef.  JW had a child's roast beef (well-done).  We also asked for some bread and olives to nibble on whilst waiting (so JW could have something to eat before the main course).   I was tempted to order (and share, of course) the lamb shoulder for two @ £35, or even the roast rib of beef @ £42!
The bread and olives came out – I liked the (hand/home-made?) butter, and the rolls were good – JW enjoyed them as much as we did (and had his first olive too :-))
Our starters were nicely presented – the wood pigeon breast was on top of some salad, whereas the soup was in a pot, on a wooden board!  Both were very enjoyable (must remember not to make a joke about her eating a cute pigeon next time to Claire, unless I want some of her starter again!)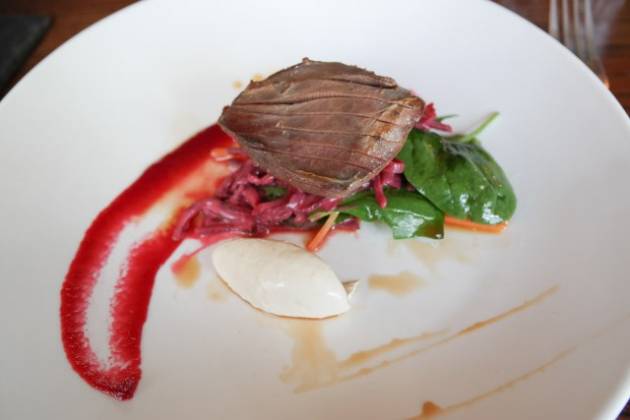 Once these were finished, out came our main course: 4 small and thick (and wonderful!) slices of roast beef, balanced on top of some shredded cabbage.  A roasted carrot and roasted parsnip, along with 3 (perfect) roast potatoes.  To finish off, a yorkshire pudding.  Hiding underneath the beef was some swede.
JW's roast was a smaller version, with fewer slices of beef and roast potatoes – a very good sized lunch for him (although quite a bit of it went on the floor!).  We also asked for some horseradish, this came out on a china ladle spoon, along with a small pot of extra gravy / jus.
Tucking in, this was an amazing lunch.  The beef was very tender and had a good flavour (very slightly burnt on the outside).  The roast potatoes were excellent, crispy with some herbs.  I'm not one for mashed swede normally, but I really enjoyed this too!  The carrot, parsnip and cabbage were also good.  Lastly, a tasty Yorkshire pudding and gravy.
So, on to the puddings.  Only a few options here on the Sunday lunch menu – I ordered the Vanilla Rice Pudding with Rhubarb, Claire ordered the Coconut and Blue Poppy Seed Cake.  I also ordered a cappuccino.
The desserts were served timely.  I was very pleased with mine, the flavour was really good, a sharpness whilst also being quite sweet (the rice had a bit of bite to it too).  Claire was mildly disappointed with the poppy seed cake – it was ok, but not really very spectacular for a special Sunday lunch.  Petit Fours were brought out with my coffee for us to nibble on – very nice indeed.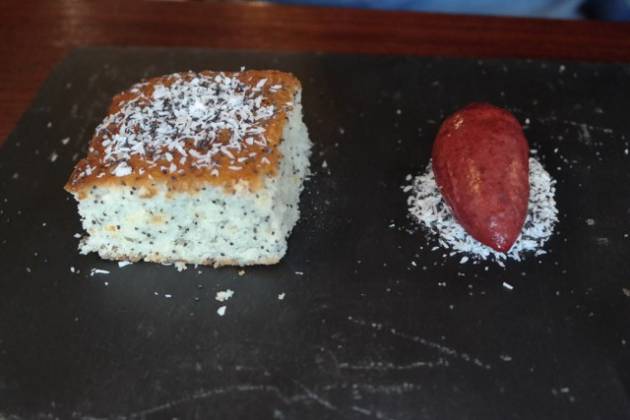 So, on to my conclusion.  The service was great, our waiter being polite, friendly and helpful.  We didn't feel awkward having a baby with us – a number of families were dining at the same time.  Our starters were well presented and tasted good.  The Sunday lunch was especially exceptional – beautiful roast beef with excellent roast potatoes. JW enjoyed his (FREE!) Sunday lunch.  My dessert was also good, Claire would have preferred a different choice really – but it was only these two on the special lunch menu (or a supplement for cheeses).  A very small slight compared to the rest of the meal.  Oh, and I didn't even mention the toilets!  Fresh, clean, and Cowshed hand wash!
Definitely a Top Rated Award for Sunday lunch at The Windmill, Hollingbourne in Maidstone, Kent.
John
Rating:
Share the love of a Sunday lunch!