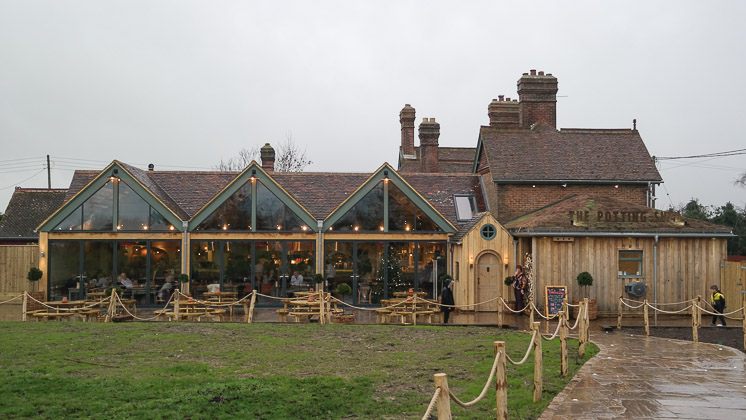 Horseshoes Ln, Langley, Maidstone ME17 3LZ
Telephone: 01622 862112
Website: Click Here
Cost for a Sunday lunch:  Roast Beef – £14.50; Mixed Roast – £15.95; Kids Roast – £6.00
We have reviewed all of the Elite Pub Group's venues (our favourites were The Poacher and Partridge, The Vineyard, The Great House and The Gun), so when I heard there was a new addition, it was immediately added to list. On New Years Day, I had the chance to book a Sunday lunch for Claire, JW and me.
The car park was a nice size, and there was a big green area outside (not yet a garden), including a children's play area (it was raining the day we went, so could not use it).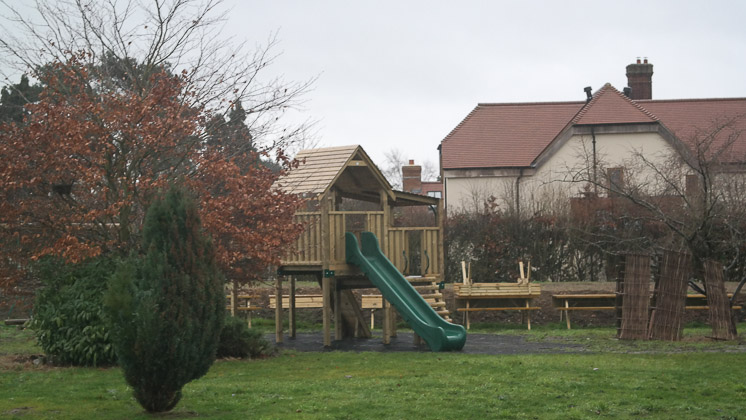 The Potting Shed, from the outside, looked fantastic. Full height windows, stretching across the width of the building, allowing me to look in with trepidation. As it was New Years Day, a large Christmas tree was in the window. Walking through the big, wooden doors through to the restaurant, we were met and shown to our table.  The venue had lovely high vaulted ceilings which, in combination with the windows allowing a lot of light in, made The Potting Shed very airy and pleasurable to sit in.
There was a large painting on one wall of inside a potting shed. On the far wall, a ladder against it, with a mural of a door and a barn owl behind. Each table had a chair with a large sheep skin blanket. It's these kind of touches that really make a place feel like they are thinking about their customer experience. Around the corner of the restaurant there seemed to be the original pub before The Potting Shed, with a few hidey hole areas. A side note, toilets were very clean.
Drinks
They had a great wine selection, Claire asked for a glass of pinot noir, I was happy with the complementary jug of water. JW had some orange juice.
Starters
We ordered some bread and oil, along with some ham (JW – our toddler – cannot have gluten, wheat or dairy), and they kindly brought out some gluten free bread, with some jam for him to enjoy too! The bread was mixed types, and delicious, as was the freshly carved ham.
All ordering was made on a tablet :-)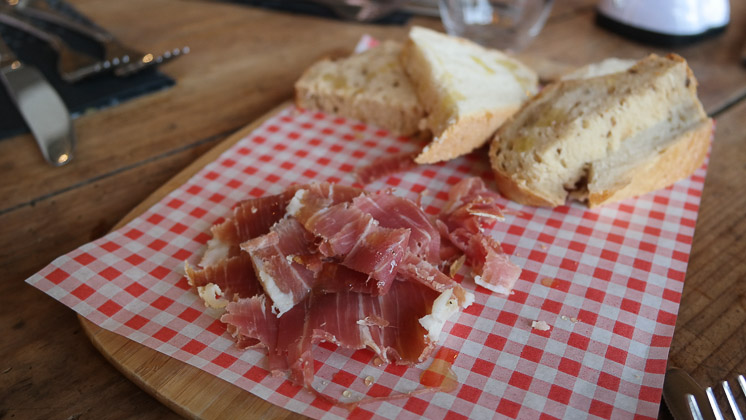 Sunday lunch
Claire ordered the roast beef for her, and a child's beef for JW (excluding the Yorkshire pudding). I was feeling very greedy that day, and ordered the mixed roast.
A huge Sunday lunch was brought out – 3 large roast potatoes, a Yorkshire pudding , carrots, parsnips, brussel sprouts , kale and gravy along with 3 meats, being lamb, beef and pork. Gulp. The waiter, without being asked or prompted, kindly cut up JW's beef!
Tucking in, the roast potatoes were perfect – lovely and crispy. Surprisingly, the quality of the meats were excellent – I sometimes feel that the mixed roast comes with poorly quality meat, but not here – lovely and thick pork slices, 2 slices of flavoursome lamb and on tender slice of delicious medium-rare beef. The gravy was lovely and rich, and the vegetables were perfect for me – both in the way they were cooked, but also the selection too.
I was absolutely stuffed! So me being incredibly greedy, dessert was definitely on the menu.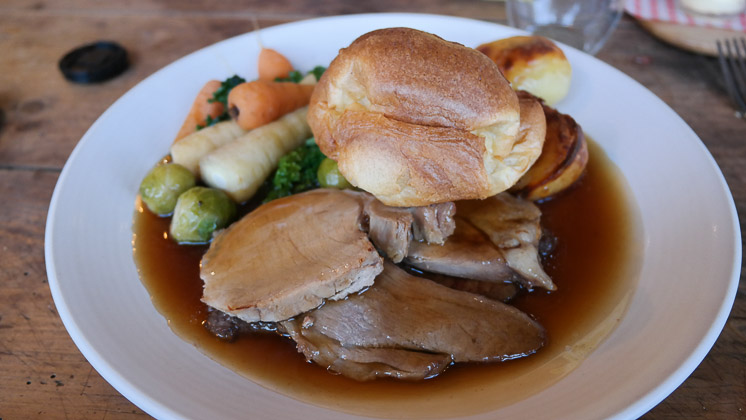 Desserts
I ordered the creme brulee along with an americano coffee. We also ordered JW a scoop of sorbet. The creme brulee was nice enough – it didn't seem to have any vanilla seeds in it though? I assume this was on purpose as everything else for the meal was spot-on superb. JW loved his sorbet.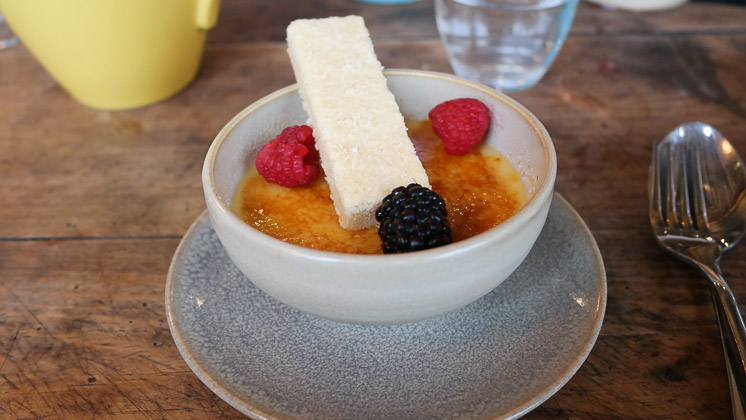 Children's facilities
I believe there was baby changing facilities, although JW is of an age we don't worry about this now. The play area outside would be good in better weather. The staff were excellent with JW, incredibly friendly and welcoming, dealing with him as an individual rather than a nuisance. For this alone, I'd recommend to families.
Conclusion
I now have a new favourite venue – The Potting Shed is up there with The Beacon and The Swan at the Globe as being one of the best places we have visited. It had the full set – excellent service, venue and food at a fair price. The venue was wonderful, bright and airy, clean and cosy with fun tweaks. The staff, as commented previously, provided some of the most attentive service we have received – even on New Years Day.  The food was delicious, with generous sizes (try the 3 meat mixed roast, and be rolled out of there afterwards, with a huge smile on your face). Now, if only they served cauliflower cheese…
A lovely example of a Top Rated Sunday lunch at The Potting Shed – suited to everyone and anyone looking for a great lunch.
John
Rating:
Share the love of a Sunday lunch!