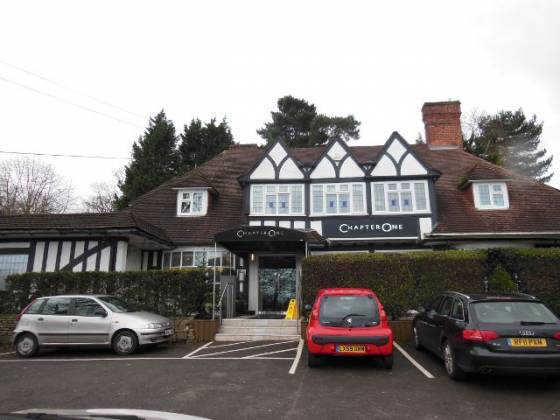 Farnborough Common, Locksbottom, Orpington, Kent BR6 8NF
Telephone: 01689 854848
Website: Click Here
Cost for Sunday Lunch: 3 courses – £22.95
With 2012 coming to a close, I felt we should experience a "fancy" Sunday lunch at Chapter One in Farnborough, Kent.  I have heard very good things about the place, so it seemed fitting to have our last Sunday lunch of the year there.
Booking was simple enough, I used the system on the website – I couldn't get the time of 12:30, the only time available was 12:00 and I was informed that there is a maximum allotted time of 2hrs and 15 minutes.  I was initially put out but, to be honest, there is a problem with our eating habits if we cannot finish a meal within 2 hours :-)
When we arrived, there were a lot of free parking spaces (when leaving, there were very few which shows how busy it was).  Walking through the Chapter One entrance, we were greeted straight away by a lady behind a desk.  A waiter came straight away from the left and showed us to our table (with the lady saying "enjoy your lunch").  Our table was in a corner, a soft comfortable chair for me and a two seat "sofa-like" chair for Claire (with a cushion!).  The table was set out nicely, with a white linen table cloth, white linen napkins, two set of wine glasses, side plate and cutlery.  The venue was decorated in white and light cream paint woodwork – there was also a sommelier wine cellar / cool room (with a settee in it!).
Menus were presented as we sat down, with a drink order taken (soda for Claire, diet coke for me).  Looking over the menu, there were some very interesting choices (such as Veloute of Parsnip or Venison Cottage Pie with Potato & Pancetta for starters).  Claire decided on the Deep Fried Fish Cake with Tartare Sauce and the Roast Sirloin of Beef for Mains.  I went for the Pressed Terrine of Chicken & Ham Hock and again, the Sirloin of Beef.  We were both asked how we would like the beef to be cooked (Claire – well done, me – medium-rare).
A butter dish was brought over by a server carrying a basket of 3 different types of bread – white, granary and focaccia.  Claire requested a focaccia, I had the granary; they both tasted fresh.  The starters were brought out only after a couple of minutes after ordering, and "wow"!  They looked amazing – Claire was afraid of the starters being large, but they were just the right size.
Claire's was actually made up of a few different types of fish, so she thoroughly enjoyed it.  I am a bit fussy with food, staying well clear of salad and salad dressings.  With large chucks of hock and chicken, my starter was perfect for me (especially as I was brought some extra bread to help me eat the terrine).
The main course was brought out quickly after our starters.  The plates had the roast beef slices on top of the vegetables, and seemed to have cabbage or red onion over it (in the gravy) as well as a big, puffy Yorkshire pudding.  Two dishes were also placed on the table, with three large roast potatoes each!  We asked whether we wanted any mustard or horseradish (Claire said yes to horseradish, the waiter came over with two bowls and served her – it was chunky and seemed good quality).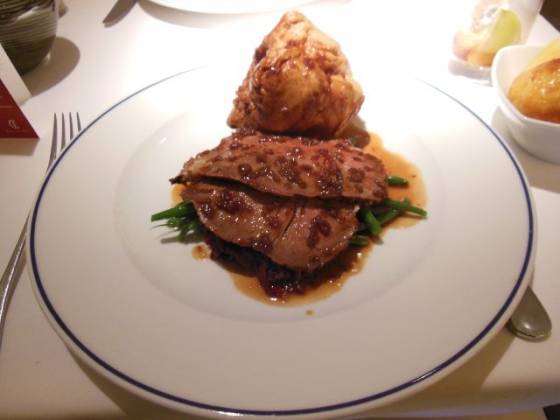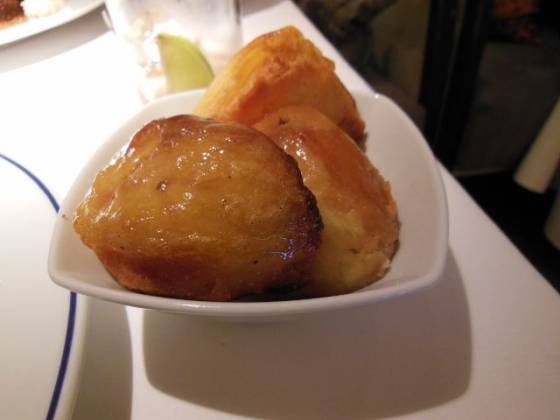 I attacked the roast potatoes first…  These were amazing!  I actually had to put a lot of pressure on the knife to cut (Claire remarked that she expected her's to go flying!).  They were SO crunchy all over the outside.  Much like how my late great-grandmother used to wrap Christmas presents (sellotaping over all of the gaps), it was almost impossible to get into them… I felt a sense of achievement when I found a "seam", and could cut through.  Inside, the potatoes were perfect too – very fluffy.
The roast beef was cooked exactly how I liked it – two large slices, about 5 mm thick each – and very easy to cut with a standard knife.  It tasted good, too.  Claire's roast beef was also cooked to her request, well-done.
The vegetables consisted of green beans and red cabbage.  They were both cooked properly, without being over-done.  The green beans had a slight bite to them, and the red cabbage had such a nice flavour (I didn't used to eat red cabbage, I'm so glad that I do now!).
The Yorkshire pudding was excellent – light and puffy, with a crisp outside.  The structure inside was so good, I almost took a photo of that too :-)
Lastly, the gravy (or "jus").  It was very nice, I had to ask for more though as a Sunday lunch is notoriously dry (the combination of roast potatoes and Yorkshire pudding).  A small jug was brought out with the thick jus which meant I was able to eat all my roasties without resorting to drinking a pint of water.
Our plates were quickly cleared away and menus were brought out for dessert.  Options ranged from a creme brulee through to a cheese board (for a small supplement – they included the words "all cheeses are unpasteurised").  Claire ordered the Pecan & Banana Financier, I asked for the Caramelia Chocolate Delice.
Only after a few minutes of waiting, our desserts were presented.  Again, they looked amazing; Claire's concern of a large dessert was abated – they seemed to compliment the Sunday lunch (which is the main attraction), not almost be a meal in their own right (such as my Syrup Sponge at The Old Jail last week).  Claire's consisted of a sponge, banana ice cream / cream, a chunky pineapple puree and chopped pecans.  I had a taste (well, half of the dessert), and the combination of them all on one spoon was divine.  My chocolate delice was superb, a cold mousse-type of dessert, with white chocolate on top, dark / milk chocolate on the bottom as well as salted caramel on the side (with ice cream).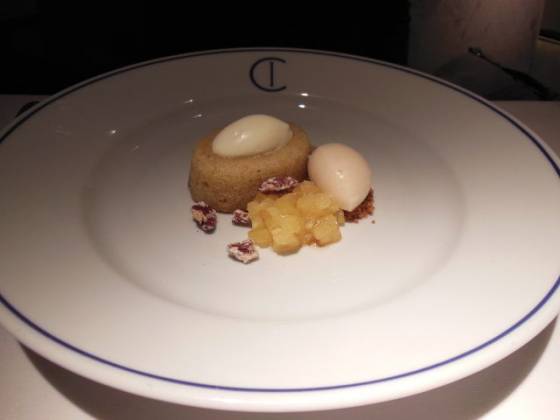 Once we finished, we were asked if we wanted a coffee – Claire had a decaf, I had a regular.  A small rectangle plate was brought to us, with two truffles and two mango jellies.  Our coffees were swiftly brought over (two small cups – again, just enough).  The truffles were very good; I remarked earlier in the meal about salted caramel, that Hotel Chocolat add too much salt in my opinion, these were perfect.  The mango jellies were fantastic – it was as if the inside was a mix of sugar and mango puree, with the outside slightly set.  Extremely tangy and a great way to finish off a meal.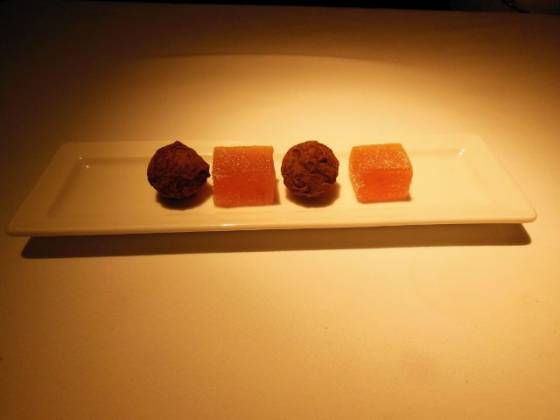 I am of the opinion that an experience should finish on a highlight.  Watch Indiana Jones and The Crystal Skull; everyone said about how poor the film was – this was mostly because of the ending being so far fetched and unbelievable, but the rest of the film was actually quite good.  At Chapter One, there are no concerns in this department.  The food throughout was excellent, each dish complimented the last.  The roast potatoes were so good, we would almost have to invent a new scoring system (6 out of 5!).  The starters were perfect, and the desserts were remarkable.  Finishing touches that make a venue stand out, such as the sweets at the end, the waiter remembering who ordered what, or offering to take our coats when we went to sit down.  The staff were attentive, the service efficient without feeling rushed.  The pricing of £22.95 for 3 courses was actually excellent value for money – if you order a starter, main and dessert from other venues, you would be looking at around £25+ per head, and they wouldn't come with the service we received from Chapter One.
So, without hesitation, I award a Top Rated 5 plates for Chapter One in Farnborough, Bromley.
John
Rating:
Share the love of a Sunday lunch!