Jail Lane, Westerham, Biggin Hill, Westerham, Kent TN16 3AX
Telephone: 01959 572979
Website: N/A
Cost for a Sunday lunch: Roast Chicken / Roast Beef – £8.95
The Sunday lunch at The Old Jail was recommended to me by the same person as Bo Peep, so I had high expectations.  Booking was easy, a quick phone call and we were all set set.  We were actually asked if we would like to pre-order our roast meat!  Yep – I ordered one beef and one chicken.
This was a county pub down a long road through Kent and Westerham countryside. The pub parking was simple, large car park's next to the pub.  The garden was large, with a few table and benches dotted around. Also, a children's play area was available, so this would be good for a family in the summer.   Entry to the pub was through the garden.
Going through to the bar, the first thing I noticed was how low the ceilings were.  It was also quite dark.  It was a bit crowded around the bar area and initially felt claustrophobic.  I think the pub was booked up for a large Christmas party as there were a couple of sections with tables and dressed up with decorations / crackers etc.  So, I assume the pub would be a bit more stretched out otherwise.
We were directed to our table and a drinks order was taken (Claire on the soda water, mine a blackcurrant and soda).  As we settled at our table, I noticed a lot of Biggin Hill memorabilia.  The carpet was very much a "country-pub" affair, as well as the wall paper.  There were quite a few nooks and crannies, such as a small brick stove in the corner.  I would have loved to have explored further as I reckon there were loads of other hidey holes around.
When deciding what to have for Sunday lunch, I noticed that there was not a menu on the table – the food was listed on a blackboard the other end of the bar.  This meant I had to take a photo on my phone to then show Claire (whilst quaint, not very convenient).  They had various starters available, as well as numerous mains – we went for our pre-order, being Roast Beef for me and a Roast Chicken for Claire.  A steak knife was brought out for me to use with the beef (+1 point for this!).
Sunday lunch was served very quickly, coming out 5 or so minutes after our order.  It looked alright, a few slices of beef (chicken supreme for Claire), 3 roast potatoes, vegetables, two Yorkshires and gravy.
The roast beef was excellent, seasoned and cooked pink.  Claire's chicken was very "meaty", a lot of flesh and, again, nicely seasoned.  The roast potatoes were perfect (5 out of 5), large, crunchy and browned on the outside, garlic and black pepper seasoning with fluffy texture in the middle. They were definitely the highlight of the meal.  The vegetables were ok – cabbage, broccoli and mashed carrot ( I believe, it could have had squash or swede as well).  I'm really not a fan of mashed vegetables, so this was a mark down from me.  The Yorkshires appeared, from first glance, to be from a frozen packet, but they tasted so good I do not think this was the case… they just knew how to make small Yorkshire puddings :-)
Lastly, the gravy.  This was actually onion gravy, so gave the whole meal a nice flavour.  It was also plentiful so I could steal an extra potato from Claire's plate to mop up!
The dessert menu / board was promptly brought over – the usual traditional pub treats were here, such as cheesecake or apple and cinnamon crumble (both of which were almost chosen).  In the end, I decided on the syrup sponge.  It came out around 10 minutes later, a large sponge in the middle of a custard moat!  It reminded me of childhood, with the sweet syrup and then the hot, sweet custard.  Very nice and well worth the £3.95!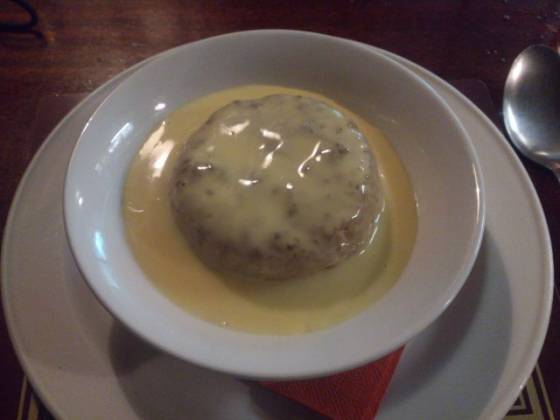 To conclude… During the meal, the pub grew on me.  The nooks and crannies gave an interesting feel to The Old Jail.  The ceilings and darker lighting provided a relaxing atmosphere – I felt very cosy and comfortable.  The service was quite good, we were looked after well.  The food (apart from the carrots) was excellent, I thoroughly appreciated the extra flavours each aspect of the meal had (such as the proper onion gravy and garlic potatoes).  Oh, and who could not mention the price?  £8.95 for a nice lunch – I had a dessert plus two drinks (ok, soda waters etc), and it all cost £25 including tip!  I am so pleased to have found a place which hasn't been affected by the gastropub pricing of London – I rarely pay less than £10 for a Roast, and pay at least £4.95 for a pudding.  So, what could they improve?  I would definitely prefer a different vegetable selection.  Also, the table setting was very basic (dinner matt and knife and fork), it would be much better to have a menu to choose from!
Overall, whilst not a posh Sunday lunch, definitely a reasonably priced roast at The Old Jail.  Go for the roast potatoes, if for nothing else!
John
Rating:
Share the love of a Sunday lunch!