Bromley Hill, Bromley, Kent BR1 4JD
Telephone: 020 8461-8600
Website: Click Here
Cost for a Sunday lunch: 3 courses – £19.95; Kids 3 courses – £9.95
I had been meaning to book Bromley Court Hotel for a couple of years now, knowing it was a Best Western venue (we reviewed one in Coventry a few years ago). So, when my Dad was coming to visit one Sunday, I took the opportunity to try somewhere new. It was easy to book, I just used their online booking system.
There was a very large car park with lots of space to park. Walking through a side entrance, we followed the arrows to the restaurant. We were met close to the door and suggested to have a quick drink at the bar – which we did, and explored the garden (a lot of space for kids and dads to run about in!).
We were then shown to our table in the restaurant.
Drinks
There were some jugs of water on the table, and we carried drinks from the bar (lager on tap, and a diet coke for Claire).  We shared a bottle of wine during our meal – it was incredibly reasonable in price.
Starters
We had some bread rolls to nibble on before our starters were served – and they had a gluten free one for JW! (our gluten, wheat and dairy free toddler).
We asked for some melon for JW.  Claire ordered the prawn cocktail, which she enjoyed. The chicken caesar salad that Dad ordered was "lovely". I asked for the duck roulade – again, very nice with spicy peppercorns.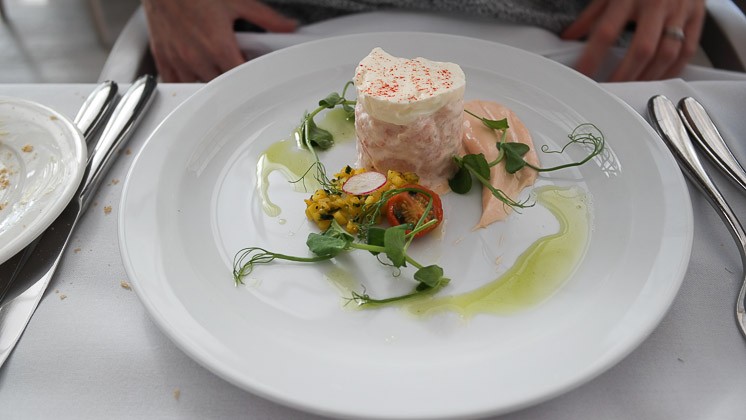 Sunday lunch
Claire ordered a roast chicken; Dad, JW and I had the roast beef. JW's beef came out with a Yorkshire pudding (we did state he was gluten / dairy free) – no real issues, thankfully we took it off his plate before he realised (he loves yorkshires).
The beef was considerably "well done", and a bit stringy. To be honest, it wasn't great meat at all. The Yorkshire pudding helped to redeem this a little though, it had a nice structure and tasted fresh. 4 well seasoned roast potatoes were served, they had nice flavour but could have been a bit crispier. The vegetables, being carrots and broccoli, were quite nice, and the gravy was good (we needed two jugs).
Overall, a nice lunch but severely let down by the beef.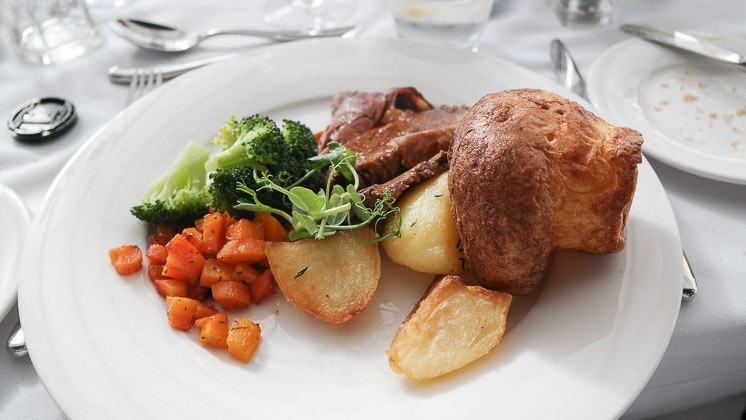 Desserts
We ordered a fruit salad for JW, Claire went for the chocolate and lime cheesecake, the panna cotta for me and a cheeseboard for Dad. The presentation for the desserts was very good – I really enjoyed it.  I also ordered an americano coffee – it was served in a filter jug.  The petit fours were delicious!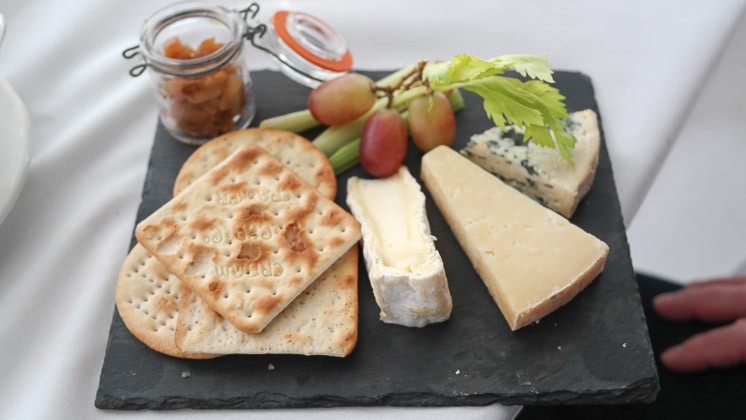 Children's Facilities
They had some baby changing facilities in a disabled toilet – all clean and in good repair.  They were quiet welcoming with JW, and the food portions were good for him.  The garden outside meant he could let off some steam before lunch.  So overall, an ok place for children.
Conclusion
A mixed bag for Sunday lunch at Bromley Court Hotel – the service was friendly enough.  The presentation of the starters and desserts were good, as were the portion sizes.  The quality of the beef was very poor though and the chicken was dry.  We felt they were aiming for a particular demographic (elderly people who want to eat in a Best Western hotel) rather than trying to provide a high end Sunday lunch.
With this in mind, The Bromley Court Hotel scores 3.5 out of 5 – still a good score but best for older people without children.
John
Rating:
Share the love of a Sunday lunch!