Weston Lane, Bulkington, Coventry, Warwickshire,CV12 9RU
Telephone: 02476 312989
Website: Click Here
I found a 2 night hotel in Coventry online through KGB Deals. It seemed to be a great price for a very nice location.
We were planning on reviewing somewhere anyway on that weekend, Coventry was as good a place as any other… I was intrigued to see what was available and at what cost.
I booked a table for 1:30pm at the hotel; we drove round for a couple of hours, checking out the local area and also into Coventry. Whilst there were quite a few lower priced carveries, there wasn't anywhere offering the (expected) quality of Weston Hall, so we decided to keep our reservation.
Upon entering the hotel, we were greeted straight away by someone from the restaurant. We were given menus and were asked to order drinks from the bar area whilst choosing our meal. Wandering through, I noticed the various eatery rooms to be full – Weston Hotel is obviously well-known in the area (I was looking forward to this!)  We ordered drinks from a reasonably priced bar (pint of Carling and a small glass of red came to £7.50, perhaps expensive in the area, but when coming from London…) and settled down in a chair to peruse the menu. We had 4 dishes for each course to choose from, including pate, melon or fish as a starter. The mains consisted of Roast Beef, (Xmas?) Roast Turkey, a fish choice and a vegetarian. The desserts seemed interesting, with cheesecake, christmas pudding, chocolate tart and cheeses all available. The total cost for 3 courses was a very reasonable £13.50 (note – £1.00 more than their website menu).
The bar area felt elegant, with dark wood furnishings, a very grand fire-place, chandeliers hanging from the ceiling, pictures on the wall and a guitar playing musician in the corner!
After around 10 minutes, the waiter came over to take our order. Unusually, he took our order for all 3 courses – recommending the cheesecake when pressed by me for dessert choices.  Claire went for mackerel as a starter, Roast Turkey for main and cheeses for dessert. I went for pate, Roast Beef and cheesecake.
As we were on holiday, and only needed to crawl upstairs, I also wanted a bottle of red for the table. They have a good selection of house wines sitting around £14.50 (we had a very easy to drink Shiraz the night before). The most expensive red was at £20, but I settled on one for £16.
He then asked us to follow him through to the restaurant. The restaurant was very nicely decorated with various Christmas paraphernalia including baubles in large jars, golden coloured wired deers etc. I would be interested to see how the room is furnished outside of the festive season.
As mentioned, the restaurant was fairly busy, but the staff were very attentive. We each had a bread roll sitting on our side plates. I saw someone's fruit topped cheesecake, whilst it looked nice, it didn't seem very special so I requested to have the chocolate tart instead, which was sorted without any fuss. Our wine was brought over promptly, and the starters came out quickly.
My pate was good, two very thick slabs on a bed of salad. I only had two small pieces of toast to spread them on, so it was initially quite comical to see how much I could pile on top for each bite! Once the toast was gone, I had to start one the bread roll and pate instead. Very nice though. Claire was also suitably impressed with her starter.
Once finished, the main course didn't take very long to come out. Claire's Roast Turkey looked good, with a large piece of stuffing sitting on top of a couple of slices of meat. My Roast Beef was served with a good-sized Yorkshire pudding. The vegetables were presented in a separate dish for us to serve ourselves.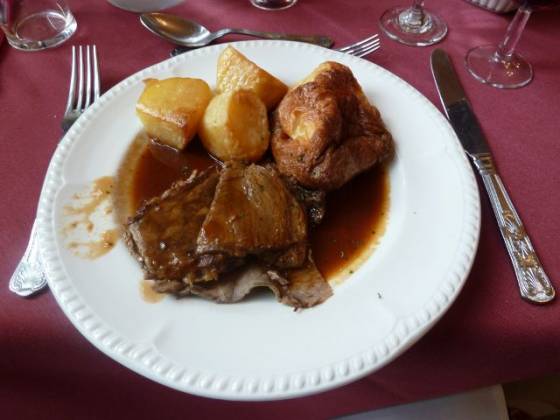 My Roast Beef was good, although I would have prefered a more 'medium' cooked meat. Claire really enjoyed the Roast Turkey, said it tasted very 'meaty' – in the sense that it had a really good flavour unlike some very tasteless meats we have had. The Yorkshire pudding was crispy but very light and tasted home-made with clean oil. I was most astounded though with the vegetables. We literally had 6 types of veg – brussel sprouts, swede, green beans, cauliflower, broccoli and carrots.  Whilst the beans were a bit soggy, the rest of the vegetables were cooked well. The gravy was also nice, with good flavour and enough to last the meal.
The Roast Potatoes though deserve their own paragraph. 3 per plate, a good (large) size and completely golden.  The outsides were extremely crispy, almost too hard to cut through. Inside, the perfect consistency of fluff. And the taste? Buttery. And, some new potatoes too! Excellent.
After Sunday dinner came our desserts… I am very pleased I changed, the chocolate tart was fantastic. Very crispy at the base, and a thick chocolate topping – devoured very quickly, I was so full but could have found room for another. Claire's cheeses looked good, and she also really enjoyed them.
So, a conclusion… Excellent service, excellent food and a fantastic experience for a reasonable price. It's hard to suggest anything to change, apart updating their menu online with the correct price. If you are looking for a special meal with the older members of family and you live near Coventry, this has to be on the list. If, like us, you live somewhere else, put this hotel on your places to stay for a weekend – and don't forget to try the roast!
Top Rated!
John
Rating:
Share the love of a Sunday lunch!