20 High Street, Sidcup, Kent DA14 6EH
Telephone: 020 8302 1529
Website: Click Here
Cost for a Sunday lunch: Roast Beef – £9.95
I was looking for a roast in our local area, and decided to book Sunday lunch at The Tudor Kitchen in Sidcup. I actually found them on The Gourmet Society Dining Card website, which meant (after checking) that we will receive a free course for each one we order (ie order a main and a dessert, get a main and dessert for free!). I booked a table for the two of us at 1pm.
Why did I choose the snowy-ist day of the year? Oh well, we gave the drive a shot. We parked in Morrisons Car Park, next to Sidcup High Street. Down the steps at the back, turn right and walk about 3 minutes and The Tudor Kitchen awaits. The outside was quite unassuming, almost looking like a cafe. The frontage is glass, with two doors (meaning the inside was nice and warm). We were met straight away (the door was opened for us) by the owner. We were asked where would we like to sit – we chose a table near the front (close to the window). Menus were presented to us and drinks were ordered (Claire had a soda water, I chose a green tea – "would you like Jasmine or standard green?", +1 point straight away!).
The menu itself was a fairly standard restaurant affair, with smaller lunches starting from £5.50+. I asked what the Sunday lunch of the day was – we were told we could have beef or duck leg. Claire broke the Best Sunday Roast mantra and had the beef bourguignon (£13.50). I stuck with the cause and ordered the roast beef (requesting "rare" when asked how I would like it cooked).
The venue had a decorative ceiling, with a chandelier as well. Further into the room, there were twinkling ceiling lights, with uplighters on the walls. The floor was wooden, as were the tables. Wine glasses were set ie this was more a restaurant instead of a bar. Overall, the restaurant had a clean, well looked after feel. It was a shame about the weather though, as we were the only people in for half the time.
Whilst we had already ordered drinks, I had a look at the wine list – quite reasonably priced, with house wine starting from around £14.00 a bottle. Something I was impressed with though was the selection of Chapel Down wines – they are a vineyard in Kent – the sparkling wine was £35.00. Claire and I had this for a celebratory dinner at The Paradise by way of Kensal Green in Brent one time at a cost of £52 a bottle!
Our lunch came out after around 15 minutes – Claire's was served first, with a separate bowl for the mashed potato (horseradish was also served in a dish). My roast beef came out next – and it looked impressive!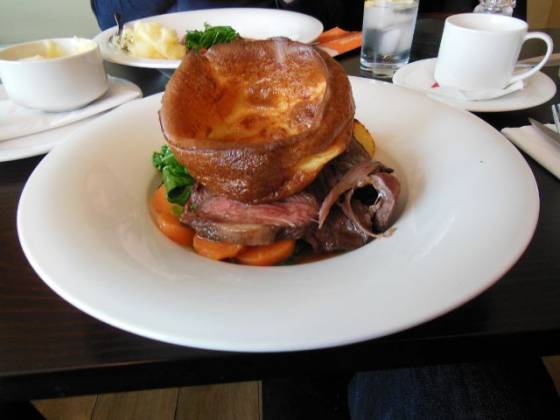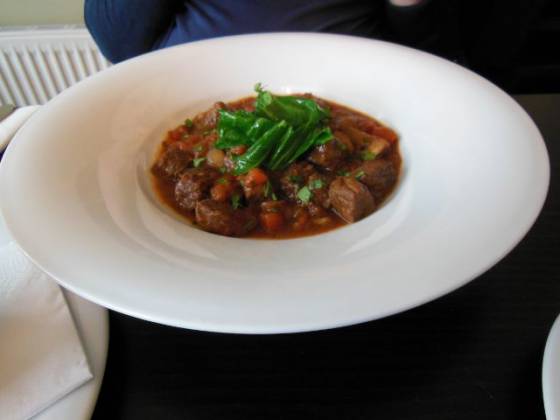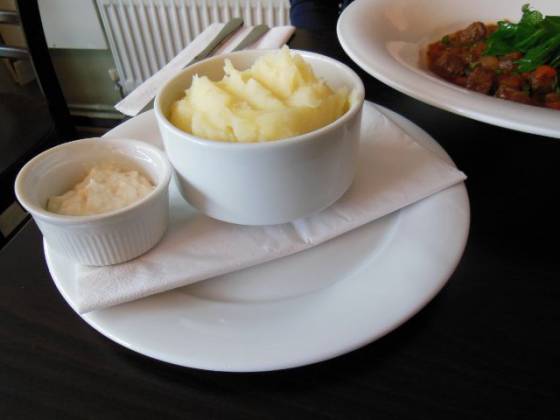 There were around 3-4 slices of beef (cooked more medium-well rather than rare, unfortunately). 5 small-medium sized roast potatoes, greens, carrots and a large yorkshire pudding topping it off (with a puddle of gravy in the middle). The beef tasted good, with pepper-seasoning. The roast potatoes were also seasoned, but this time with garlic. They were fairly crunchy on the outside and a good texture inside. Whilst not as good as Chapter One's, they were enjoyable. The greens were good, I believe they were either cooked with butter or salt. The carrots were ok – I prefer them a bit more al dente, but that's purely my preference. I also would have preferred another one or two types of vegetables, such as mange tout, green beans or perhaps some brocolli, to give the meal a bit more of a variation.
The large yorkshire pudding was excellent – very crispy and tasted fresh. Lastly – the gravy was plentiful, with good seasoning (again) and enough to last the whole meal.
I sampled Claire's meal – very nice, the beef was tender. She also enjoyed the mash potato, could have eaten the whole bowl if she wasn't so full!
After a good, hearty Sunday lunch, I just had to give the desserts a go – so, a gunpowder green tea and a brownie sundae was ordered for me, a decaf (Ily) coffee for Claire. As we were using the Gourmet Society Card, which gave us a free dessert if one was ordered, I also (cheekily) requested to take home a brownie – the owner said yes without any hesitation :-)
Our drinks were served quickly (the green tea was once again "whole-leaf", so gave it more flavour). The milk for Claire's coffee was warmed up, which she appreciated.
My brownie sundae came out – it looked good, served in a glass with whipped cream on top. Tucking in, there was caramel sauce, ice cream, chocolate brownie and also hazelnuts. Definitely a sinful and tasty dessert.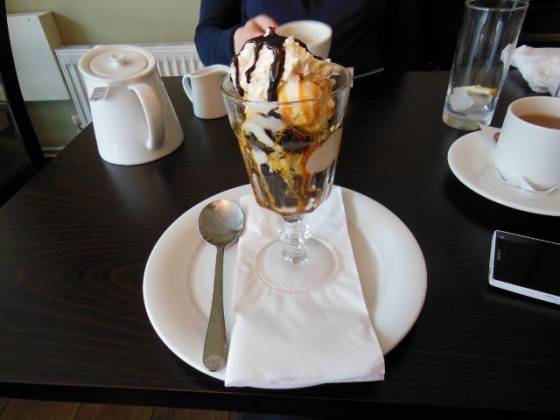 So, on to a conclusion. The owner was very welcoming and friendly, we felt right at home. The quality of the drinks selection was excellent (they served speciality Meantime beers on tap). Both our meals were good, I liked the beef and roast potatoes seasoning, and the yorkshire pudding was noteworthy. Claire's beef bourguignon was enjoyable too. BTW – Did I mention The Gourmet Society Card was accepted here?
Overall, The Tudor Kitchen in Sidcup achieves a 4 out of 5!
John
Rating:
Share the love of a Sunday lunch!