The St, Sissinghurst, Cranbrook, Kent TN17 2JG
Telephone: 01580 720200
Website: Click Here
Cost for a Sunday lunch: Roast Pork – £15.00; Kids Roast – £7.50;
I was recommended The Milk House by someone in my family. As we had a Sunday free and wanted to meet my Dad, I booked lunch for 4 people. Parking was ok – we found a place along the road. It was very pretty, the garden having a large children play area, along with a bar and pizza place! As it was quite sunny and warm, it was busy outside.
Inside was a bar and seating area on one side, and a restaurant on the other. Fresh and cleanly decorated, with cream walls, painted beams and lantern lights; the table laid with paper napkins ready for us. Staff were friendly, showing us to a table at the back of the restaurant, behind a small alcove.
Drinks
A glass of processco for Claire, and a pint of "Rockin Robin" beer each for Dad and me.
Sunday lunch
We skipped starters and went straight for the main course. With just one roast on offer, pork, it felt a bit of a bizarre menu. We ordered pork for Claire and me, along with a small one for JW, our toddler who is gluten, wheat and dairy free. My dad ordered the tuna steak salad.
The food took quite a long time to come out – it was starting to get a be fraught entertaining a (well behaved, happy) toddler. Eventually, we were served our mains, and were told it was actually really busy due to the people in the garden (the venue inside was quite empty). We had some thin slices of meat, along with 3 roast potatoes, green beans, carrots and broccoli – no apple sauce on the plate and I couldn't ask anyone for some as no-one was around! After reading the menu, it came apparent (although there was a bit of discussion with this) the gravy was "apple sauce and cider jus".
Something else was very bizarre – instead of slices of roast pork, it was actually lots of slices of bacon! This was extremely disappointing – expecting roast pork and getting something different. The roast potatoes were flavoursome, with lots of garlic and very crispy. The carrots were good, as were the broccoli, and we all liked the gravy. JW's meal was essentially an adult serving with just one fewer potato. Being half the price (£7.50 against £15.00), I wasn't sure if the kids meal was really good value, or the adult was extremely expensive?
My dad enjoyed the tuna steak, although it was actually a salad (and the steak was cold – not sure if this was correct?) – he enjoyed it though.
So, a strange main course – but let's have a go at the dessert menu.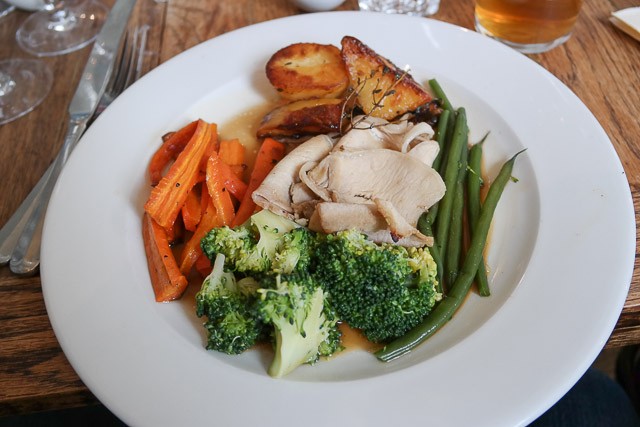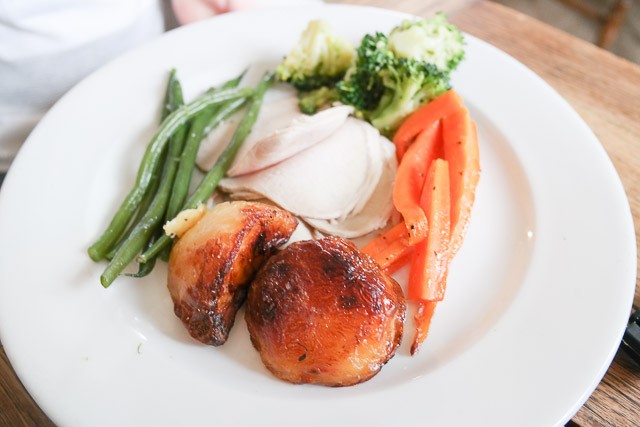 Dessert
I ordered the fruit salad and meringue for JW. Claire asked for some ice-cream, being lemon curd and white chocolate chip. I ordered the chocolate parfait for me, with almonds and rippled mascapone. Dad ordered the cheeseboard.  Initially, £6 for two scoops of ice-cream seemed a lot of money, but in fact it was so delicious the price was well justified. I enjoyed the parfait, and liked the raspberry rippled cream. JW ate the fruit salad happily, although it was missing the advertised meringue.  The cheeseboard was huge!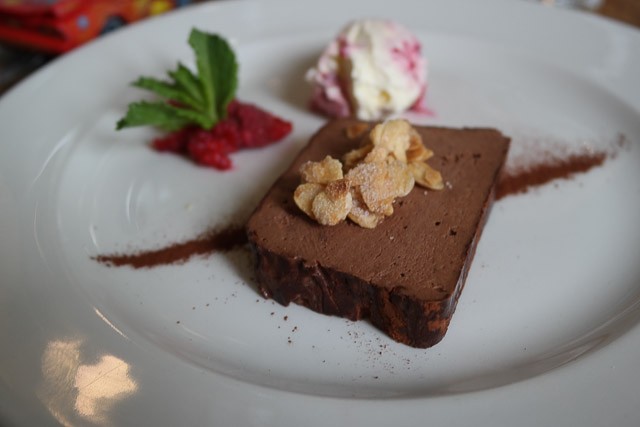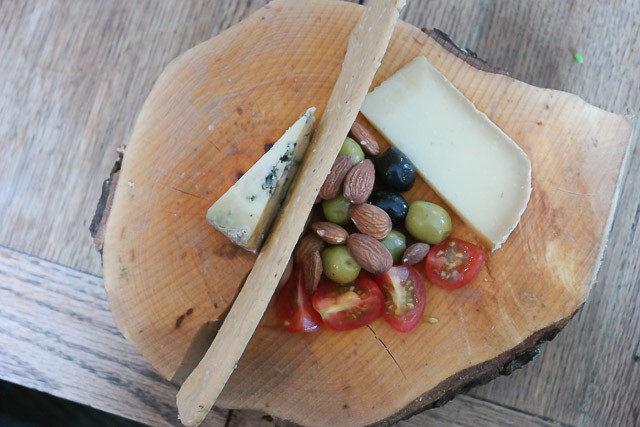 Children's Facilities
We didn't need to use any baby changing facilities, but I believe they had some available. There were a few children on the floor playing with toys stored in baskets – a nice touch (although a tad annoying having to step over various obstacles). They were able to accommodate JW's dietary requirements, and the high chair was good for him. So, definitely suitable for families.
Conclusion
A very mixed bag with The Milk House. The service was friendly but it got quite frustrating waiting for the courses to be served. The pork was very disappointing – we were quite shocked they thought serving bacon for a Sunday roast was a good idea, and the tuna steak seemed like it should have been warm / hot. The potatoes were good though, as was the gravy. Desserts were, on the whole, good – missing the meringue for JW but we preferred less sugar for him anyway. The garden is excellent, with a few different play areas and open space to run around in.
So, to wrap-up – the time waiting for the lunch to be served along with bacon instead of roast pork let the experience down a lot, but picked up with the venue itself  and other aspects of the meal were good. If they were able to speed up the service, along with providing some proper roast options,then I'd say it's worth visiting for Sunday lunch, especially as they were so accommodating with families.
John
Rating – 3 out of 5
Share the love of a Sunday lunch!