18-20 Station Rd, Reading RG1 1JX
Telephone: 0118 334 1331
Website: Click Here
Cost for a Sunday lunch – 3 course for £19.95; Kids 3 course – £9.95
We were meeting my friend Mik for lunch, so decided to book in Reading – our last experience of Malmaison was very good and as they had one near by, I booked for 4 people (Claire, Mik, our toddler JW and me).
First thing that came apparent was that they had no parking! We found some spaces a few minutes walk away, so it wasn't too much of an issue, but something to remember.
We were met at the desk and shown to our table in the restaurant. It followed a similar trend to the other Malmaison, with trendy pictures, shiny mirrors, industrial pipes on the ceiling, red leather seating – opulent is what comes to mind.
Drinks
We had some sparkling water for the table, along with processco, a jd and a coke.
Starters
The service was very good, the waiter explaining the menu (the soup was cauliflower). The Malmaison and Hotel du Vin have a "market table" where you can choose a starter of charcuterie, breads, fish and cornicons amongst other things. It was good that we could get whatever we wanted, but the selection was nowhere nears as good as the one in Farringdon. It was good we could continue to go back for more – only issue for us was that our toddler doesn't eat wheat, gluten or dairy (due to an allergy), so he'd only have the meat which was very salty. Thankfully they were able to provide some gluten free bread.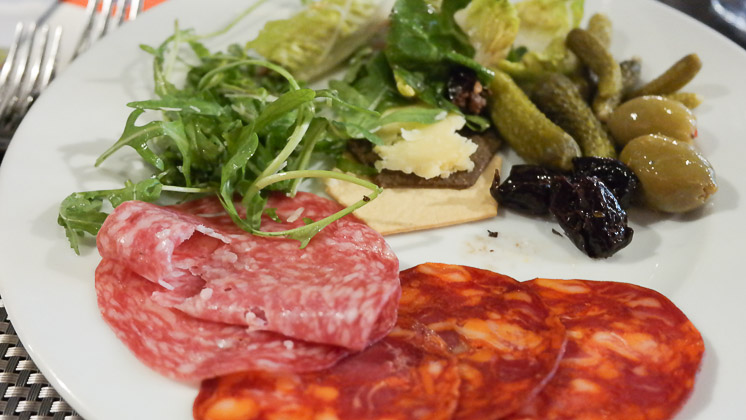 Sunday lunch
Mik, myself and JW ordered roast beef, Claire asked for roast chicken.  We were asked if we wanted it well done.
Lunch did take a while to be served – but it was good. There was a slice of pink beef, along with a slightly burnt Yorkshire pudding. We had a dish for roast potatoes – we were told [due to JW's dietary requirements] they had been cooked in olive oil especially for us! There was another dish for our vegetables, consisting of: parsnips, green beans and carrots. Lastly, a small saucepan (serving jug) of gravy.
Tucking in, the beef was very delicate and well seasoned. The potatoes were nice and I enjoyed the al dente vegetables. The gravy was delicious!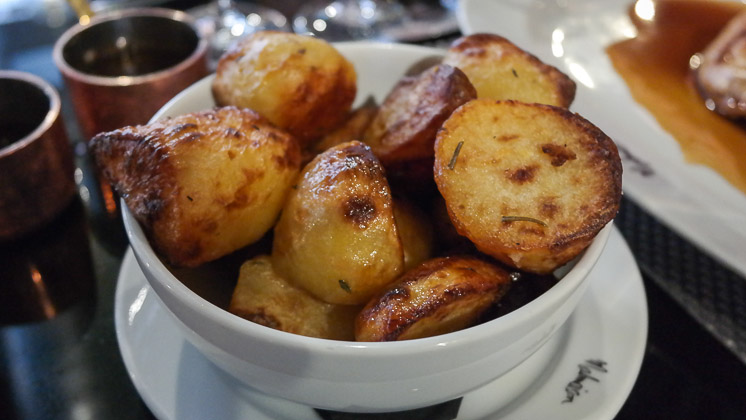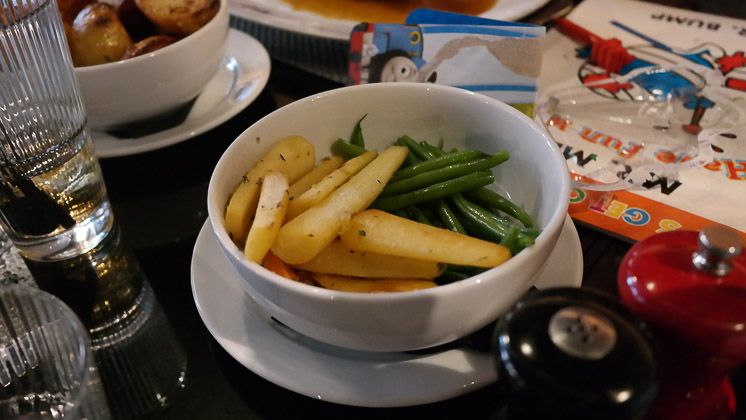 Dessert
We ordered JW a blackcurrant sorbet which was off menu, but suitable for his dietary requirements. Claire asked for the Peach and Amaretto Cream, and I requested the Sticky Toffee Pudding. Mik ordered the Creme Brulee.
The sticky toffee pudding was very enjoyable, sickly sweet :-) . Mik liked the Creme Brulee, Claire didn't really like the Peach and Amaretto Cream – it was literally that, without any other real flourish.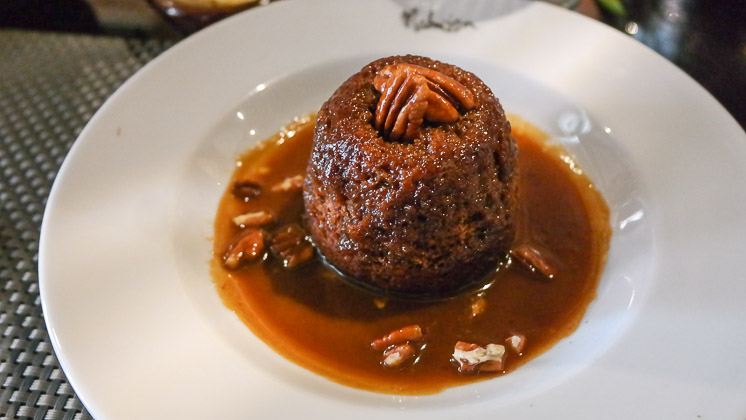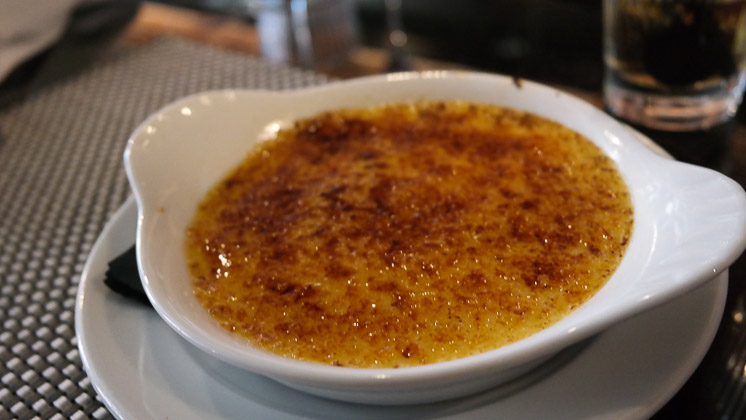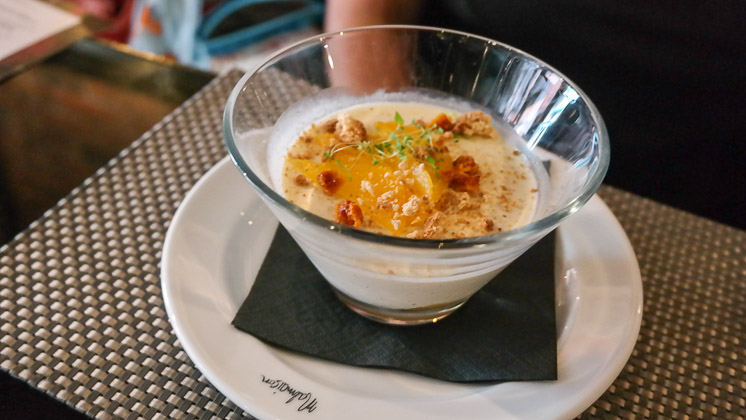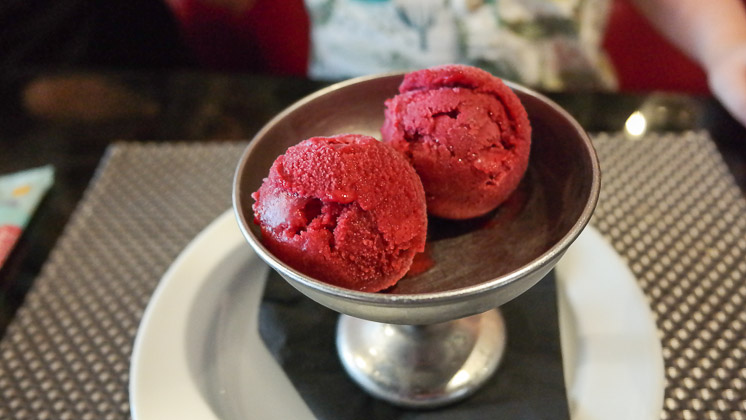 Children's Facilities
Malmaison offer a children's 3 course meal for £10, which is amazing value if your child is older than JW. As it was, we were not really able to take full advantage, especially due to his diet. The roast was a great size for him, and it was lovely that they provided olive oil cooked roast potatoes. I personally felt a bit on edge with a toddler, we were the only party with a child. Whilst I will definitely make allowances for them freshly cooking the potatoes, the meal took a while to finish (around 3 hrs) which is just too long for a child to sit still!
Conclusion
The service at Malmaison was friendly and attentive but it was very slow overall. As mentioned, a 3 course meal taking almost 3 hours is just too long for adults, let alone with a toddler. The market table would be good if you enjoy fish, otherwise there was an over reliance on 2 cooked meats, the bread was delicious though. The roast beef was good, as was the gravy. Dessert wise, the creme brulee and sticky toffee pudding was good but avoid the Peach and Amaretto Cream.
So, a 4 out of 5 score for Malmaison Reading.  At £19.95 per head, a good value Sunday lunch which is best suited to adult parties who are not in a rush to finish.
John
Share the love of a Sunday lunch!