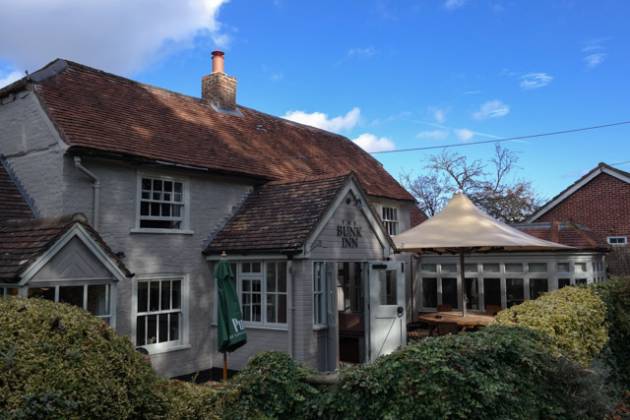 Curridge, Thatcham, West Berkshire RG18 9DS
Telephone: 01635 200400
Website: Click Here
Cost for a Sunday lunch: Roast beef – £16.00; Roast Port – £14.00; Children's roast – £7.50
I was looking for a Sunday lunch near our friend, Mik, who lived near Newbury. After searching for a while, I decided on The Bunk Inn. So, a table was reserved a few weeks before for 4 people at 12:30.
Venue
Lots of spaces outside the pub meant we could easily park up. There was a patio area on the right, with steps down to The Bunk Inn. We were immediately met and shown to our table in the restaurant. A high chair was brought over for JW, our 21 month old son.
The restaurant was bright and airy, with a lot of windows letting in the light. A stylish 'rustic' decor… The table was laid out, with linen napkins, along with a plant and dish of salt to sprinkle on food later.
Drinks
Tap water was brought over and served – Mik ordered a jd and coke (£3.50), I asked for a blackcurrant & soda (£1.20), and Claire went for a diet coke (£1.30).
Starters
As JW can get quite impatient with sitting, we ordered 2 bread baskets (£4.00 each) to share instead of starters.
Presentation of the bread was very good – someone came over and explained about each type – 3 different breads, along with nutmeg and cinnamon butter warm and very nice indeed!
Sunday lunch
Claire ordered the pork belly, JW had half a roast beef, Mik and I had the full beef. I asked 'how is the beef cooked?'. The waitress went to the kitchen and came back with: Beef cooked in a water bath for 24 hours and then seared, so will be pink. Amazing detail and service!
Lunch was served quite quickly, and it looked superb! The roast beef was carved wafer thin, and folded like a parcel. The pork belly looked wonderful. We each had 3 roast potatoes, along with chunky carrots, roasted onions, buttered greens, puréed cauliflower cheese, a large Yorkshire pudding and topped off with gravy.
Tucking in, the roast was delicious. Beef was cooked perfectly, very delicate and flavoursome. The roast potatoes were superb, and the greens were very nice too! I tried some of Claire's pork, I'd have been very happy with that choice too!
So, the Sunday lunch was perfect – now on to the dessert!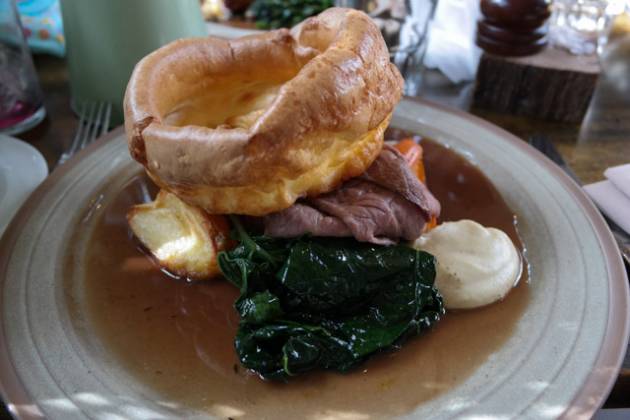 Dessert
Claire and JW declined dessert (well, we decided for JW). Mik ordered the creme brulee (£6.00), I ordered the chocolate terrine (£7.00). We also ordered 3 coffees (one being a cappuccino – all around £2.80 – £3.00)).
Mik's dessert came out with a very large piece of home made shortbread. He certainly enjoyed it. My terrine was wonderful – with a caramel 'splodge', I was in sugar heaven!
Oh, and the coffees came out with hot milk.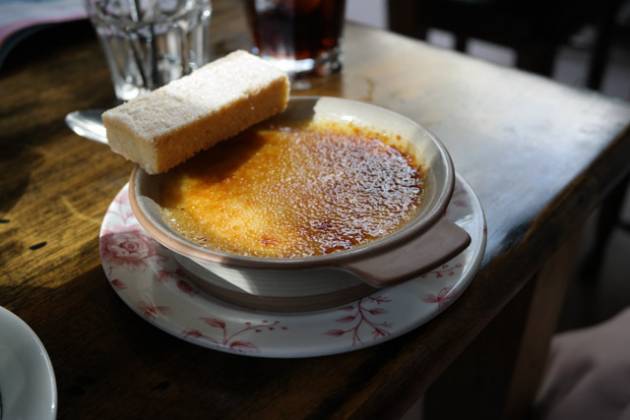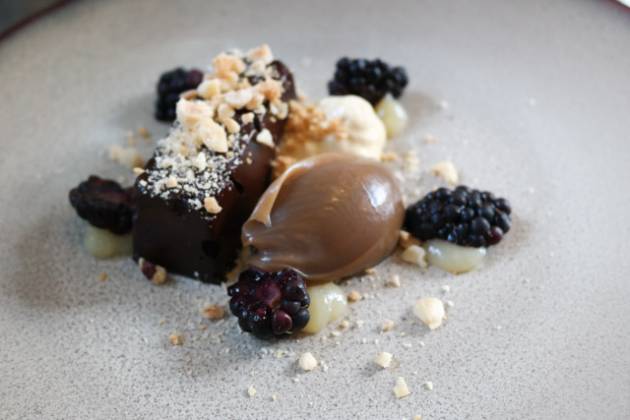 Children facilities
The Bunk Inn provided baby changing facilities in the ladies toilet. The highchair was very clean and in good repair. I liked the fact they could provide children sized roasts – JW loves roast potatoes. Certainly a place families with well behaved children should certainly visit.
Conclusion
This was such a great choice for a visit. The venue was relaxing, the service was excellent and the food superb. I especially liked the way bread was presented, along with the roast beef. In fact, not a bad thing to say about our experience.
So, Sunday lunch at The Bunk Inn scores a Top-rated award!  A place for celebration with family or meeting up with friends!
John
Rating:
Share the love of a Sunday lunch!