Swan St, Kingsclere, Newbury RG20 5PP
Telephone: 01635 299342
Website: Click Here
Cost for a Sunday lunch: Adults Roast Beef – £19.00; Kids Roast Beef – £10.00;
The Bel & Dragon group of venues has been on my radar for a while now – we finally had the opportunity to visit one when booking somewhere for lunch with our friend Mik. I booked the Kingsclere venue which is near Newbury, Reading. The village itself was very pretty (some nice walks close by to the restaurant). We parked outsides The Bel & Dragon, were met at the door and shown to table in the restaurant. The second time I have used the word in this review, but it was a very pretty place. It was a country inn with TWO roaring fires! And along with lots of pencils and paper, black tables with chalk for JW to draw on! The table was laid out with linen napkins.
Drinks
We had some table water, and ordered a bottle of red wine. We were then told that with their house wine, they serve it in a magnum and then work out the bill at the end. Initially I was a bit put out with this, but in fact it worked very much in our favour! I imagine if we were local and not needing to drive, it would have been a very different story.
Sunday lunch
We skipped starters and went straight to the main event. We ordered 4 roast beefs – 3 adults and one child. "How would we like it cooked?" – always a nice question. We also ordered cauliflower cheese, which was an extra £4 I believe.
Our food didn't take too long to come out – I was very pleased we didn't order starters. Large slices of beef, 5-6 perfect roast potatoes, greens, Yorkshire pudding and gravy on our plate. THEN a separate (huge) dish of mixed vegetables, followed by cauliflower cheese! The servings were immense!
Normally when food is this vast the quality takes a nose-dive, but not this time. The beef was simply awesome – cooked perfectly and so much of it. The potatoes were amazing, very crispy and beautifully seasoned. The cauliflower cheese was excellent, a very deep cheese flavour. The vegetables were cooked al dente , my favourite.
A wonderful Sunday lunch.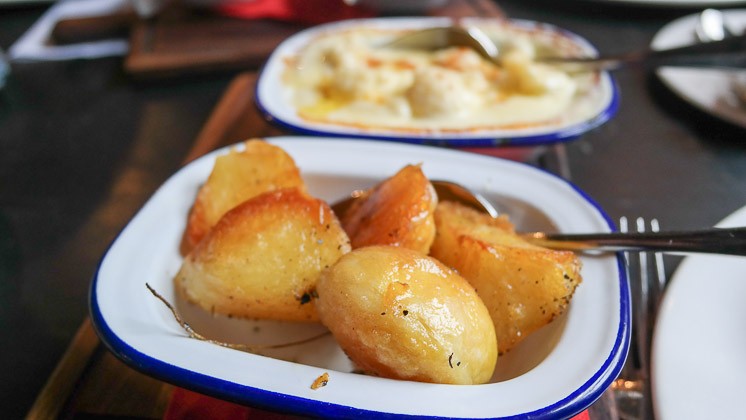 Dessert
Now, I know I said it was an amazing and voluptuous Sunday lunch, but we were out with a friend we hadn't seen for a while – so I had to order a dessert :-) I ordered a sticky toffee pudding – in common to the rest of the meal, this was very large indeed! Amazingly though, quite a light example, and sweet – very nice. JW's fruit salad was very pretty (that word again), quite classical in nature consisting of: apple, orange, banana and grape.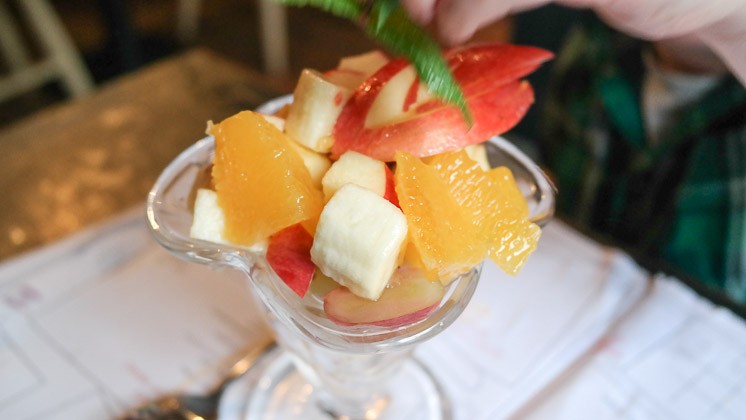 Children's facilities
The Bel & Dragon embraced families like very few of our venues. The changing facilities were clean and tidy. There were lots of board games to play, as well as pencils and drawing paper. The blackboard tables were a work of genius – we just had to make sure JW didn't start drawing all over other venues tables (perhaps a cunning plan from them? :-) ).  Also, the food for JW was reasonable, being 2 large courses for £10.00.  Certainly a venue for families with (younger and older) children.
Conclusion
Sunday lunch at The Bel & Dragon was superb. The venue was excellent, a smart country inn with log fires and tables laid out. The staff were attentive and patient during the meal, as well as friendly towards JW. The facilities for children were next to none, and this is all without mentioning the food! Whilst I was unsure about the wine being measured at the end of the meal, it worked out well for us (saving us £7ish). The food was at the top end of our budget, but was well worth it. Delicious beef, excellent roast potatoes and massive portions. Go here with hungry friends or family celebrations.
Can't wait to try out some of their other venues.
John
Rating:
Share the love of a Sunday lunch!