High Street, Bray, West Berkshire SL6 2AB
Telephone: 01628 626151
Website: Click Here
Cost for a Sunday lunch: Roast Beef – £25.50; Roast Turkey – £23.00; Children's Roast Beef – £10.50;
A reknowned gastro/foodie pub in Bray (with a Michelin star), Sunday lunch at The Hinds Head has been on my hit list for a while.  The opportunity arose just after Christmas, we arranged to meet a friend who unfortunately wasn't able to make it – we decided to make the visit anyway.
Reservation / Venue
It was easy to book a table using the online booking system.  The village of Bray was beautiful – must be a very pleasant place to live!
The parking outside was taken up, but opposite the pub is a green / common with lots of spaces.  A very old country inn, upon entering we were met immediately.  We had the option to have a drink at the bar, but as we were running late (a lot of traffic on the motorway), we went straight through the restaurant.
Starters
We decided to have a starter each, Claire ordered the Ham & Pea Soup.  I ordered the Orange & Port Fois Gras.  We had some bread brought out for us to nibble on whilst waiting.  Claire commented that the soup was very nice, although perhaps a bit too salty for her tastes (we do not add salt to food at home).  My starter was delicious, the light and creamy fois gras was gently balanced with the orange.  It was also very nicely presented.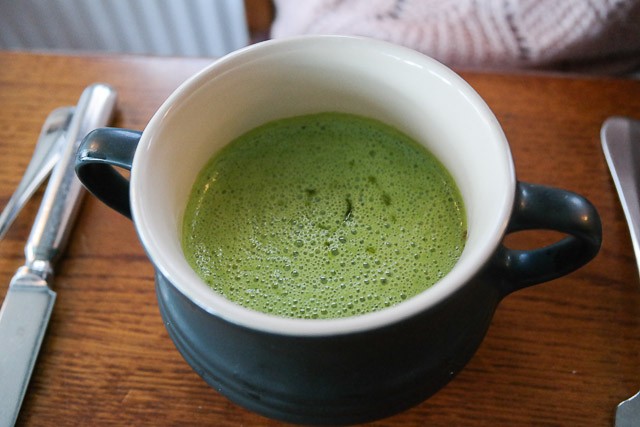 Sunday lunch
As it was just after Christmas, they still had Roast Turkey on the menu – Claire ordered this main.  I asked for the Roast Beef and we got JW (our toddler) a child's portion of the same.
Service took a bit longer than expected, but we realised why – it seemed that everything had been cooked to order.  Our roast potatoes were hot, crispy and wonderful!  Claire had 5 slices of Turkey, pigs in blanket and stuffing.  I had two large slices of beef, along with a Yorkshire pudding. We also had a dish of vegetables, being cabbage, carrots and sprouts with a cream sauce.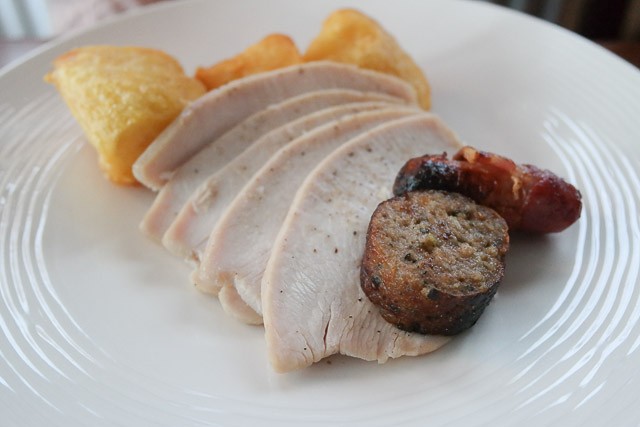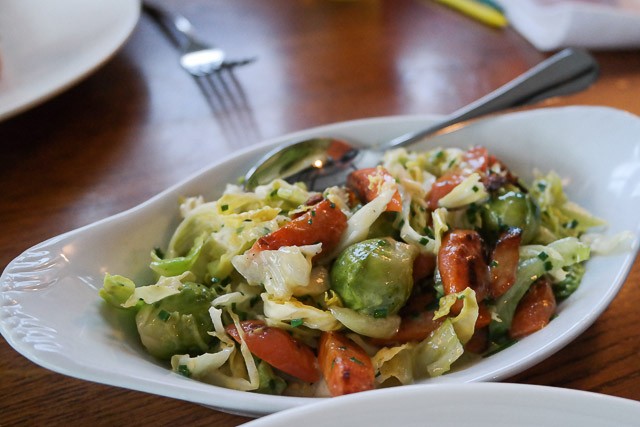 Children's Facilities
The staff with JW were really good – someone came out with a Father Christmas sack, JW was able to choose a present!  They supplied crayons so he could keep himself entertained.  The changing facilities were clean, as was the high chair.  It was good that they had the option for a child's roast dinner – meant he could have some "proper" food.
Conclusion
I was in very mixed minds with the scoring of The Hinds Head in Bray – the food was always going to be excellent, if not a tad expensive (£25.50 for a roast beef – but this was to be expected in a Michelin Starred venue).  The staff were excellent, very attentive to us throughout the meal.  My real issue was down to the fact they didn't have much atmosphere / background noise.  JW was not very loud, but every single bit of noise he made seem to be heard by everyone!  The couple next to us were very blank with JW looking at them from time to time, we felt quite uncomfortable.  A shame, as other people were very warm.  It seems a Michelin Star can attracts a certain kind of person…
Add a "family-friendly" section along with some louder music to create atmosphere and this would score a 5 from me.  Currently though, The Hinds Head scores 4.5 out of 5 – definitely more suitable to couples or larger groups with children.
John
Rating:
Share the love of a Sunday lunch!