Botley Hill Farmhouse, Limpsfield Road, Warlingham, Surrey, CR6 9QH
Telephone: 01959 577154
Website: Click Here
Cost for a Sunday lunch: Roast Beef or Chicken – £11.95; Children's Roast – £5.25
I was looking for somewhere a bit unusual for Sunday lunch, and found Botley Hill Farmhouse.
Reservations
Easy to book, I gave a quick call the day before and reserved a table for 12pm.
Venue
The Botley Hill Farmhouse is off a county lane – I actually drove past and had to turn back around!
A large car park meant we were easily able to find a space. The venue is set in beautiful countryside, with views of rolling hills in the distance and sheep in the field opposite. Some of the best scenery I have seen for a while.
The venue itself is an old farmhouse with contemporary twists (ie painted light coloured walls and pretty pictures around the restaurant). The tables were laid already, with paper napkins.
Drinks
I ordered a bottle of sparkling water to share, along with a small rose for Claire. We had a coffee each at the end of the meal.
Starters
We decided to get some bread and olives to start, avoiding the heavier options.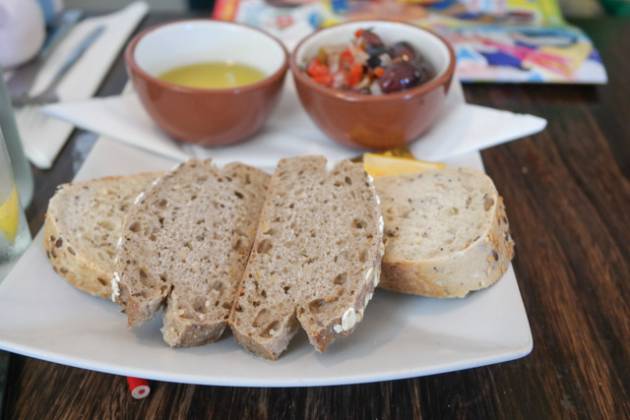 Sunday lunch
We ordered JW the children's roast beef. Claire ordered roast chicken, I asked for the beef. Children's cutlery was brought out for JW to use, which was a nice touch.
Lunch came out after a short wait. JW had two slices of beef, two potatoes, broccoli, carrots, parsnips and a large potato.
My one consisted of 4 medium rare slices of beef, 3 roast potatoes, cauliflower, carrots and a huge Yorkshire pudding. Claire's was similar, with a huge half a chicken!
Tucking in, the roast beef was quite nice, but the potatoes were superb – extremely crunchy. The vegetables were cooked al dente, so had a bit of bite (which I like). It would have been nice to have some more vegetables, but there was so much food I don't think I could have eaten much more anyway!
I tried Claire's roast chicken – not a lot of flavour, but was moist. She couldn't eat much due to the size!
Desserts
I ordered the Millionaire Slice with cherry and amaretto ice cream. We ordered JW the fresh fruit.
Again, service was quick – my dish looked very good. The flavour of the ice cream was delicious, and quite alcoholic!
We did have a problem with JW's though – the phyalis garnish on his was very moldy (you can see in the otherwise very tempting photo). I complained – they took it away, then brought it back with a different phyalis; it was the same bowl of fruit! Not acceptable at all, and I asked them to change it completely. He did enjoy the second dessert though.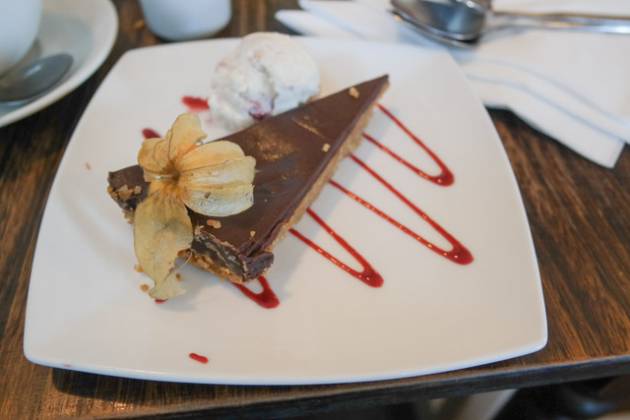 Children's Facilities
We had a high chair at our table – I made the mistake of saying he's a baby when I made the reservation, so the table was quite small (JW was 20 month's by this stage, so interesting in EVERYTHING!).  They had baby changing facilities in the ladies toilet. It was nice they provided cutlery for JW, although he's still eating with his hands ;-) They had a good children's menu, all main courses costing £5.25 (beef, ham, 1/4 of chicken, sausages and mash etc). The desserts were quite expensive, being £3.50 for 2 scoops of ice cream or £2.50 for fruit / rocket lolly.
Conclusion
The view outside Botley Hill Farmhouse was outstanding – some beautiful countryside.  Inside, the contemporary country inn cum farmhouse was also pleasant.  The actual Sunday lunch was quite nice, a huge amount of food – and the actual child's roast was reasonably priced.  Putting a moldy phihsys on a dessert was very bad, but the same dish coming back after complaining was just plan wrong.  A shame, because apart from that mistake, it was well suited to families and we enjoyed our time.
So, Sunday lunch at the Botley Hill Farmhouse scores 3.5 out of 5.
John
Rating:
Share the love of a Sunday lunch!