High St, Lavenham, Suffolk CO10 9QA
Telephone: 01787 247477
Website: Click Here
Cost for a Sunday lunch – 3 courses – £27.95
We were on holiday in Suffolk and had the opportunity to go out for lunch with family. After a bit of searching, I found The Swan at Lavenham (it was actually somewhere I previously looked at visiting) – booked it for a few weeks time for Sunday lunch.
Lavenham is a very pretty village /town. There was ample parking outside the venue in their car park. First impressions were good, a pretty searing area outside of the Swan, walking through the doors and into the restaurant area. We were met at the front and shown to our table in the centre of the room. It was a very pretty and smart venue, with high ceilings and even a pianist playing on a mezzanine floor above the restaurant (we recognised a classical version of Frozen 😊). We had a rose in middle of table, which was fully laid out with white linen table cloth and napkins.
Starters
I ordered the chicken parfait, which was excellent. Claire asked for the prawn cocktail which was nicely presented and she enjoyed it. We didn't get our toddler, JW, a starter – instead we asked for his main to be served at the same time.
Sunday lunch
We ordered roast beef all round which was beautifully presented – 3 potatoes, two slices of pink and delicate beef. The vegetables were uniformly cubed – swede, cauliflower, carrots, mange tout (not cubed) and peas.
The beef was tender and delicious. Roast potatoes were perfect, very crispy and a size. The Yorkshire pudding was good, and lovely jus – we just needed a bit more :-)
A delicious and perfect Sunday lunch – now on to the dessert.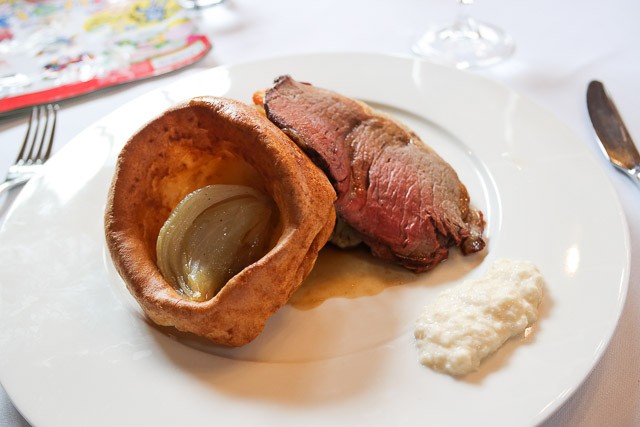 Dessert
We ordered a sorbet and fruit salad for JW, Claire ordered the strawberry and brandy snap and I asked for the tiramusi. It came out quickly and was very enjoyable with lots of cream and sweet coffee. Claire's dessert was also delicious!
Children's Facilities
We did need to use some baby changing facilities. The highchair was in good repair and the staff were really friendly towards JW. Not a place you'd instantly think would be ok for children, but we found it very suitable (as long as they are well behaved, of course).  JW really enjoyed his Sunday lunch, and it was good they could give him a nice (allergy-friendly) dessert too.
Conclusion
A wonderful experience at The Swan at Lavenham. The service was excellent, being both friendly and professional. The venue was very smart, and we all enjoyed the ambience set by the piano. The food quality and presentation was superb – to be honest, there wasn't anything we disliked about the Sunday lunch.
So, a very well deserved Top Rated award for Sunday lunch at The Swan at Lavenham – suitable for celebrations and special occasions.
John
Rating:
Share the love of a Sunday lunch!