A12, Main Rd, Yoxford, Saxmundham, Suffolk, IP17 3EX
Telephone: 01728 668418
Website: Click Here
Claire and I were visiting Suffolk again for a night away, so we took the opportunity to have another Sunday lunch review.  We recently reviewed a Sunday lunch at The White Lion in Aldeburgh, this time I wanted to try a roast at Satis House.
Satis House is situated on the A12 in Yoxford, just on a bend of th road.  Driving up the driveway, we had a view of a very grand country manor.  We were greeted in the hallway and shown to our table in the restaurant.
The venue was very impressive, with a darkly romantic colour scheme (pink, flowery wall paper, dark brown wooden flooring and tables).  The small bar area had some beers on tap, as well as a very nice fish tank.  Linen napkins, salt and pepper bowls – I had a great feeling about this.
We were brought over our menus and asked for our drinks request – Claire had a diet coke, I went for a lager.  A bottle of water was brought over to us, free of charge – a nice touch that I always appreciate
We decided to go straight for the main course, although there were some interesting starts.  Claire ordered the roast beef (cooked "medium"), I followed suit with beef cooked medium-rare.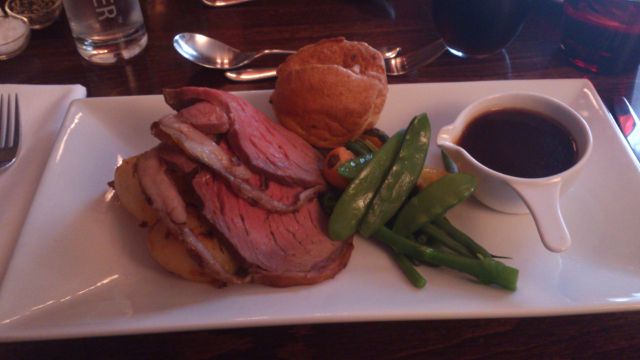 The plates came out quite quickly, on long rectangle plates.  It looked impressive, a lot of meat, roast potatoes, yorkshire pudding, mash (hiding under the meat) and a medley of vegetables.  The gravy looked great, being served in a pourer on the side of the plate!
Claire put this under "a meat-eater's paradise", as this dish was very much focused on the beef, whilst also ensuring the rest of the plate was managed well.  My roast beef was excellent, with thick slices and cooked to my liking.  Claire was also pleased with her's being "medium" .  The vegetables were an interesting mix, including asparagus, green beans, carrots mange tout and even orange beetroot.
The yorkshire pudding was very tasty.  The roast potatoes were cooked to perfection, and the mash was either mixed with horseradish or mustard.  A bit of a surprise to me, as I do not choose to have either of these (unless it is grated horseradish, such as our Sunday lunch at The Bull's Head in Chislehurst, Bromley), but it tasted good – and full marks in going for the less-traditional.  Lastly, the gravy was just about enough in quantity but quality way above other places…  Overall, an excellent Sunday lunch.
Moving on to the desserts, I decided on the "Chocolate Paradise", Claire went for the Pimms Jelly & Champagne Sorbet.  This took a bit longer to come out compared to our mains menu, but we didn't have to wait too long.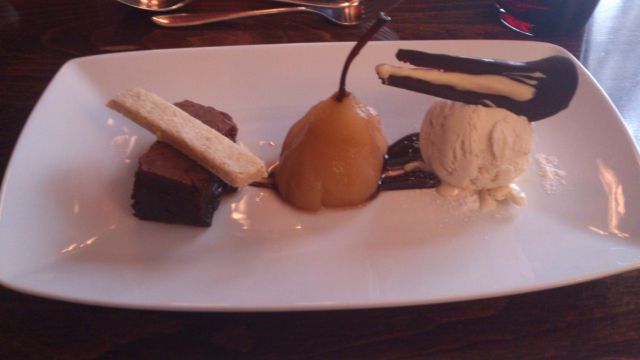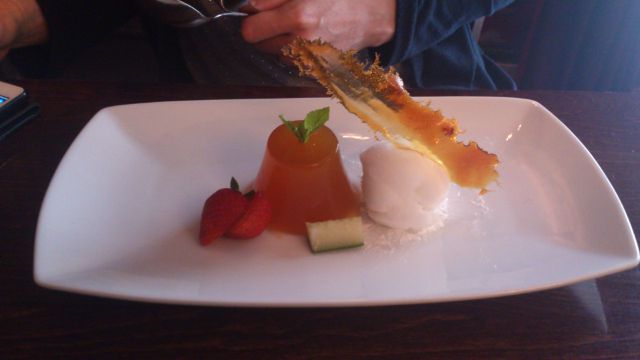 Claire's dessert looked like a nicely presented jelly and ice cream.  The jelly was so wobbly!  The sorbet was good, but Claire hadn't had pimms jelly before, so was a bit surprised with how strong it was.  She even felt her cheeks flush red after eating it (it seemed to have quite a bit of alcohol).
My chocolate dessert was absolutely wonderful.  A hot chocolate brownie, with sauce oozing from it.  A ginger shortbread, a very nice cooked pear and then finishing off with a very fresh tasting (ginger?) ice cream.
We then relaxed with tea in the "lounge", watching the Jubilee Regatta unfold.  I am pleased to say that Claire's mint tea was Tea Pigs, so full marks for the choice on that one! (they are my favourite tea "brand" – check out their liquorice and mint, sounds weird, but it so works).
To wrap up, this was one amazing lunch.  I haven't mentioned the service really here, it was impeccable.  The waiter and waitress were extremely helpful and welcoming, including topping up our water when it got low.  The main course was served quickly, looking and tasting impressive.  I was very happy with the intriguing vegetable selection.  Our desserts were also good quality too.  And lastly, the price – I am amazed that such a nice venue can serve a great quality lunch at this price (£10.95 each).  This puts many others to shame and I wholeheartedly recommend visiting Satis House for a special (or even a casual) Sunday lunch!
John
Rating:
Share the love of a Sunday lunch!