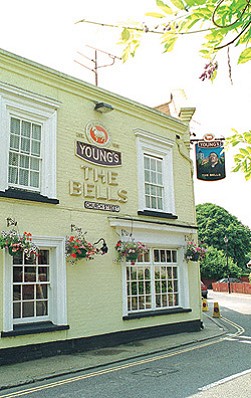 124 Church Street, Staines, Middlesex TW18 4ZB
Telephone: 01784 454240
Website: Click Here
Cost for the Sunday roast – £8.95
When John told me we were going to a pub in Staines I was a little worried, the only thing I know about the area is Ali G!!  But I was pleasantly surprised to find a nice, traditional place with hanging baskets on the outside, and just down the road from a river.  When we walked in we were greeted straight away.  The bar staff were friendly and fairly attentive but not overly so; we had to order at the bar as opposed to table service so we didn't have to deal with someone interrupting our high brow conversations about video games and films.
The choices were pork, lamb or beef.  There were three of us and we all ordered different so we got to find what all the choices were like!  I ordered beef, which was slightly pink and tasted good.  The plates came with the meat, potatoes and a Yorkshire pudding for each plate.  A separate serving plate came with the vegetables for the three of us, containing carrots, broccoli and green beans.  All the food was cooked well, a nice simple roast lunch.  There was nothing spectacular about it but sometimes when you are looking for a hearty, warming meal you want simplicity – a fussy stack of minuscule proportions just won't do!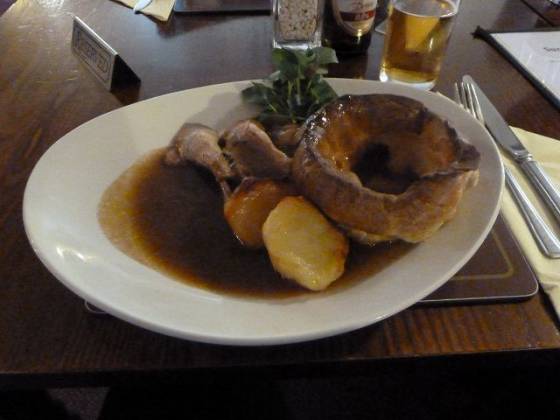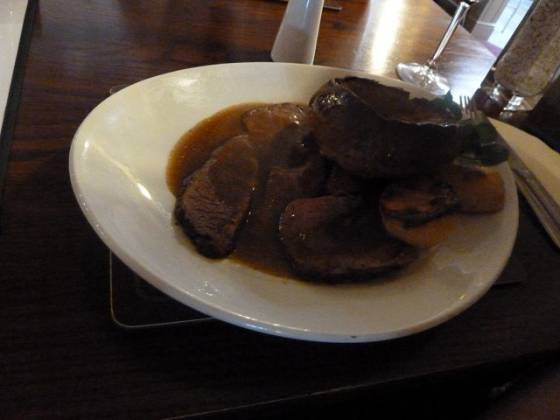 The dessert menu was extremely tempting, unfortunately I don't have the best of memories and didn't make a note of what was on there, but from recollection they had a chocolate profiterole cake, a berry cheesecake, delicious sounding ice creams and Eton mess.  I had the profiterole cake which was delicious – a chocolate cake topped with profiteroles!  As if either one of them isn't enough!  I wish I could have one right now, my mouth is watering while I type this…
All three of us agreed that the food was great, we had a fantastic lunch.  It was quite busy but not overly so, meaning that we felt looked after while the place had just the right level of atmosphere with a nice lively buzz.
Definitely recommend if you're looking for a nice traditional roast, just don't expect fancy stacked food or jus!
Claire
Rating:
Share the love of a Sunday lunch!