44 Essex Road, Islington, Greater London N1 8LN
Telephone: 020 7354 9993
Cost for a Sunday lunch -Roast Chicken – £11.95, Roast Lamb – £12.95, Roast Beef – £13.50
We decided to review the Sunday roast at The Old Queens Head after receiving an email offer through Keynoir. We were planning to visit Islington anyway that weekend as Claire wanted to go to the Cally Festival, near Kings Cross Station. We reviewed the gastropub as if we were paying full price, so the voucher didn't affect any of the scoring. I do suggest signing up with some deal websites (such as Groupon, you can get some great offers. As The Old Queens Head is part of the same group of pubs as The Paradise, we were interested to see how it compares.
Reserving a table was extremely simple, the lady I spoke with over the phone was very cheerful and extremely welcoming. I was told they have music on most Sundays upstairs from 4pm. I reserved a table for 4 at 3pm. I had a planned run around Gunnersbury Park in Ealing to go to first, so would meet Claire in Islington later.
The pub is a couple of minutes walk along Essex Road, which runs parallel to Upper Street. The outside is fairly unimposing, with some benches outside for the sun worshippers / smokers. Walking through the double doors, you are presented with group of tables on the left, and a bar running along most of the left wall.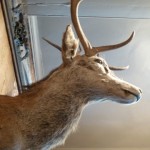 As I arrived before Claire and co, I had time to order a drink. I noticed that our reservation was two small tables put together with 4 stools, which I wasn't impressed with. Having a word with someone behind the bar soon corrected this, and the reservation was moved / swapped to the other side of the room. This was a lot more comfy for half the party as there was a sofa on one side and two stools on the other. The pub decoration was very fun and quirky, with a deer's head mounted on the wall above the table, funky chandeliers made from antlers, stuffed ducks in glass boxes and pictures on the walls. It was very eclectic and kitsch.
Claire arrived with her sister, Rona and a friend, Mel. Looking over the menus, Claire and Rona decided on the roast lamb, Mel the roast chicken and I went for the roast beef. Ordering was a simple process of just going to the bar (ie no table service).
Cutlery and napkins were brought over fairly swiftly, presented in a quaint wooden stand. We were also brought mint sauce and horseradish in small dishes without asking – just as it should be, in my opinion.
Our food was served after around 15 minutes of ordering, for me this is the right time – enough for one to relax with friends and not feel pressured to eat yet fast enough to remember what you have ordered!
First impressions were positive – the food looked very appetising. A big slab of beef was on my plate, as well as a generous amount of roast potatoes, a "muffin" yorkshire pudding (cupcake shape at the bottom with a muffin top), a couple of roasted parsnips, green cabbage, red cabbage and some mashed swede, all topped off with gravy. The lamb eaters had a 3 thick slices of lamb and Mel had half a chicken.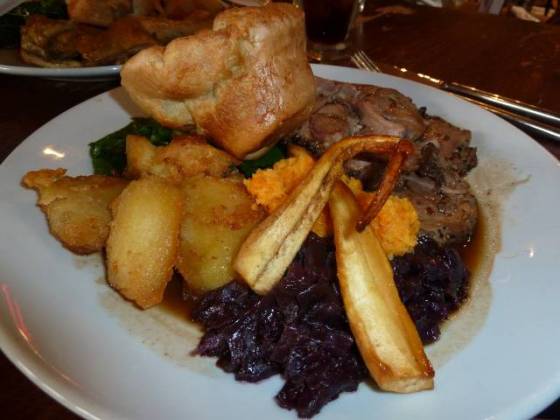 The roast beef was nice and tender (cooked medium – rare-ish), easy to cut with a standard knife. Claire and Rona thoroughly enjoyed the lamb, I stole a piece from Claire's plate and have to agree – extremely flavoursome, so pleased a pub knows how to season lamb to my liking :-) Unfortunately though, Mel's roast chicken was very dry and without any flavour.
The potatoes were crunchy on the outside and fluffy-ish in the middle; I would have preferred less crunch, more fluff but that's me just being picky – they were very nice. The green cabbage tasted very fresh, and the roasted parsnips was ok, perhaps a bit too al dente for my liking (and Rona agreed). There was much deliberation on what the mashed orange vegetable was – definitely not carrot, perhaps swede or sweet potato – either way, it was left on my plate when I had finished, along with the red cabbage. Rona and Claire's plates were clean, so it's definitely just me being a very fussy eater. They both made a point of saying how nice the vegetables were! The yorkshire pudding was pretty much excellent. The gravy tasted very nice indeed, unfortunately though suffering similar to The Paradise in that there was just not enough. Roast potatoes and yorkshire pudding require a lot of gravy to properly enjoy, otherwise the whole meal is just too dry – Mel's literally had just a small puddle on her plate.
As what is becoming a regular it seems with my Sunday roasts, dessert was definitely on the cards. Interestingly, there were only two options available – either an apple crumble and custard or various flavours of ice cream. I decided on the Apple Crumble (at a reassuringly reasonable price of £4.50). Dessert came out quickly; have a look at the picture below – what great presentation! And I have to say, it tasted as good as it looked! Excellent.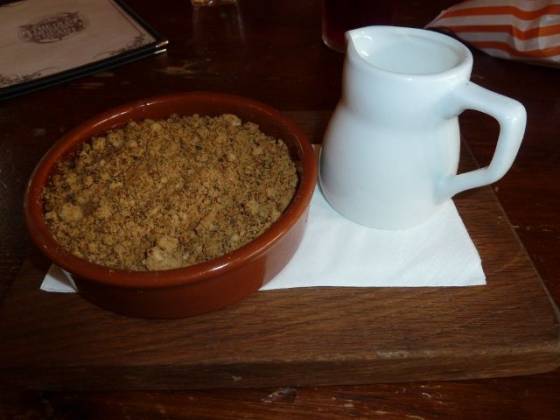 So, in conclusion. The Old Queens Head was an excellent gastropub for a quality Sunday lunch at a fair price in Islington. The service was good, I had a great experience with booking the reservations and the staff were attentive. The venue was extremely interesting and also fun from a conversational point of view. I really disliked the stools though as they are both bad for posture and also I like to recline after a wholesome meal. If Mel hadn't ordered the roast chicken, then this would have been a top-rated venue but unfortunately she really didn't enjoy her meal as it was far too dry. So, if you are going to eat here, then choose the roast beef or the excellent lamb instead. This isn't a place to go for a family get-together, it isn't focused towards that market (and they only sell two desserts). Instead, I recommend going to The Old Queens Head for Sunday lunch with friends to catch-up.
John
Rating:
Share the love of a Sunday lunch!