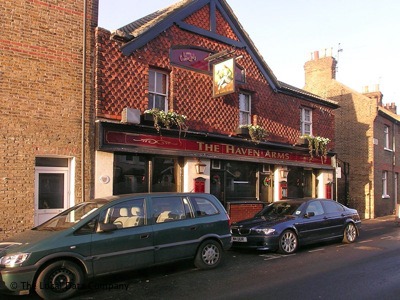 33 Haven Lane, Ealing, London, W5 2HZ
Telephone: 020 8997 0378
Cost of Sunday lunch: Roast Chicken, Roast Pork – £10.00, Roast Beef – £11.00
With the close of summer comes a close on a chapter of our lives. After around 7 years in Ealing, John and I are moving to Kent at the end of September. So, in the tradition of Best Sunday Roast, what better way to celebrate than going out for a Sunday lunch in Ealing!
So, on a rainy Sunday afternoon we headed out to review our last lunch until we move. The summer of 2011 seems to have had quite a few rainy afternoons. I like them; they make me feel cosy, especially when I can sit near a window and watch people hurry past, huddled under umbrellas, while I'm warm and dry enjoying a nice glass of wine or a cup of tea. That feeling of cosiness probably stems back to my childhood, feeling safe and warm cuddled under a blanket on a rainy day. My sister Rona feels like I do – we both love it when summer turns to autumn. Actually, we even still phone each other when it snows much to John's amusement.
So on to the review. John and I decided we had to review somewhere in Ealing and somewhere we either hadn't visited before or hadn't visited in a very long time. We came to a decision and set off for The Wheatsheaf, but on our way changed our minds. We had walked past the Haven Arms and thought it looked worth a try. It had to be good if people were even sitting outside in the rain!
We stepped through the doors and noticed a restaurant area, so wandered over and found ourselves an empty table. We sat there for a few minutes without menus, then the waitress came over to tell us the table was reserved (there were 3 empty tables which turned out to be reserved but none had been marked with signs). We were shown to a table in the bar area that was in a dark corner next to a very noisy table. It completely changed the atmosphere for us, and I had second thoughts about staying. As we sat down we noticed some people leaving a table in the restaurant space so we asked the waitress if we could sit there. She went to find out while she got our drinks. After consulting her book she came back and said it was ok, yay! So, we swapped tables again (sometimes I think John enjoys trying out all the tables). There was one issue with the restaurant area though. I'm not sure if it was the close proximity of the other tables (there was one large group and then a really noisy party of four) or the acoustics of the space, but it just seemed overly noisy. Yep, I know I sound miserable, but I couldn't hear what John was saying and had to get him to repeat most of what we were discussing (even if it was just about the decor!).
Our drinks arrived and, being hungry, we had already decided what to eat so made our food order. The choices were beef, stuffed corn fed chicken or belly of pork. I went for the pork (yum, crackling and I had just watched the Hairy Bikers make a pork belly dish) and John went for the beef. I was disappointed a moment later when the waitress came back to tell me the last pork had just been sold. The chalk board in the pub advertised that they serve from 12pm until 5pm and we had placed our order at 2pm, so I was surprised the pork had run out so quickly. I decided on the chicken instead. Waiting for our food we had plenty of time to look around us, and noticed on their board they make the claim of 'best Sunday roast' – this made me want my food all the more quickly!
While waiting for our food we noticed someone was served their roast before us, even though we had ordered before they even arrived at the pub. In fact, the wait was starting to get frustrating as it was more than half an hour for our food to arrive and we had finished our drinks. I felt slightly annoyed that we hadn't been warned food was taking so long (we would have ordered some bread or nuts), I don't mind a 20 minute wait (although John thinks even that is too long) but more than half an hour just seems an eternity. It's not good to keep a hungry reviewer waiting!
Finally our food arrived and the plates looked good.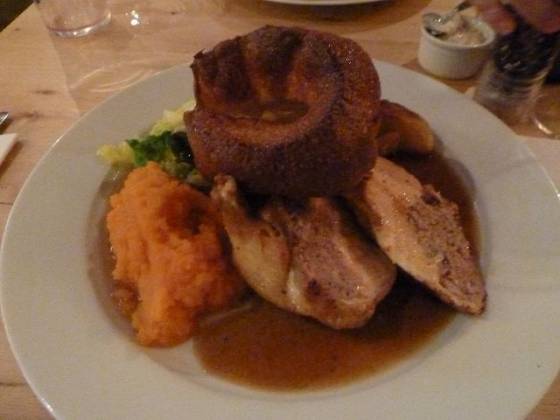 I had a supreme of chicken, with a nice sized portion of stuffing running through it. The flavour of the chicken was fantastic, I often feel that chicken can be a bit lacking in flavour when not seasoned but the stuffing added a good taste and the cut of the meat (a supreme) made the meal much more enjoyable – it can sometimes be off-putting trying to hack a piece of meat from a half chicken portion. I know a number of people who will often skip the chicken choice as they don't like to cut the meat from the bone. John had a taste of my chicken and loved it too. John's beef lacked a little in flavour, but he doesn't eat horseradish which I feel always improves a piece of beef. The potatoes were crunchy rather than crispy and were a little on the dry side, so I think they could have done with some extra cooking oil/fat, but it was a generous sized portion and I ate the lot. The Yorkshire pudding seemed homemade, and while not very crispy again, I ate it all (which really is not like me – I normally leave half). John was very happy with his Yorkshire pudding, which seemed crispier than mine. The vegetables consisted of a large portion of carrot and swede mash and a portion of bright green cabbage (a good indicator to me that it was fresh and cooked well). We saw other plates with different vegetables (such as peas) and couldn't work out if the pub alternated the vegetables or had simply run out (the menu mentioned seasonal veg and didn't state what kind)! John wasn't impressed with the vegetable selection as he didn't like the mash so only had some cabbage. The gravy was sufficient although I saw some tables with extra jugs so again not sure if this was a request or if we just missed out, but it added to the feel of inconsistency with the meals.
After emptying our plates, John didn't feel he could break with tradition and so decided to order dessert (all in the name of research). There were 3 choices: banoffee pie, chocolate brownie or a cheese board. Drum roll please…he chose the banoffee pie. When it arrived it was a huge wedge, I don't think I've seen a dessert that big in a long time! The pie went down well, and I was surprised to see him polish off the whole thing. Looking around I saw someone with the brownie and that was also a large portion.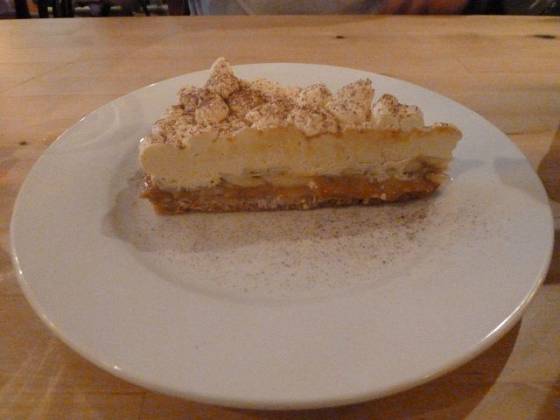 Conclusion:
It's difficult being a reviewer as you have to concentrate on each element of the meal and score each one, so you can't help but spot some flaws. John and I use the mantra that we are not critics, we are reviewers. So yes, the potatoes were a bit dry and veg selection seemed inconsistent, but as a whole meal it was good as demonstrated by my near empty plate (I don't empty a plate too often). I loved the quality and cut of my meat, and the flavour was the tastiest I've had in a while. After tasting the chicken I was glad the pork had run out (sorry Hairy Bikers)! We found the long wait tiresome, and while we take busy times into consideration we noticed that the chalkboard recommended to book tables at weekends as they get busy, so they do expect it and so could be better prepared. It would be interesting to visit again to see if the service is usually a bit slow or if there was a reason for it, but I would definitely recommend the chicken if you're ever visiting. And if you have room try the cheese board for me, I was tempted but didn't have space!
Goodbye Ealing, thanks for so many good memories and happy times (as well as some really tasty meals). Keep watching this space as we plan to review places in Kent as well as in Central London. After all that eating I feel I need the break as my clothes are starting to feel a little tight…
Claire
Rating:
Share the love of a Sunday lunch!