Warning
: strpos(): Empty needle in
/var/sites/b/bestsundayroast.co.uk/public_html/wp-includes/media.php
on line
1148
123a Clarendon Road, Notting Hill, London W11 4JG
Telephone: 020 7614 0177
Website: Click Here
Cost of Sunday Lunch – Roast Beef, Roast Lamb or Roast Pork Belly – £14.95
I received an email from the General Manager of The Clarendon. We aim to have unbiased reviews on Best Sunday Roast, so I decided to review anonymously and booked a table 6 weeks after the invite. We needed a place to meet Phil and Abi for lunch, and The Clarendon fitted the requirements.  The website was very easy to use and has a table reservation service. We were all set in a couple of minutes with a table booked for 4 people, and received an email confirmation too.
Claire and I arrived first, parking up literally outside the gastropub; the parking restrictions are more relaxed in this area on a Sunday. First impressions were good, The Clarendon looked impressive from the outside. We walked through the door and were greeted straight away. We could either have Sunday dinner downstairs or up on The Terrace. As it was a sunny-ish day, we tried the terrace and so we were directed to the stairs.
On the first floor, we were greeted by a member of staff and shown our seats outside. The terrace was a nice, open plan area with lots of tables laid out for lunch.  We ordered a glass of wine for Claire, and I started on a bottle of mineral water.  Unfortunately though, whilst it was sunny, in true British Summer style, it was a bit cold and windy so we decided to go back downstairs. This wasn't an issue at all and we were helped to carry our drinks back inside.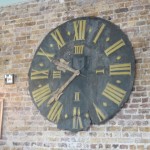 Back downstairs, we chose a table against the wall, with a window to look out of.   The venue had a lot of interesting decorative touches, including  a large, quirky wooden clock on the wall, nice light fittings and a moose table lamp).  I did have to use the toilet facilities, and unfortunately these really let The Clarendon down; the taps were water stained / dirty, there was a cracked sink and broken tiles above the urinal water cistern.  Claire confirmed that the female toilets were also in a similar disrepair.  This was a shame, as apart from the toilets, The Clarendon is an impressive venue.    Also, a strange selection of background music for Sunday lunchtime was playing (not sure if Radiohead is really the best for relaxing with friends).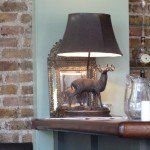 As we arrived quite early, I requested some bread to nibble on.  The waitress brought it out very quickly and with butter too no-less (I get annoyed with the whole balsamic and olive oil – traditional butter wins every time!).Phil and Abi arrived shortly afterwards, ordered a drink and we were all good to choose our food.
Perusing the menu, there were some good choices of Sunday roasts including Roast Shoulder of Lamb, Roast Sirloin of Beef and Roast Pork Belly. Claire and Abi went for roast lamb, Phil and I decided on the beef. We were asked how we wanted the meat cooked, Claire requested medium-well, the rest of us were fine with medium.
Our food was brought out around 15-20 minutes after ordering.  All of us were very pleased with the way the meals were presented, me especially with the Yorkshire pudding on top.  Claire and Abi were asked if they wanted a Yorkshire pudding each so they didn't feel left out, they opted to have one to share (they are normally £1.00 extra from the menu).
We had about 4 slices of thinly carved meat each.  A great selection of vegetables on our plates; we all had about 3 potatoes, carrots, cauliflower cheese, roasted onions and cabbage.  A strange serving of gravy though, our whole table had to share a small jug of "jus" – I asked for extra, and was given another small jug without any problems.  Don't get me wrong, the jus was very flavoursome but for Sunday lunch with Yorkshire pudding and roast potatoes, the meal is far too dry not to have lashings of gravy.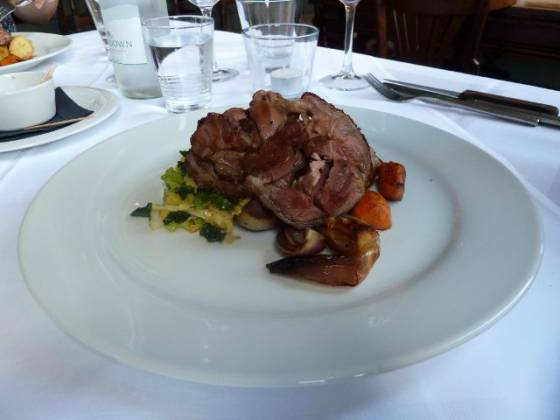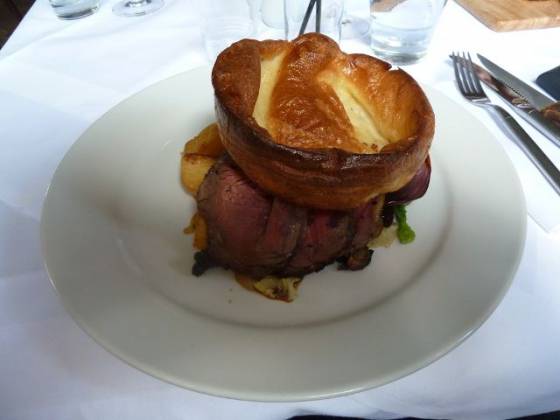 Tucking into the meal, we all agreed it was very well presented.  The meat seemed good quality, although Claire did mention that her lamb had more fat than she likes.  The carrots had a very nice flavour, cauliflower cheese was good (I wanted a lot more!) and the roast potatoes were also good (I couldn't taste the lemon & thyme; Claire would have preferred a bit crispier).  The roast lamb was served with mint jelly, whilst not the same as Chiswell Street Dining Rooms, Claire thoroughly enjoyed it.  Phil was especially pleased with the roasted onions – "good roast onions are very under appreciated".
So, we were all in agreement – a very nice Sunday lunch; now, on to the dessert!!!
A fine selection were available, from Neals Yard Cheeses through to the old favourites such as Sticky Toffee Pudding and Black Forest Gauteux.  I decided on the sticky toffee pudding, Phil and Claire were up for sharing a cheese board and Abi decided on a special that was recommended by the waiter.
It didn't take long for the desserts to come out, and once again I was blown away with the presentation!  Phil & Claire's cheese board look fantastic!  My sticky toffee pudding was huge, and Abi's dessert came with a truffle and a shot (Abi was so excited with her dessert, she had a bite before we could take a picture!)  My pudding was very tasty with lots of sweet toffee sauce – I have a feeling I got a sugar high from this one :-)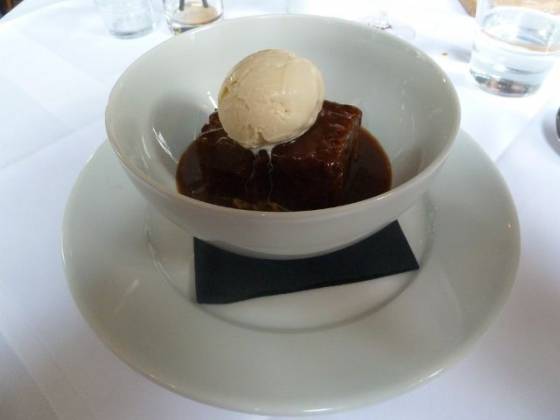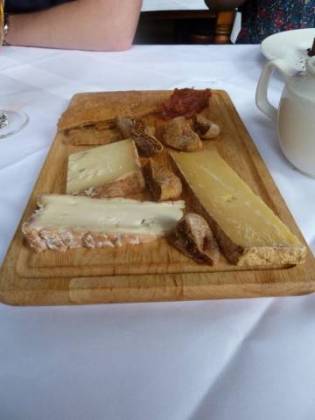 So, on to my conclusion.  The Clarendon provide a sumptuous Sunday lunch with friendly and attentive service.  The toilets were not up to scratch for a venue of this quality (and they drop a half star because of them).  Our overall experience was extremely positive though, we all thoroughly enjoyed our meal here; the Clarendon would be a good place to enjoy a lunch with friends or a special occasion. Best Sunday Roast award the Clarendon with 4.5 stars out of 5.
John
Rating:
Share the love of a Sunday lunch!