94 Uxbridge Road, Ealing, London W13 8RA
Telephone: 020 8567 8487
Website: Click Here
Cost for Sunday Lunch: £11.95-£12.50
We knew of Star & Anchor when it used to be Baroque, a New Zealand Gastropub / cocktail bar. It closed down for quite a few months, and then re-opened as Star & Anchor. Claire and I have eaten here a couple of times before (I had a roast dinner last time, so knew what to expect, but Claire didn't!)
The pub is completely unrecognisable now, with a dark and foreboding frontage, a smart new sign on the outside and a very welcoming bar on the inside. Walking through the double doors, we were greeted straight away by someone behind the bar (always a great sign). Cheerful too, especially as it was just after 12pm on a Sunday. "Would we like to choose at the bar, or have a seat?" We decided on table service, why not, it was a Sunday after all!
The waitress came over very quickly with the menus. A huge selection of wines available to choose from, ranging from around £15 upwards. I asked some advice about the wine, it was very comforting to be suggested a £18 bottle, instead of the £30. This made me feel they are wanting us to relax and enjoy ourselves, instead of just trying to take our money. To compound this, after ordering drinks, we were asked if we wanted water for the table – "Yes please!"
There are a number of choices for a Sunday lunch, ranging from Roast Pork, Roast Beef, Roast Lamb or, dare I say it, vegetarian! Claire was very sensible and chose the beef, I opted for the lamb.
We were sitting in a bar-cum-restaurant area, with thick, folded napkins, starter / main course knives and forks, wine glasses and tea-light candles. The sofa Claire sat on spread across the wall in a similar manner to an old, 70's pub (very yellow but excellent quality). A lot of very interesting pictures on the wall following Greek star charts and sea navigational maps. Unusual lamps dotted the wall area. Even the toilets were excellent quality. All in all, a wonderful, relaxing and unique oasis. You would never have guessed that just passed the window was the hustle and bustle of Uxbridge Road.
Food arrived around 15 minutes later. The meat was freshly carved, well-seasoned and plentiful. The potatoes were perfect, exactly how they should be – crunchy on the outside, fluffy in the middle and flavoured with rosemary and garlic. With mange tout, broccoli, cauliflower, carrots and roasted parsnips, the vegetables were cooked to perfection. All this was topped off with a massive yorkshire pudding! If there was anything to complain about (and really, a very minor thing), we both found the gravy needed a bit more seasoning. I would also loved to have had cauliflower cheese :-)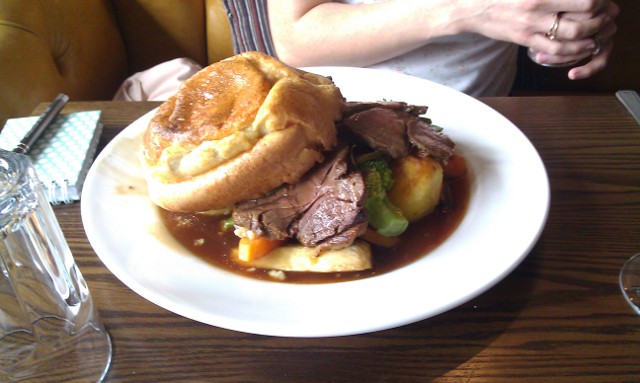 After the Sunday Lunch, I had to experience their dessert. They have a fine selection available, I chose the Sticky Toffee Pudding. Also served up quite quickly, it was very nice too! Mildly expensive at £5.50, but considering the venue it was worth it.
We use a score sheet for each review, Star & Anchor received our highest score yet – 54/55! The chef excelled him/herself with this Sunday roast, it was excellent!
In summary, somewhere to go if you want a high quality Sunday lunch with friends or family at a proper price. The food was excellent, drink selection fantastic and the staff were very attentive.
I feel very fortunate to have two excellent, top rated venues for Sunday roasts in Ealing – Sunday lunch at The Drayton Court and here, the Star & Anchor.
John
Rating:
Share the love of a Sunday lunch!