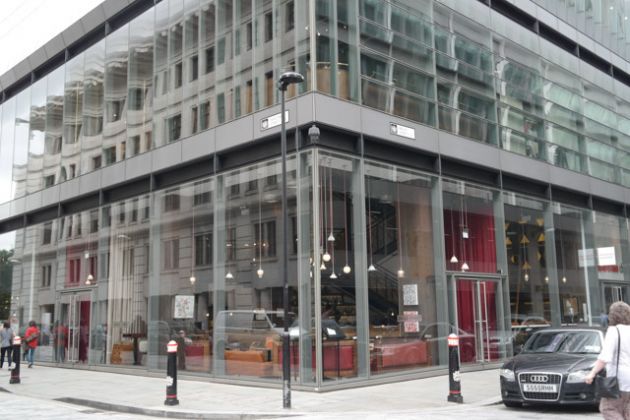 One New Change, 10 Bread Street, London EC4M 9AJ
Telephone: 020 3030 4050
Website: Click Here
Cost for a Sunday Roast: Roast Beef – £18.00; Roast Chicken – £16.50; Fish Cakes – £16.50; Children's Meat Balls – £7.95;
The Gordon Ramsey Bread St Kitchen is a restaurant based in One New Change, St Pauls (Central London).
Reservations
I was looking for a Sunday lunch for Father's Day in Central London, and decided on Bread St Kitchen. Reservation was simple, I called a couple of weeks in advance (just in case, as Father's Day can be very busy), and booked for 12:30pm.
Venue
The venue had a small bar area on the ground floor, with a (very funky decorated) lift taking us up to the first floor (we had JW with us, now 16 months but still needing a push chair). A seating area was next to it, along with a reception desk. The waitresses were speaking to each other for a few of minutes, then they decided to deal with me. We were shown to a large round table; as there were only 3 of us and a baby I asked to move to a smaller one. Menus were given, along with a children's pack with colouring book, crayons and a paper hat!
The decor – industrial meets art deco. Bright seats and very large windows allowing a lot of light in.
Drinks
They had Peroni lager on draft, but only served in 330ml glasses, not pints (my Dad and I ordered one each – charged £5.00). Claire ordered a glass of Chapel Down fizz (£9.50 – a delightful English sparkling wine ;-)). Later on, we were asked if we wanted another drink. I ordered a mean-time wheat beer but I actually received a Chocolate Porter. I had the option to send it back, but decided to give it a go (and very nice too! @ £6.70 a bottle though for 330ml!). Dad ordered a Brooklyn lager, again 330ml (£6.00).
Starters
We decided to go straight to main courses – and were brought out some bread to nibble on whilst we waited.
Sunday lunch
Claire ordered a Roast Chicken, I asked for Roast Beef. Dad, being peskatairan, ordered the "Fish Cake Special". When it came to JW, it was a bit more difficult. They did not offer a Children's roast (on Father's Day too?!), so we ordered the Children's Meat Balls with (extra) roast potatoes – it did not come with anything else.
The beef came out – two very large slices. The roasted half chicken was very large indeed. We each had a yorkshire pudding and some cabbage. Some dishes of vegetables were also served.
Tucking in, the roast beef was good, having been cooked medium-rare. The chicken was moist and quite delicious. I would have preferred the Yorkshire pudding to be less doughy and flat, but it was nice enough.
I liked the fact the vegetables were served in a separate dish to keep the roast potatoes crispy – they were great, extremely crunchy outside. The honey roasted parsnips and carrots were equally delicious, along with the buttered cabbage.  The bone marrow gravy with the roast beef was superb – deep and strong flavours.
My Dad really enjoyed the Fish Cake special,and would be something he'd order again.
Overall, a good lunch.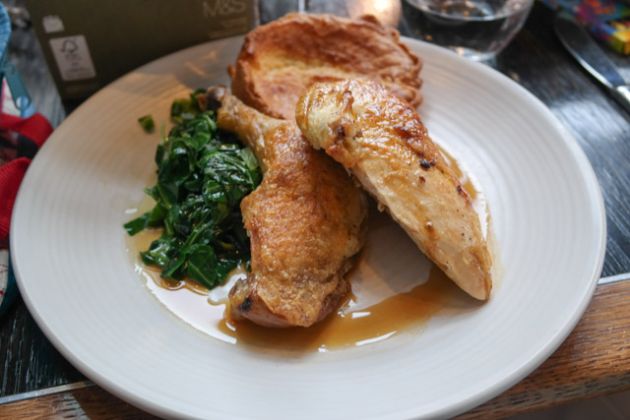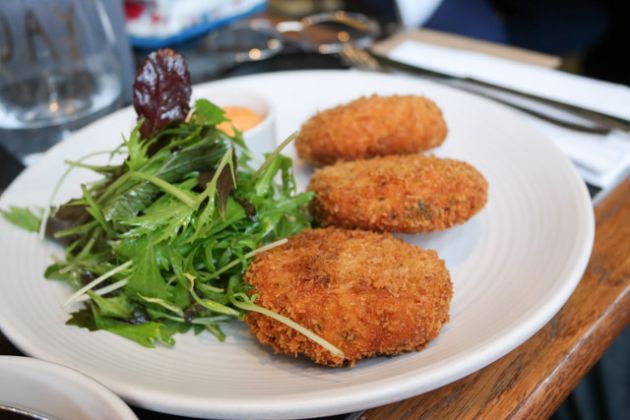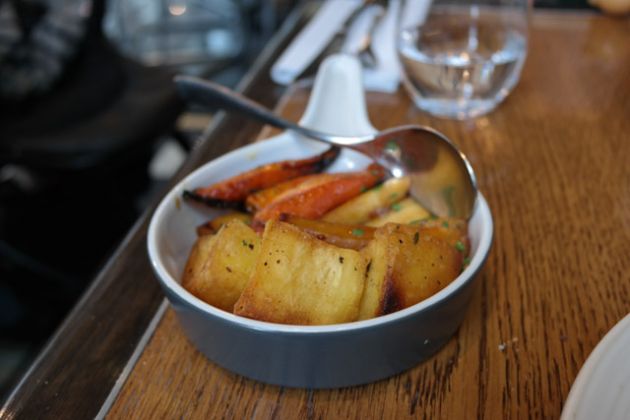 Desserts
As it was Father's Day, there was no way I was going to turn down the chance of desserts. After a bit of deliberation, I ordered the chocolate fondant with mint chocolate chip ice cream (£8.00). Claire asked for the pineapple carpaccio with coconut ice cream (£7.00). Some espressos (£2.50) were also dutifully ordered.
Desserts were served quick enough. Mine looked fantastic, a large pudding, with a scoop of ice cream. It was cooked perfectly, the fondant oozing out – absolutely delicious and certainly the best fondant I had eaten by far. The pineapple was nice enough; the coconut ice cream with Claire's dessert was wonderful.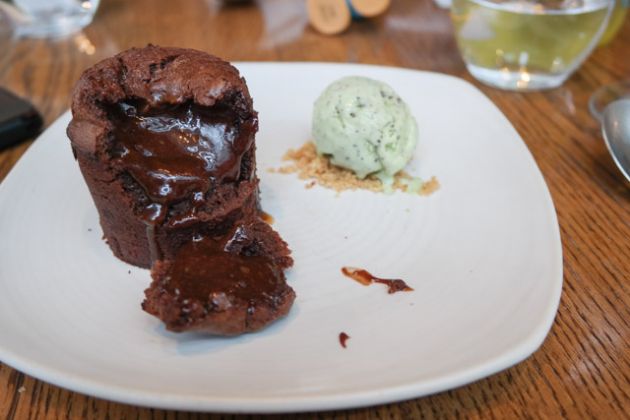 Children's facilities
It was great they provided a children's pack with the menu, it kept JW (and me) occupied when waiting for our meal. They did not have baby changing, but instead seem to out-source to the shopping centre – the waitress showed Claire the way, so it wasn't a major issue.
The high chair was wooden, very clean and in good repair. A major issue for me though was how children were catered for – no choice of a Sunday roast seemed a bad idea (especially being Father's Day – were they not expecting children?). Also, I found the meatballs very poor value – 3-4 balls, some tomato sauce and £7.95 later! These should at least come with a side of vegetables, pasta or potatoes – especially for £7.95, you can order fish, chips and crushed peas (not suitable for JW as he was off gluten and dairy).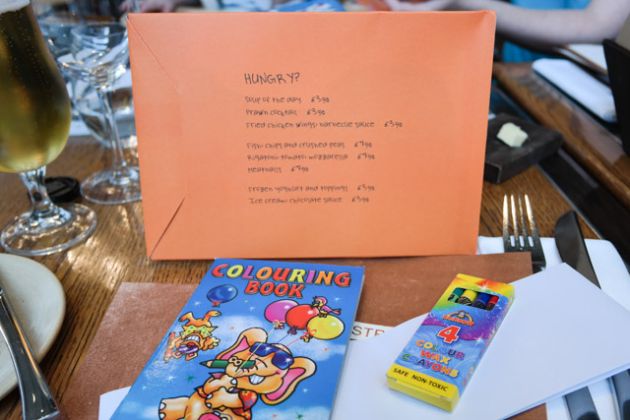 Conclusion
Such a mixed bag this one. The venue was very stylised, being modelled on industrial design. The service was ok with a polite waitress, but got a few things wrong (as well as keeping us waiting for a few minutes when we originally entered). I found that, overall, the meal was needlessly expensive, from only serving 330ml draft lager, through to £2 cover charge per person (I didn't see this stated on the menu) and very expensive children's menu. The Sunday roasts were very good though, chicken was moist and medium rare beef was very enjoyable, along with great roast potatoes. The chocolate fondant dessert was wonderful…
So, taking all this into account, Sunday lunch at The Bread Street Kitchen in St Paul's scores a very respectable 3.5/5 – best suited to couples or groups of adults (with deep pockets).
John
Rating:
Share the love of a Sunday lunch!