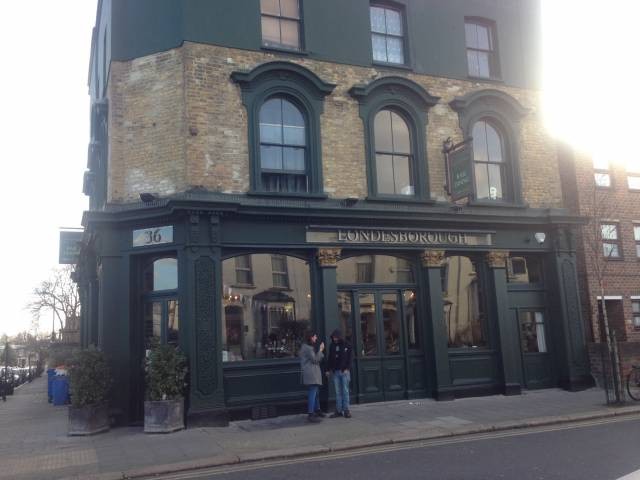 36 Barbauld Road, London N16 0SS
Telephone: 020 7254 5865
Website: Click Here
Our first Guest review, by Rona…
Cost for a Sunday lunch – Roast Beef: £16; Roast Pork: £15; Desserts: £5/£6
Two mains and two desserts with a drink each: £51.70
Recently a friend recommended the Sunday Roast at the Londesborough in Stoke Newington which I was keen to try as I have yet to find a decent roast in London that doesn't leave me slightly disappointed. We were told that it's best to book a week in advance to guarantee a table as it gets very busy, you can just phone the pub to book a table.
The Londesborough is off a main road, on a residential street so it's the kind of place that doesn't attract many passers by, you would plan a trip there. When you enter, it's bright and friendly with a lot of interesting posters and prints on the walls with bunting around the bar. A very family friendly pub, we found there were many young families dining there but it wasn't overcome with screaming children running around the place.
We were early so we had a drink at the bar before we were seated, there was a good variety of drinks, I think the Bloody Mary is a bit of a staple there as they had a jug ready on the bar. Craig had a Becks and after perusing the wine menu, I went for the house white. The wine tasted nice to me but I'm not a regular wine drinker so probably cannot give a fair review on the wine! We were happy to stand at the bar whilst we waited for our table to be ready, the bar itself wasn't crowded so we didn't feel in the way. We noticed that they had some bar snacks on offer including some tempting pork pies on display. When it came to our booking time, we were then taken to our table and given menus.
Shortly after, a friendly waiter came to take our order. We already had drinks, so we went straight into ordering our mains! I went for the Roast Beef and Craig opted for the Roast Pork. Despite all of the tables being full, we only had to wait around 10-15 minutes for our food.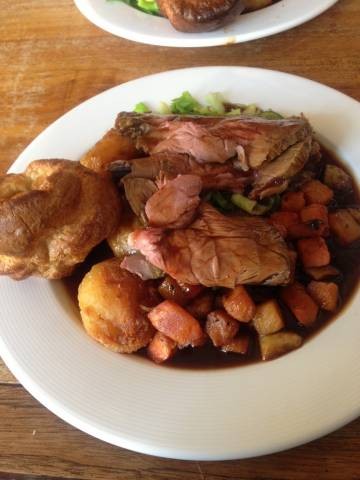 Firstly, the meat. The beef was slightly pink and perfectly cooked. Pork can often be dry but this was juicy and well cooked with a generous amount of crackling to accompany it. The potatoes were full of flavour, crispy on the outside and soft in the middle, utter perfection. There was a good mix of veg, including roasted root veg, and small portions of broccoli, cabbage and peas. Again, this was all cooked well, the root veg was very flavoursome and the portions were small enough to have a variety but not too much that you couldn't finish it. The homemade Yorkshire pudding was faultless.
One of the things that tend to get overlooked is the gravy, I am a big fan of gravy (it's almost an obsession), with most roasts you tend to get a gravy that's as thin as water and a very small amount. This gravy was just delicious, thick, full of flavour and just the right amount to see you through to the end of the meal.
If I'm being really picky, the only negative I found about the meal was that I would have liked to have been given a steak knife instead of a standard dinner knife as I did struggle with cutting the beef once or twice.
When we finished (and after I dried my tears of joy) we didn't have to wait long before the table was cleared. We were happily full up but in the interests of this review of course, we decided to try the desserts! I ordered the apple and rhubarb crumble with ice cream and Craig went for the Sticky Toffee Pudding. Again, the wait wasn't long and we were soon presented with our desserts.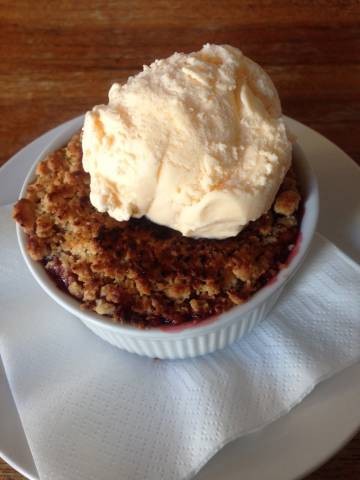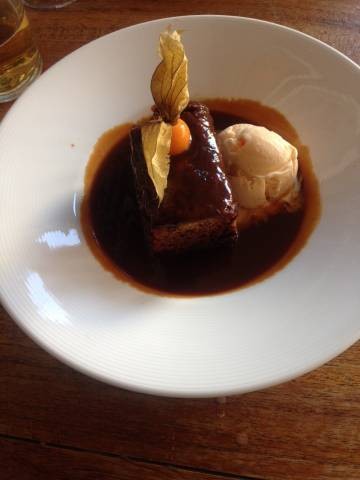 Both desserts were very nicely presented. The crumble was hot which contrasted nicely with the coldness of the ice cream. The consistency of the fruit in the crumble was just right, a good amount of fruit and sauce with a lovely crunchy topping. The sticky toffee pudding was moist with a tasty thick sauce.
When it came to paying, we were sitting next to the bar and there were no customers waiting to be served so we asked the guy behind the bar if we could pay there and he was happy to do so.
Just a note about the staff, they were very efficient but relaxed and friendly. We had two people takes our orders and serve the food and were also served by a different guy at the bar. All of the staff we encountered were pleasant and helpful.
Overall it was an exceptional meal, we both agreed that it was probably the best Sunday Roast we've eaten outside of the home and the potatoes definitely gave my sisters roasties a run for their money! The atmosphere was great too, we enjoyed it so much we're planning on making it a regular occurrence! I highly recommend it!
Rona
Like the photography? Then please check out Rona's Photography Page – https://www.facebook.com/ronaduthiephotography?fref=ts
Share the love of a Sunday lunch!