Park Row, London SE10 9NW
Telephone: 020 8858 2909
Website: Click Here
Cost for a Sunday lunch: Roast Beef – £17.50 ; Roast Pork – £15.50 ; Children's – £8.00
I wanted to explore Greenwich a bit more and with some investigation, I found The Trafalgar Tavern. It was right on the Thames, and after reading the menu and information on the website, it sounded perfect for the 3 of us to visit. A quick process of reserving online and we were booked for 12pm.
We arrived in Greenwich at 11:45; the parking there was shockingly poor and, once we found a car park near the Naval Museum, very expensive (£12 for 4 hours!) To be fair, there was some parking very close to the pub, but the maximum time was 2 hours which I didn't think was enough. Oh, and the pay and display machine only took coins, so I had to run to the petrol station for change. This meant we actually arrived 10-15 mins late.
Entering the pub,I was amazed to see the Thames immediately outside the windows. The pub was RIGHT on the river -impressive! Amusing to see that all the seats into the windows were taken already at midday, you'd have to get here very early to get one of them!
We walked through to the restaurant area and shown to our table, which had a nice view. The room was quite pleasant, with old pictures adorning the white/cream walls. I had a great feeling about this lunch.
A highchair was brought out for JW, which was wooden with a harness and very clean. Our table was laid out for us, including linen napkins.
Drinks were ordered – a pint Amstel (£4.10) for me and a glass of cava (£7.00) for Claire. Looking over the menu, we decided to have bread to nibble on instead of starters (so JW can share – £3.50) then, as the roast lamb was not available, Claire ordered the replacement roast pork. I asked for roast beef for me, and JW had a child's portion of beef (cooked well-done).
Bread came quickly and I was pleased that there were 4 different types – a walnut, a raisin, a tomato and a plain one. Each type had two slices, and some oil & vinegar in the middle. Yes, perhaps one or two would have been better with butter, but we were really pleased with the quality, quantity and selection.
Once all of that was eaten, our lunch came out.  It looked great, and JW's portion was probably enough for Claire!  He had two large slices of beef, a few roast potatoes, honey roasted carrot, roasted parsnips, cabbage and some swede, with a Yorkshire on top.  Mine was very similar, one extra slice of beef and some more vegetables.  Claire had two large slices of pork with a humongous amount of crackling  and the same vegetables, but no Yorkshire.  I had a pot of horseradish, JW didn't as per Claire's request.  Unfortunately, they didn't have any apple sauce for her pork.
Tucking in, the roast beef was excellent, cooked to my liking being medium rare.  It was very tender and easy to cut.  The roast potatoes were also superb – crunchy, fluffy in the middle and cooked with garlic and herbs.  The Yorkshire was nice enough, as were the carrots, parsnips, swede and shredded cabbage.  This was all topped with a flavoursome (and plentiful) gravy.
Claire's remark about the pork belly: if you taste some, you'll cry.  It was unbelievably good – a beautiful, moist texture.  And the cracking, the best I have ever had out.  Extremely crispy and crunchy, and again with the wet fat underneath.  She was right, it was a perfectly cooked pork and, in fact, apple sauce could have spoilt it!
JW was happy enough with his meal – I'm looking forward to his input for reviews in a few years time.  For the moment though, he didn't chuck it all on the floor and ate most of it which is probably a compliment to the chef in a 1 year old's language.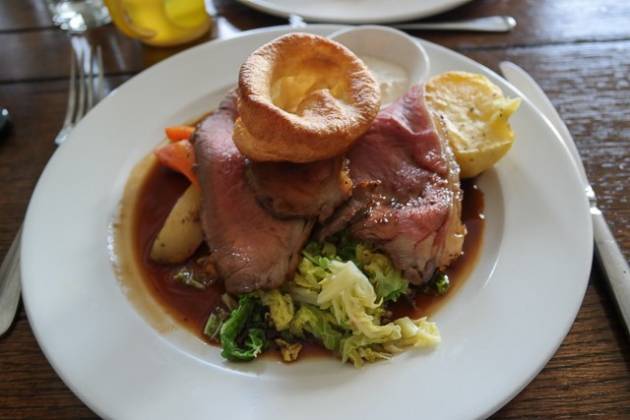 After this wonderful Sunday roast, I had to have a look at the pudding.  I decided on the Lime Cheesecake (£7.00), and asked for a Cappuccino (£2.50) at the same time.  Claire passed on dessert, and it's not something JW should be having at his age yet :-)  Claire did order an Americano (£2.00)
My dessert came out swiftly, and wow!  It looked delightful: a circular cheesecake, garnished with mint and a raspberry sauce around the side.  If you look closely, you can see the lime zest on the top of the pudding.  It tasted really good, and was a great way to finish the meal.
As a side note – Claire's coffee came out with warmed-up milk, which she appreciated.
A conclusion.  The Trafalgar Tavern, being on the River Thames and with this type of food quality, wasn't a cheap Sunday lunch – but you do get what you pay for.  It had a great decor, with lots of pictures adorning the walls.  The view from the restaurant was amazing, almost iconic with the Millennium Dome in view.  The food presentation was excellent and it tasted really good, especially the pork belly.  The service was quick and attentive, without making us feel rushed.
So, Sunday lunch at The Trafalgar Tavern would be an excellent choice for a romantic meal or just as good for a celebratory one.  Definitely a Top Rated Award – make sure you walk along the Thames afterwards (or Greenwich Park, which is just down the road).
John
Rating:
Share the love of a Sunday lunch!