Paradise Row, London E2 9LE
Telephone: 020 7729 9609
Website: Click Here
Cost for a Sunday lunch: Roast Beef, Roast Chicken – £17.00; Pork Strip – £15.00
We wanted to travel into London and also meet Rona and Craig (Claire's sister and boyfriend). After a bit of research, I decided to give Resident of Paradise Row a go which is situated in some arches near Bethnal Green tube station. The outside area had a lot of benches and was playing funky reggae music.
Drinks
They had some locally brewed beers, so I ordered Pale Ale Bethnal Green for me, Claire asked for a glass of processco.
Sunday lunch
We skipped starters and went straight to the main course. Claire ordered a Pork Strip for herself, I asked for the Roast Beef and we ordered JW (our toddler) a Roast Chicken. They also offered gluten free Yorkshire puddings – one each was dutifully ordered as they cooked them specially for us! They weren't dairy free, so we would have to eat JW's for him.
I was served two slices of delicious and very tender roast beef, along with 3 roast potatoes, a carrot, kale, half a roasted beetroot and a Yorkshire (along with gravy/jus). It was a nice roast, but I would have preferred more vegetables (and no roasted beetroot).
The pork had a slightly spicey rub, it was really nice but on a bone – we expected pork belly, being a Sunday lunch – it did say on the menu (not about the spice though). JW had a huge (half a) roast chicken served – and had a smokey flavour to it – not suitable for Sunday lunch and far too large for him! We later discovered that they had in fact served JW an adult portion – which cost £17!
The roast potatoes were very good with excellent seasoning, being crispy and fluffy. The Yorkshire pudding was nice, especially being gluten free (we didn't notice the difference). The kale was good, the carrot had a slight orange flavour (perhaps soaked in juice beforehand?).
I did have to ask for horseradish along with extra gravy but staff were very friendly, especially with JW.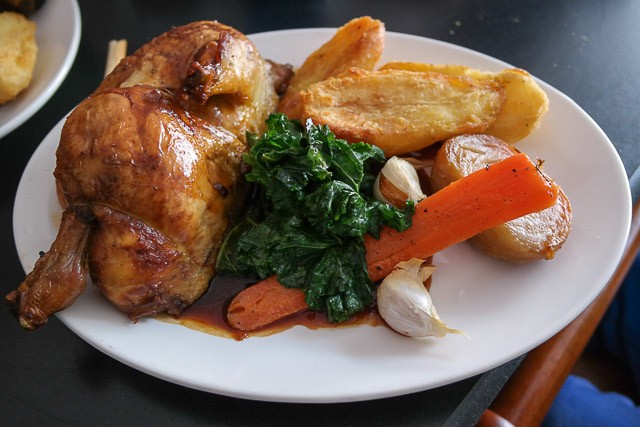 Desserts
I ordered the flour-less chocolate cake and bitter chocolate ice-cream, Claire asked for the Eton mess, someone else ordered the croissant custard (as it sounded quite unusual). The cake was dense and good (nice that there was another gluten free option), the croissant was different but actually enjoyable, just like a pastry. Lastly, the Eton mess was ok, although very sweet indeed.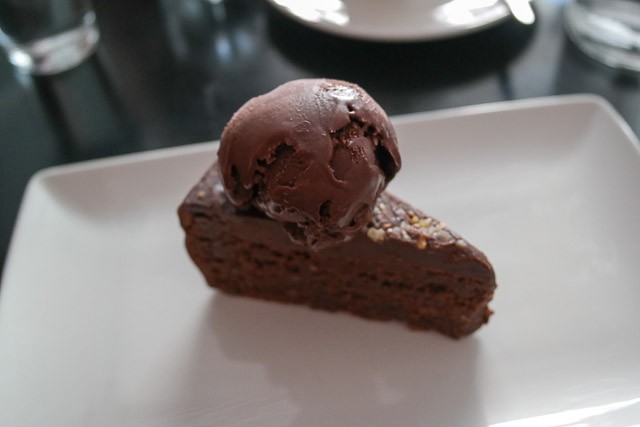 Children's facilities
The staff were very friendly with JW, and we had a high chair for him. Unfortunately though, they didn't have a children's menu – and served him a full size portion for a roast (we really should have been told). So, not suitable for families with children, tbh.  There was a baby changing facility though – so a bit strange to provide an adult's portion!
Conclusion
An interesting and different take on the Sunday lunches (using smokey / bbq and spices for the pork and chicken), we would have preferred to have done without them really. The roast potatoes were good, with excellent seasoning. I enjoyed my dessert, and it was unusual to provide a gluten free Yorkshire. The venue is really suited to 20-30 somethings without children though, especially with the outside area.
Overall, a 3.5 out of 5 – a good effort, but not really one for us.
John
Rating:
Share the love of a Sunday lunch!