Toys Hill, Nr. Brasted, Westerham, Kent, TN16 1QG
Telephone:01732 750328
Website: Click Here
Cost for Sunday Lunch: Roast Beef – £14.25; Roast Pork – £13.50; Half a Roast Chicken – £13.25
After having a great holiday in Suffolk (and a wonderful Sunday lunch at The White Lion in Aldburgh), I decided we needed to experience another Sunday roast in Kent. After my research, I settled on a traditional country pub, The Fox and Hounds in Sevenoaks, Kent.  Booking was easy enough, I called the day before and found out that they offer two sittings. I chose the 12:15pm setting.
My GPS took us to the bottom of Toys Hill (based on the postcode – it is quite close to The White Horse in Sundridge), but in actual fact The Fox and Hounds was right at the top – another 10 minutes drive – so make sure you keep an eye out for the signs!  A beautiful location though, in the middle of a lot of woodland and on top of a high hill (we drove past quite a few suicidal cyclists – and it seemed their reward was to pop in the pub for lunch as we saw some whilst we were eating).
The car park was small, only around 10 cars were able to fit in there, but the road didn't have any single / double yellow lines so it shouldn't be too much of a problem to find parking.  Walking through the pub, we were greeted straight away by four people at the bar area.  I mentioned our reservation and we were shown to our table in a restaurant area.
First impressions were very good, the staff seemed young and professional.  the pub had a lot of traditional country pub features, such as a patterned carpet (in the restaurant section, the pub section had brown tiles), the top half of walls were painted with the bottom half being brown wood, being adorned with plates and pictures hanging.  Other country pubs I have been too have felt very scruffy, but looking around, the decor was neat and tidy while still being traditional – they seem to really look after the pub.
We were given some menus as we sat down and within a couple of minutes, were asked if we would like a drink.  Claire went for a glass of red, I settled for a lime and soda. Once these arrived, we were asked what we would like to eat.  Both of us were looking forward to a Sunday roast, so we jumped straight into the main course (plus, Claire wasn't feeling overly hungry).  I asked for the roast beef and Claire requested the pork.
Claire said that the wine tasted ok, but at £3.35 for 175ml it was good value. I imagine they offer better wine if requested.
Food came out promptly and looked fantastic!  I had two large slices of beef, folded over, Claire had three thick slices of pork with a long strip of crackling (still attached). We had three roast potatoes each and quite a large amount of gravy already poured.  Our vegetables were served in a separate dish (I always like this) which included carrots, broccoli, red cabbage, mange tout and white cabbage.  I also had a Yorkshire pudding – Claire didn't and in actual fact, I appreciated this as traditionally it's served with roast beef (Claire had crackling!)…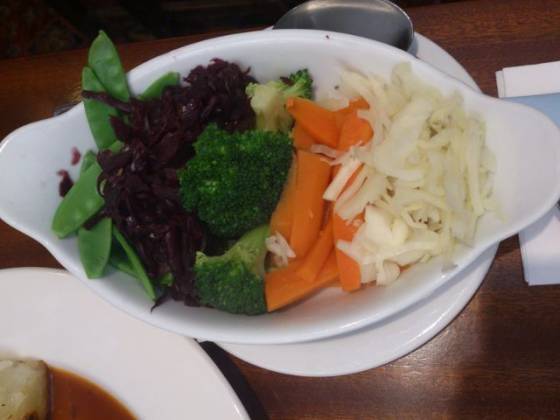 So, tucking in – my roast beef was cooked to medium and very tasty.  Claire kindly passed me almost half her pork, there was that much of it!  It also tasted good (she was asked if she wanted apple sauce – this was brought out in a bowl with enough for about 4 tablespoonfuls if she wanted :-)).
The potatoes were almost spot on!  Very crispy which meant a bit of a struggle to get inside.  The vegetables were all good, I liked the fact there were five different types for us to feast on (perhaps not enough to count as my five a day, but certainly getting there).  The Yorkshire pudding was very nice and squidgy (this was more traditional, like the yorkshire with toad-in-a-hole, rather than the more contemporary light and airy variety).  Claire was happy with the pork crackling, very nice and crunchy.
To top it all off – the gravy.  It was good, complemented the meal well and just enough without needing to ask for more (Claire and I both love thick gravy).  Claire's last forkful? Pork and crackling with apple sauce.
After such a large meal, I of course wanted to sample the desserts!  On offer were traditional puddings with a more modern twist.  These included baked lemon cheesecake, chocolate pear & almond tart, sticky toffee pudding, raspberry creme brule or lemon tart. The ice cream selection was also quite good, which included posh toffee, honeycomb and passion fruit sorbet.  The desserts were priced at £5.50, or three scoops of ice cream for £5.00.
I asked the waitress for advice on which dessert to choose, and was mildly disappointed to find out the staff are not allowed to sample the food (much like wine recommendations, how can the staff help the customer choose if they haven't tried the food?).  She was good though, and said that the baked cheesecake looked very nice – so, as I love cheesecake and also lemon I went for that.  Claire asked for a decaf coffee instead of a dessert.
Around 10 minutes later, my dessert came out.  Claire's coffee came out at the same time.  The cheesecake was nicely presented, with a physalis on top (as a side note, melted chocolate and physalis are very nice as a treat, whilst sitting in front of the TV watching a film).  Some coulis was squiggled on the side, and cream was presented in a small jug.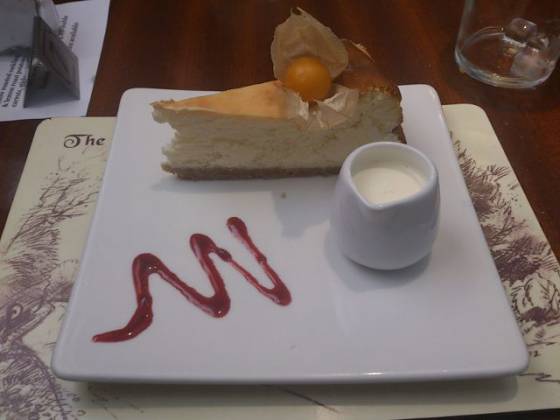 I had a baked cheesecake whilst in Suffolk, to be honest I didn't like it as it was warm and tasted more like cake than cheesecake.  So, I was a little apprehensive when tucking into the pudding.  My first mouthful removed all concerns though, this was nice and cold with a delicious lemony taste.  The next mouthful with cream and a bit of raspberry coulis was excellent.
Claire didn't specify how she wanted the coffee and unfortunately it came white – we will know next time to ask for milk on the side.  It did come with a chocolate though, which made up for it.
A nice touch was that the restaurant area seemed reserved for adults only, whereas the pub area had dogs and children – we appreciated that the areas were separated.  There was a child crying for a while (and a couple of dogs barked once or twice), I would have found it quite irritating if this was next to me.
We asked for the bill once I had finished my cheesecake – this was duly brought over, with two Fox's Glacier sweets :-)  Much like our Sunday lunch at Chequers Brasserie in Marlow these kind of touches do not cost much but really add to the experience.
So, on to my conclusion.  This was a really good meal, the staff were friendly and helpful, always on hand without being overbearing.  The meat was generous, as was the vegetable selection.  A good range of desserts too.  The pub was well maintained and I felt they really cared whether you had a good experience (the sweets with the bill seemed testament to this).  I also liked that whilst families and dogs were encouraged, they appreciated that there are some grumpy people (i.e. me) who prefer a less frantic lunch and so kept things separate.  One criticism would be the coffee – it was a bit too sweet and came white, it would have been a lot better to serve the milk / cream in a jug.  Overall though, a great Sunday lunch and I award 4.5 starts – highly recommended!
John
Rating:
Share the love of a Sunday lunch!