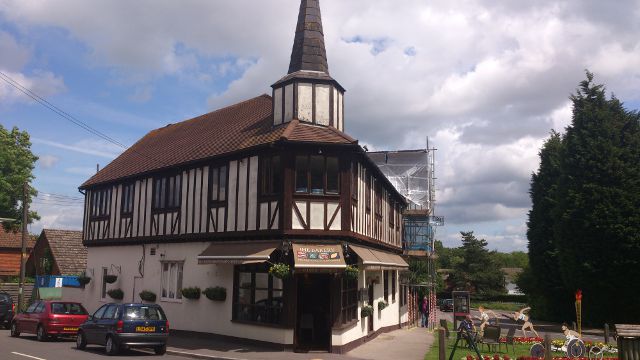 Westmore Road, Tatsfield, Westerham, Kent TN16 2AG
Telephone: 01959 577605
Website: Click Here
Cost for a Sunday lunch – £22.95 for 3 courses
As is fast becoming a regular fixture, I wanted to take my Dad to somewhere special for Sunday lunch on Father's Day (we went to Prince Albert in Bletchingly, Redhill last year). The Bakery in Tatsfield has been on my radar for a while now, and this gave me the perfect reason to visit.
Arranging was very easy, I used their online booking form.
Driving to Tatsfield, I couldn't not notice it being surrounded by countryside, so a great setting for lunch.  Arriving at the restaurant, we parked on a side road opposite (I don't think they had a car park). It was a warm and sunny day, some chairs were set out on the grass in front of The Bakery.
We entered through the doors into the bar area, brightly lit with Mediterranean touches (various paintings and ornaments), tables dotted around next to the walls.  The barman greeted and showed us to a table.  We ordered some drinks (they sold lager on tap) waiting for my Dad and Leslie to arrive.  Once they arrived, more drinks were ordered and brought over.
After a perusal of the menus, we were able to order our food as we sat, to be directed to our table when ready.  Claire went for Roast Lamb, I decided on Roast Beef, Dad and Leslie chose the fish dish, grilled sea bream.  I asked for the beef to be cooked medium rare.  After around 15 minutes, we were called to our table.  We also ordered starters – Claire ordered duck leg, I asked for the paté, Dad and Leslie has the same again, the goats cheese.
The restaurant had a nice, pleasant feel to it, being bright and fresh.  Our table was in quite a good position, a bit nearer the kitchen than I would like, but this should mean we get served quicker ;-)  The decoration followed through here, with a large Mediterranean rug on the wall next to us.
Some bread was brought out shortly after we sat down – extremely tasty and served with butter!  The starters were then brought out – Dad and Leslie were very happy with the goat's cheese, it looked quite inventive with the pistachio crumb around it.  Claire was a bit disappointed with the duck leg, it was literally a bit of duck on a plate with a bit of salad – seemed like they used up the imagination with the goat's cheese :-)  My starter, the paté, was actually a terreine, and it wasn't served with toast as advertised on the menu – I had to ask for more bread.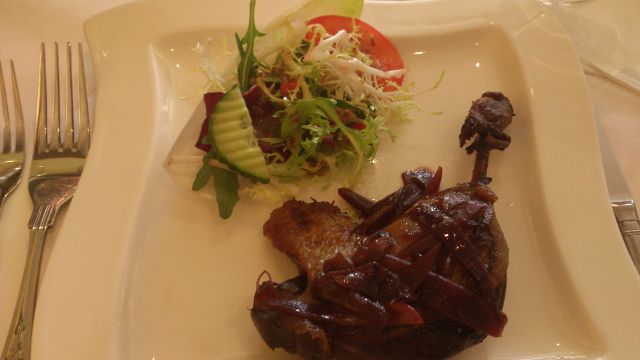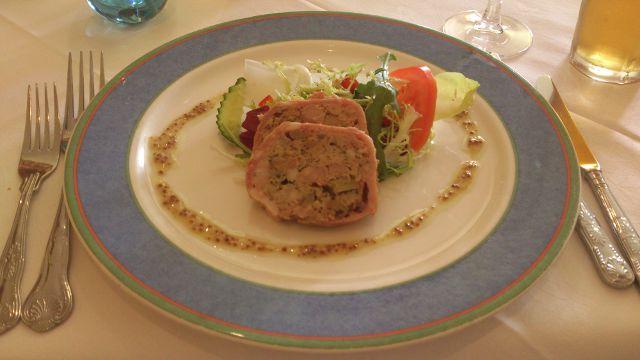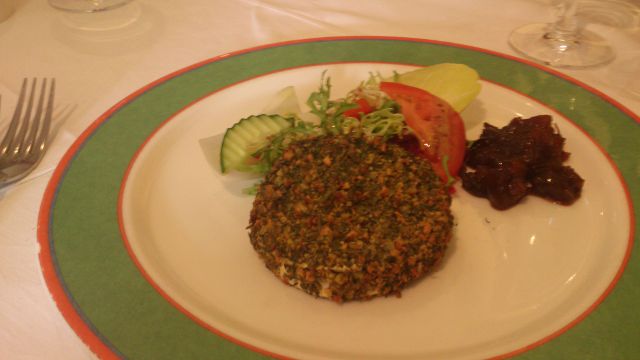 Our main course was served around 15 minutes afterwards.  The roasts were brought out first, with roast potatoes and Yorkshire pudding.  The vegetables came out next, I was a bit confused as there was a large dish for the four of us, even though Dad and Leslie were having the grilled sea bream.  I expected Claire and my vegetables to come out next, but alas, this wasn't the case.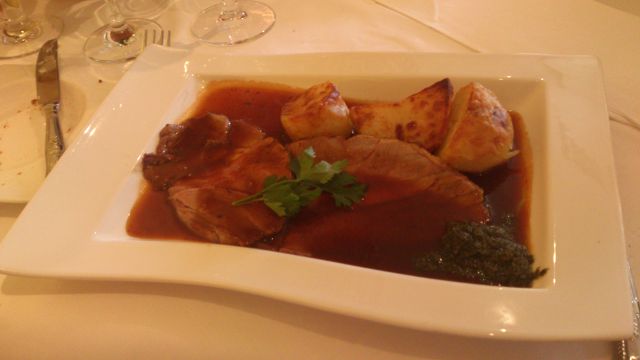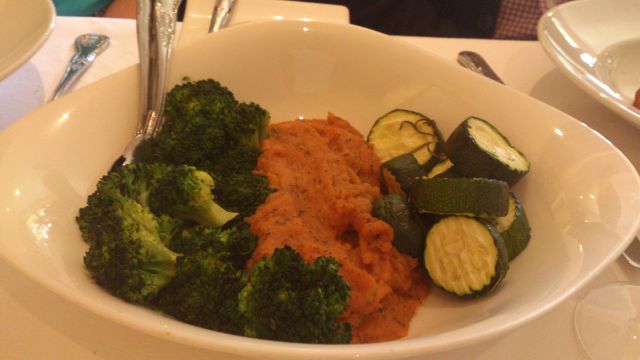 Claire's roast lamb was ok, but I ordered the roast beef "medium rare", this was very much well-done.  The three roast potatoes were not very crispy.  The vegetables were really not very nice – a strange medley of mashed / pureed carrot (we think), spiced courgettes and broccoli.  In my opinion, not a classic Father's Day lunch selection.  There was a lot of gravy, but it didn't have any flavour at all.  Thankfully, my yorkshire pudding was good.  I asked Dad and Leslie about their meal, they said it was very nice – it did actually look very good.
I was the only one to order a dessert – the Eton Mess.  Other options included home-made apple tart, vanilla creme brulee or even cheese and biscuits. We all ordered after dinner drinks (a green tea, a couple of coffees and a tea).  Although our drinks came out quite promptly, my green tea was actually with grapefruit – something I do not like, but I'll let it go… they seemed to have forgotten about my dessert though as it only came out once I asked for it again (after what seemed like half an hour or so)…  As you can see below, it's not a traditional Eton mess, where I had to smash-up the meringue myself.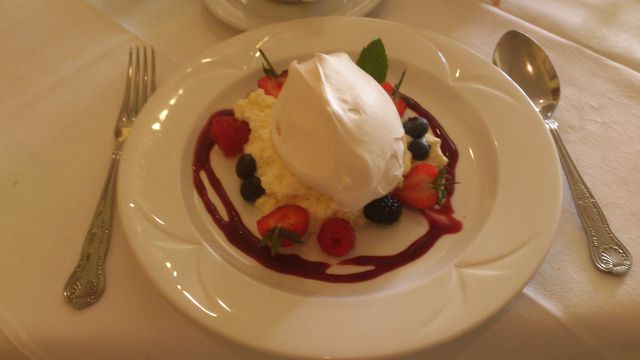 I have to say, I was extremely excited to try out The Bakery and it was a bit of a let-down.  The overall experience was ok, but there were some problems.  One being that communication between staff didn't seem very good, as after I finished my dessert, another came out for me!  The roast beef should have been cooked medium-rare, as I requested – well-done beef for Sunday lunch isn't for me as it loses the texture I enjoy.  The vegetables were not to my liking, and the paté was another disappointment (being, in-fact, not paté at all!).  Dad and Leslie's dishes were very good so I think this is a nice restaurant but the chef is more used to Mediterranean food than a traditional Sunday Roast.  The major plus points were the staff – very friendly and welcoming.  Also, a great selection of drinks and the venue was nice and airy.
I would absolutely love to come back for an evening meal, or perhaps on a Saturday, but the Sunday lunch was average.
John
Rating:
Share the love of a Sunday lunch!