97-99 High Street, West Malling, Kent ME19 6NA
Telephone: 01732 843257
Website: Click Here
Cost for Sunday lunch: Roast Beef – £11.90; Roast Lamb – £11.50, Roast Pork – £10.50; Mixed Platter of all 3 – £13.50
One of the great things about this website is that Claire and I are able to explore new venues with friends and family. An area I have been wanting to review for a while now is West Malling. So, after arranging to meet my aunt (Frances) and uncle (Andy) and their two children (Ellie and Izzy), I gave The Farmhouse a call and reserved a table for the six of us at 12:30 one Sunday.
On a cold, blustery and rainy Sunday, it seemed quite fitting to relax over a well cooked Sunday roast. West Malling has a notorious issue with parking (being that there are few spaces) so with a light heart, I turn into The Farmhouse's own parking which is just behind the pub. Walking around the front and through the door, the restaurant is on your left and the pub on your right.  As we had booked a table, we turned left (I did see people eating food in the pub area too, incase you cannot get a table). We were met straight away by staff and directed (not shown) to our table.
Claire and I were early, so we ordered some drinks whilst waiting (Claire a glass of house red, me a pint of blackcurrant and soda). Our company arrived the same time as our drinks, being a couple of minutes later. Diet Coles all round were ordered.
Studying the menu, Claire decided on the Salt Marsh Roast Lamb, I just had to find out what the Platter was – it was a slice of each – and I, of course, decided on that! The non-Best Sunday Roast-ers went off the Sunday lunch menu, with Calves Liver, burgers and other delights being ordered instead.
With ordering out-of-the-way, this gave me a chance to look around. The decoration of the venue was in good order, with browns and flowers adorning the wallpaper, wooden floors and solid tables. There was a fair mix of ages, although it did feel a mostly older (50+), well-heeled crowd. A buzzing atmosphere created a nice, lively feel.
We had some bread initially to start, a mixture of white and granary slices, as well as a couple of butter dishes.
Once this was polished off, our food came out shortly afterwards.
I will only talk about the roast here though…
My Sunday lunch looked fantastic, with three slices of meat, a yorkshire pudding, roast potatoes and vegetables. Claire had two slices of meat with hers. This was all finished off with an ok amount of gravy.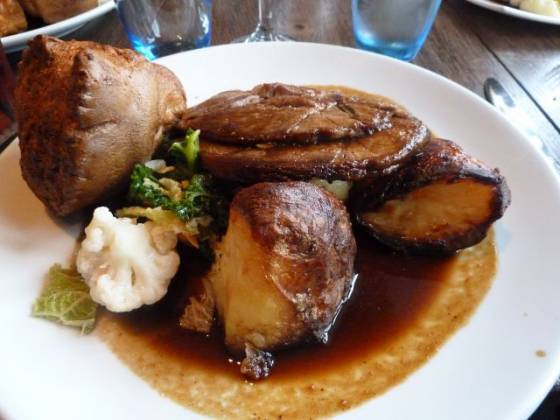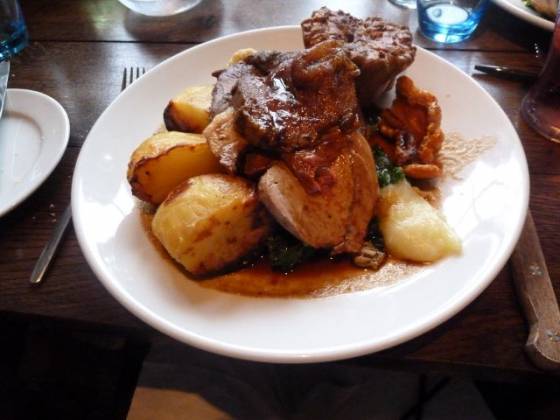 Tucking in, one thing I noticed almost immediately was the way the beef was cooked, with a nice amount of pink in the middle. The potatoes were the right size and fluffy inside, although not crunchy.  The yorkshire pudding was excellent, crispy and very light with a fresh taste (I have had some slightly off tasting yorkshire puddings of late, so this is a nice surprise).  My portion of crackling was also excellent, extremely crunchy, almost like a pork scratching!  The vegetables were nice enough with sliced green cabbage, sliced carrots and cauliflower.
Claire also really enjoyed her meal too – she agreed that we could have done with some extra gravy too; the lamb was tender and tasty and the potatoes were nice but not crispy enough.
After our Sunday lunch was such as success, we had to sample the desserts.  Various were ordered, I went for the Sticky Toffee Pudding and Claire had a cheese board – it was actually priced "per cheese", which meant Claire could choose exactly what she wanted.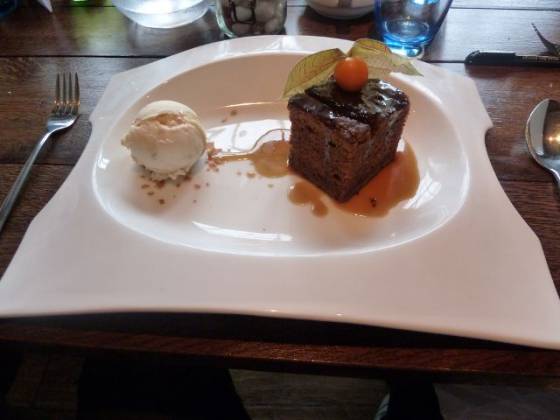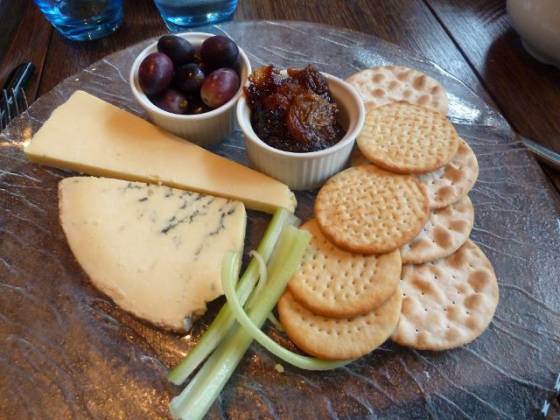 Presentation was excellent with the desserts.  My one came with a physalis on top, and the sticky toffee pudding was very enjoyable.  Claire was very happy with her choice, it was very good value for money, being £2 per "chunk", and also came with crackers, celery, grapes and chutney.
Teas and coffees were also ordered – The Farmhouse sell my favourite tea maker, Teapigs, so I had to have one!  On the menu, a flavour I haven't had before was available.  The waitress said I could try it and if I didn't like it, then she would swap for another.  When it came out, it wasn't actually the one advertised (Summer Flowers), but in fact Lemon & Ginger – one of my favourites, so I wasn't exactly upset but a bit disappointed I wasn't able to try a new tea.
So, I need to conclude this review.  The venue is very good, with a buzzing atmosphere and nicely furnished.  The food was good quality and tasted freshly cooked.  I did feel The Farmhouse was slightly understaffed – they needed one more person as the drinks and bill took a bit too long to come out.  Also, the potatoes needed to be crispy and more gravy.  I am picking here though, it was an excellent meal and a great experience.  By the way, make sure you book way in advance, I tried booking for the weekend before, it was full.
The Farmhouse has 4 other sister pubs – we will definitely be visiting the rest because of this quality of Sunday lunch.
A recommended Sunday Roast in West Malling.
John
Rating:
Share the love of a Sunday lunch!