501 Seven Mile Ln, Kent ME18 5QY
Telephone: 01622 813038
Website: Click Here
Cost for a Sunday lunch: Roast Beef – £12.95; Mixed Roast – £15.95; Kid's Roast – £6.00
I was looking for a venue to celebrate my birthday with Claire and our toddler, JW.  I found The Moody Mare in Mereworth which is near Wrotham – we had visited Wrotham once before, going to The Bull Hotel (read the review here – Top Rated).  So, I booked for 3 people at 1pm.
Arriving, there was a large car park with a little garden (along with a play area for small children).   We were met at the door and shown to our table, being given a menu and wine list (along with a separate children's menu). It felt fresh inside, there were lots of windows; we were sat in a pleasant dining area.   Next to us was a feature purple wall, carnations on the table and hops around the venue. The table was laid out with paper napkins.
Drinks
Claire asked for a processco, a glass of blackcurrant and soda for me as well as some water for the table.
Starters
I ordered a large charcuterie plate for me which came with meat and cheddar.  We ordered a smaller one for JW, without the cheese (as he is gluten, wheat and dairy free).  Claire asked for the prawn salad.
The starter came out fairly quickly – they did forget my cheese, and took a while for it to arrive.  Claire enjoyed the prawn salad, and the charcuterie seemed very good quality – I had to actually leave some for the main course!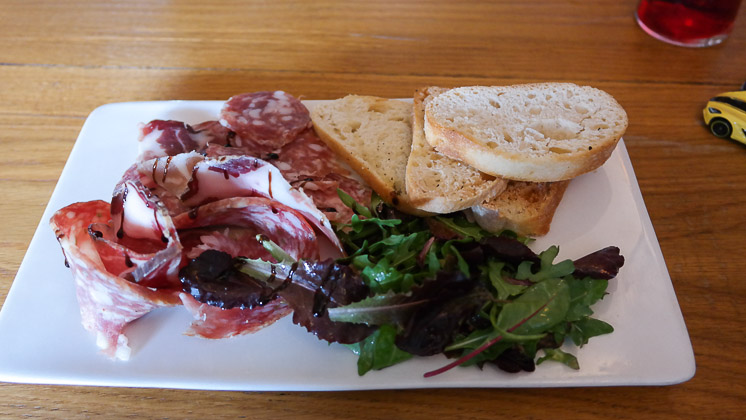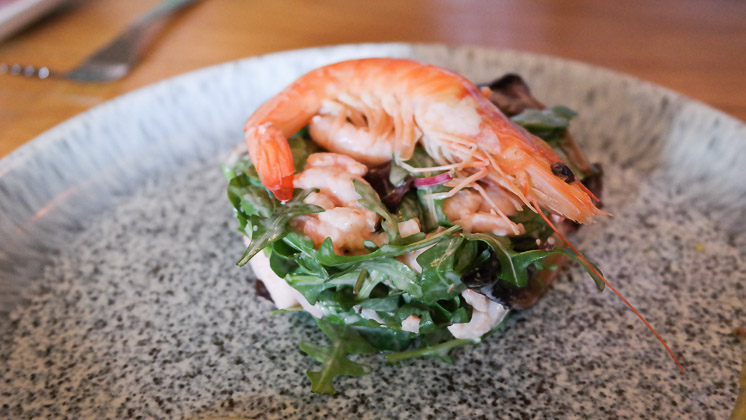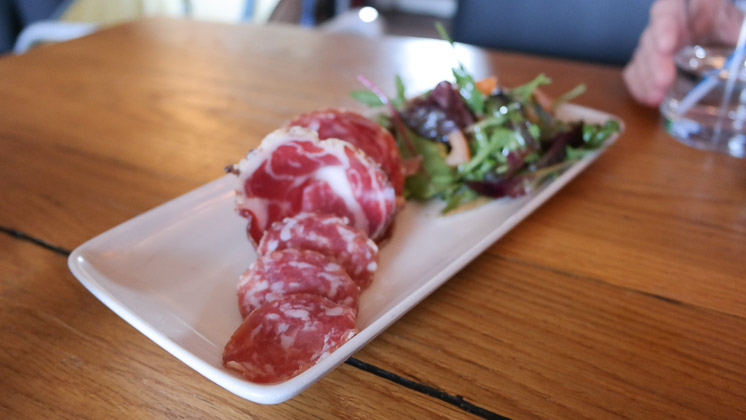 Sunday lunch
It was nice to find a lunch that was more reasonably priced – I ordered a mixed road!  A small roast beef for JW and an adult one for Claire was also dutifully requested.
It took a bit longer than we really wanted to wait for our mains, but it looked good when it arrived.  I had two and a half roast potatoes, along with carrots, broccoli, one mange tout and a large Yorkshire pudding.  There was also a dish of cauliflower and broccoli cheese!  With regards the meat, I had a slice of beef, chicken and pork.  This was topped with lots of dark, thick and rich gravy.
Tucking in – the beef was good, as was the chicken.  The pork was a bit too fatty for my liking.  The potatoes were very well seasoned with nice flavours but they weren't crispy.  Vegetables were good, very fresh tasting – the best mange tout Claire's had (she doesn't normally eat them).
Oh, and the gravy was delicious – probably the star of the show with this Sunday lunch.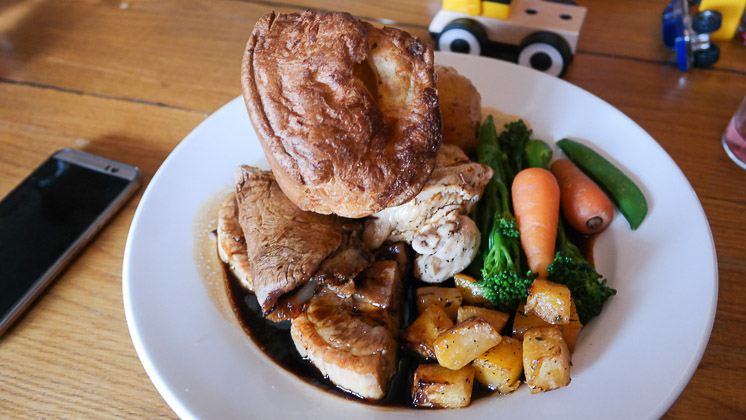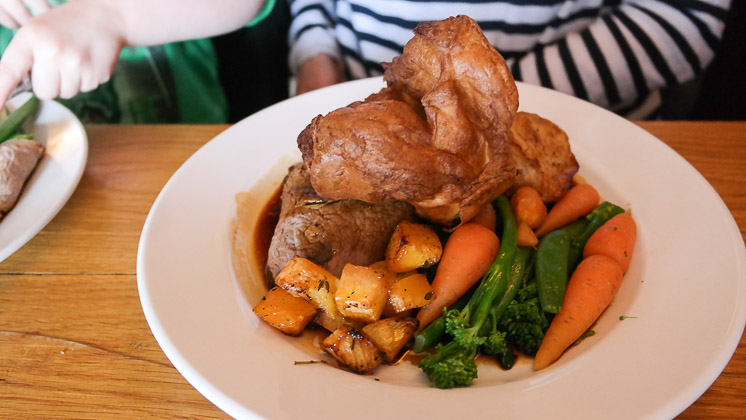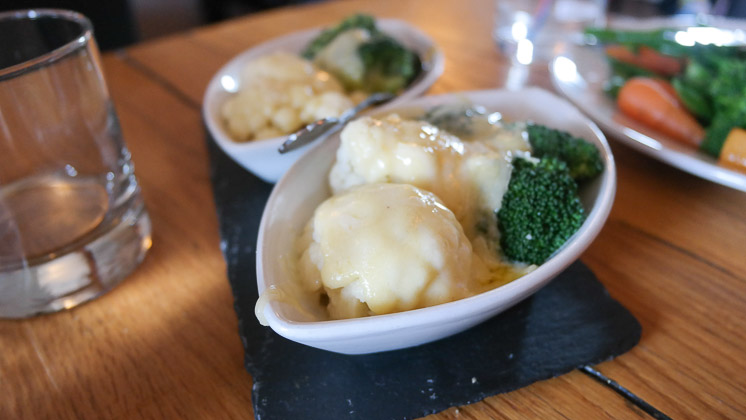 Dessert
As it was my birthday lunch, I obviously had to have a dessert.  We ordered JW a mandarin and raspberry sorbet.  I ordered the orange chocolate fondant.  This is where they went wrong – after 20 minutes of waiting, someone came over and said they forgot to put it on.  I said I can have something else, "no, no – it's coming".  Another 25 minutes later, it finally arrived.  It was so badly presented, the waitress apologised for how it looked!  It did taste good but certainly wasn't worth the 45 minutes wait (with a toddler!).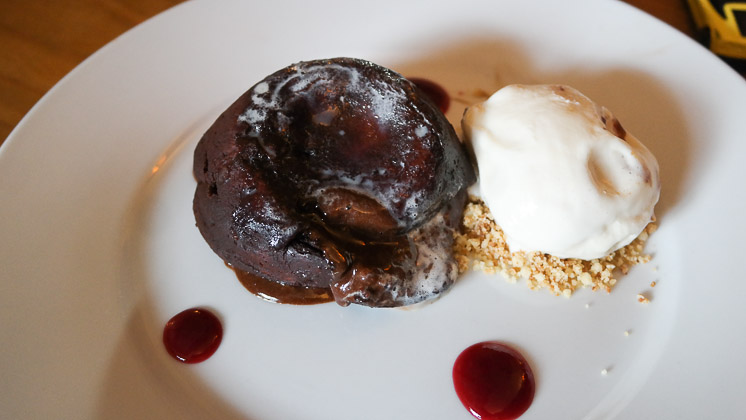 Children's Facilities
We had a highchair brought over when we first sat down, but didn't end up using it – it seemed clean but was a baby one rather than a booster type version.  The children's menu was fine – we ordered JW a child's meal – £3 for starter and dessert each, £6 for the Sunday lunch.
Conclusion
Some good things with our Sunday lunch at The Moody Mare, such as the price of the Sunday lunch and that they brought out cauliflower and broccili cheese!  A lot of niggles with the service let the Moody Mare down – forgotten drinks, forgotten spoons, forgotten menus, forgotten cheese and forgotten desserts!  Also, two children sat with their mother's with Peppa Pig playing on their iPad very loudly – whilst not directly the staffs fault, it did take a bit of shine off the experience.  A shame really, as the food size and quality was quite good.
If there wasn't so many problems, the score might have improved, but as it stands – 3 out of 5.
John
Rating:
Share the love of a Sunday lunch!