3 Darenth Road Dartford, DA1 1LP
Telephone: 01322 224381
Website: Click Here
Cost for a Sunday lunch: Roast Beef, Chicken, Lamb, Pork, Gammon or Nut Roast – £8.95
After another hunt around online, I found a place for Sunday lunch in Dartford – The Malt Shovel. It is a Youngs pub, and our previous experience of these venues have been very positive (such as our Sunday lunch at The Bull's Head Hotel in Chislehurst). Booking was very easy, I just gave them a call and requested a table for 1:30pm.
Driving to the pub wasn't too much of an issue, but their car park has a lot to be desired. Literally 6-8 car parking spaces, thankfully, there was a lot of parking space available on one of the roads close by. The outside looked quite shabby, Claire didn't actually want to eat here, I wanted to give it a go though. Walking through a conservatory area, we entered the bar section. It felt very local, with quite a few blokes having a lunch time drink. I mentioned to the lady at the bar about our booking, requested a couple of drinks and was then shown to our table in the conservatory.
It was a nice room, we were opposite a set of double doors that opened to a patio area (I believe there was a covered smoking area too, I didn't explore this part). The decor showed they were a proud pub, with some medals / cups dotted about the place – the bar area was quite dark, but the restaurant / conservatory was nice and bright. A few families were here, so it did seem a popular pub for most people.
After looking at the menus on the table, I wandered back to the bar to order food. A huge selection of meat options available, they were certainly covering all options.  I was pleased to see that cauliflower cheese was also on the menu :-)  Claire wanted the Roast Beef, I once again chose the Roast Lamb.
Food came out around 15-20 minutes late… my, what a huge amount of food! We both had quite large and square plates with lots of meat, yorkshire pudding, roast potatoes, roast parsnips and gravy. We then had a dish with our vegetables and even cauliflower cheese! And, an extra jug of gravy too! This was an amazing amount of food – and all for £8.95!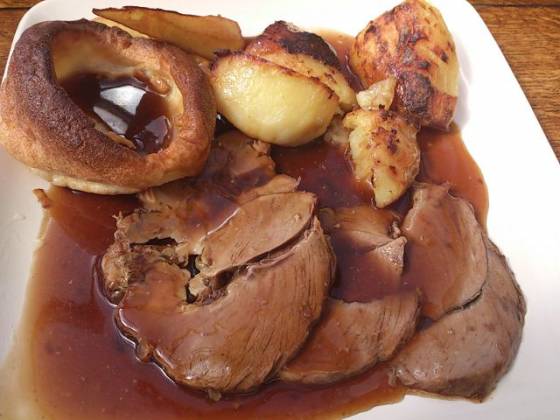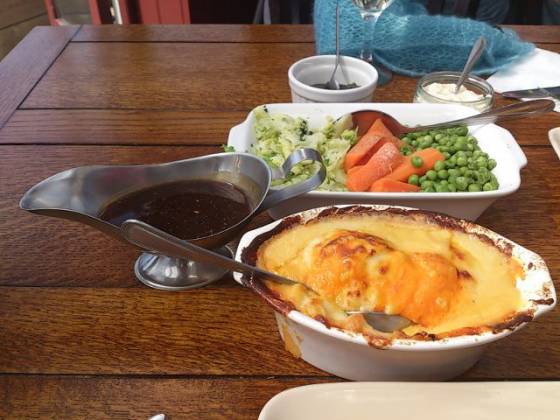 The roast beef was well done, no pinkness – Claire enjoyed it.  My lamb was good too.  The 4 roast potatoes each were really nice, fluffy with a little bit of crisp on the outside.  The vegetables were: carrots, peas, cabbage, roast parsnips and cauliflower cheese.  All very good, especially the cauliflower which seemed to have at least two types of cheeses!
Yorkshire puddings were on each plate (I am a bit of a purist sometimes, and almost wouldn't have minded not having a Yorkshire – I am sure others are not like this though, and they definitely would not get marked down for this!) and tasted fresh.  Lastly, we had extra gravy – which complimented the meal perfectly and didn't overpower the meal.
The Malt Shovel served so much food, I wasn't able to even consider looking at the dessert menu (which were priced between £2.50 for the special up to £3.75).  So, I went to the bar to pay.  Unfortunately, there only seemed to be a couple of people serving, and the bar area was very busy which meant I was waiting a bit longer than necessary to pay the bill.  The bar lady (I believe was the manager) was polite and apologetic which more than made up for the wait.
So, my conclusion.  From the outside, a humble abode.  Get inside to the conservatory, sample the Sunday roast and you will be sure to appreciate a hearty lunch at great value – one of the cheapest places we have ever reviewed (I believe they were the same price as The Grove in Ealing, which served a lot less food).  The service was very much with a smile – whilst the bar area was very much "local", we both felt welcomed.   The roast overall was probably the largest we have ever had, but the star of the meal was the cauliflower cheese.  If they could just brighten up the bar area, then this would get an even higher score.  As it is, Sunday lunch at The Malt Shovel in Dartford scores a very respectable 4 out of 5 plates (Recommended!)
John
Rating:
Share the love of a Sunday lunch!