30 High St, Shoreham, Sevenoaks TN14 7TD
Telephone: 01959 522800
Website: Click Here
Cost for a Sunday lunch: 2 Courses – £20.95; 3 Courses – £24.95; Kids 2 Courses – £10.95;
The Two Brewers in Shoreham, Sevenoaks had been on my list to visit with Claire for a while – she mentioned wanting to pop out for lunch soon, so I booked up a table for 3 of us (Claire, our 4 year old, JW and me).
The village of Shoreham was wonderful, although we were a bit concerned when we parked our car – the car park looked run down and didn't give a very good impression.
We walked around to the front of the pub and all hesitation evaporated when we went through the front door. Met at the bar and shown to the table. Car park a bit off putting but lovely inside. We sat under the stag head. Branches and twigs on the ceiling with pine ones and fairy lights. Very kitsch, done well. Music playing. Different areas had a different feel – we were in the homely one with pretty blinds, the room next to us had a rock picture on the wall and a fish tank.
Drinks
We were brought over some water for the table.  Claire asked for a glass of processco, and we ordered some squash for JW.
Starters
As JW cannot eat gluten wheat or dairy, I ordered some melon and ham for us to share – Claire ordered the Italian cheese and salad.  The serving size was good, JW enjoyed the starter.  Claire's was huge (and nice too!)
Sunday lunch
We ordered a child's roast beef for JW, a lamb for Claire and a mixed beef and pork for me, along with some cauliflower cheese!
Lunch was served fairly promptly, and looked great.  3 roast potatoes, a parsnip, carrots, cabbage, stuffing, Yorkshire pudding and lashings of gravy, alongside two large slices of beef, two slices of pork but unfortunately no crackling (not that it was mentioned).  The meat was sliced thin and very nice, including the lamb.
The Yorkshire pudding, from the outside, looked ready made (Claire's one, not so much) – but it couldn't have been as it had lovely texture inside, along with tasting great.  The roast potatoes were very crispy, and the veg were good.  The cauliflower cheese had a nice flavour, with some burnt cheese underneath :-)  Lastly, delicious and thick gravy.
A great Sunday lunch.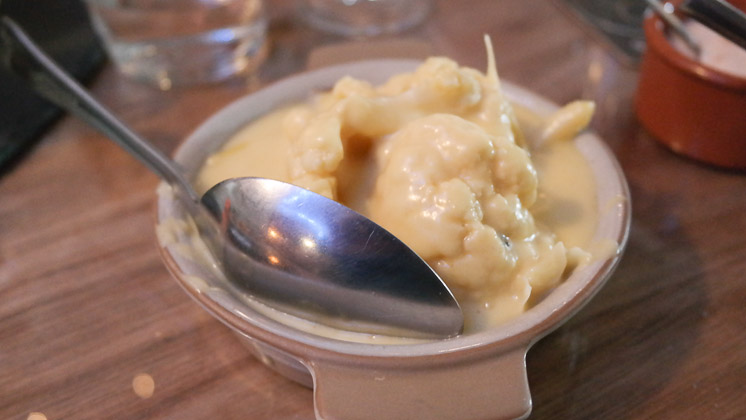 Dessert
We ordered a lemon and blackcurrant sorbet for JW (gluten, wheat and dairy free), along with a lemon and gingernut cheesecake for me.  This was perhaps the best cheesecake I have had for a while – lovely fruit on top with coulis, and a fresh tasting cheesecake – yum!  JW really enjoyed his sorbet!  Claire commented about the crockery ;-)
Children's Facilities
The staff were very good with JW, and we were able to get a small roast for him.  This wouldn't be a place to take lots of noisy children, it seemed far too civilised and for an older crowd – if your kids need some running around space, there would be better places.  We loved it here though, lots of fun things for JW to look at in the restaurant.
Conclusion
As mentioned, the service was very friendly and welcoming.  The venue was fun with lots of things to look at on the walls – perhaps a little dark in places, but they had lots of window seats if you required more lighting.  The food was really good, I really enjoyed my Sunday lunch and also the gingernut cheesecake.  JW and Claire both enjoyed their meals too.  The pricing was reasonable too, at £25 for 3 courses (£11 for kids 2 course meal).
A Top Rated Sunday lunch – don't let the car park put you off.  A Sunday lunch for families with well behaved children as well as couples and lunch with friends.
John
Rating:
Share the love of a Sunday lunch!