105 Main Rd, Sundridge, Sevenoaks, Kent TN14 6EQ
Telephone: 01959 562 837
Website: Click Here
Cost for a Sunday Roast: Two Courses inc Roast Beef or Roast Chicken – £14.99
John and I were meeting his Grandparents for lunch, and wanted to go to a specific area, so found The White Horse online. Admittedly it was his second choice as the first one was fully booked for the time we wanted to eat, but The White Horse seemed to have a few good reviews so he booked a table.
As we pulled into the car park there were plenty of parking spaces, although we did notice the disabled parking spaces were the furthest back, which seems a bit odd; if someone's disabled surely they should be closer to the building? Anyway, probably being a bit picky here and I'm sure they're not the only ones like this, but it's something we noticed.
Walking into the pub, we found ourselves right next to the bar. There were two people serving a couple of people at the bar. It wasn't overly busy, and we were told we'd be seen to in a minute. A few minutes later, someone else behind the bar told us we'd be served in a minute. It took quite a few minutes more for us to be shown to our table.
We were seated in the middle of the "restaurant" area, which was a little dark, but it was a nice enough place to sit. We were then handed a menu that was a double-sided piece of paper. On one side was the normal menu, and the back was the Sunday lunch menu. The Sunday lunch menu contained a choice of starters, either roast beef or half a roast chicken for mains, and a selection of desserts. Two courses were priced at £14.99, and three courses at £19.99. After studying the menu, three roast beef's and one roast chicken were ordered.
When the plates arrived they looked good, but I wish I'd ordered the beef at this point! It was slightly pink and seemed to be a good-sized portion. The chicken looked good too, although rather large (but then I guess half a chicken is pretty big!). I do think that it would be much nicer to be served a supreme or breast of chicken rather than half a bird. It's nice to get a generous amount but can be quite difficult to eat as it's not so easy to pull meat off the bone politely and you never get it all from the bone. All four meals came with a Yorkshire pudding, roast potatoes, broccoli, sliced carrots and red cabbage plus gravy.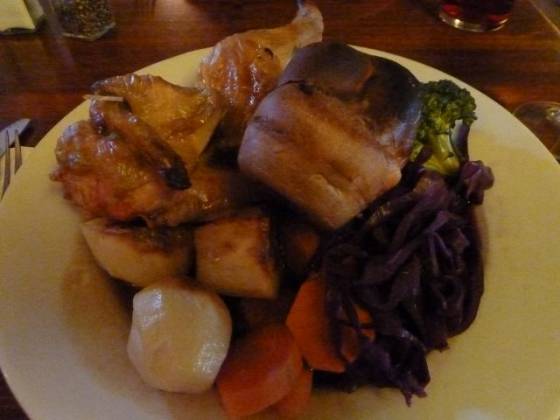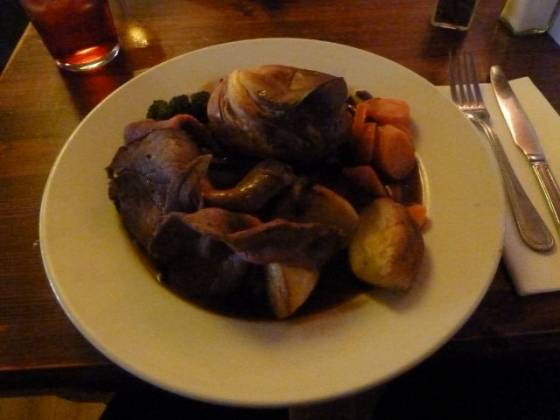 The first thing I put my fork into was the potatoes, and I was disappointed that it was really hard. The other two potatoes seemed to be fine, but it didn't make a good impression. The other potatoes were fairly standard, nice enough but not amazing. The vegetables were again okay, the one large broccoli floret I had was far too hard for me to eat, and the carrots were slightly watery but nice enough. I really enjoyed the red cabbage though; it was a little crunchy and not overly sweet. The chicken was nice, it could have done with some herbs or seasoning, but there was so much there I couldn't eat it all. And I'm afraid to say I didn't enjoy my Yorkshire pudding and so didn't eat it, but everyone else seemed to eat theirs. It seems the people with beef enjoyed their meals much more than I did and all commented on what a nice, large portion they had. I was probably a bit unlucky to have a hard potato, although John's Granddad agreed that his vegetables were a bit too al dente. It was a little embarrassing when the plates were cleared as mine was still half full.
We then decided to order desserts (as if we wouldn't!). John's Grandparents ordered crumble (apple and berry), while John ordered sticky toffee pudding and I had the cheeseboard.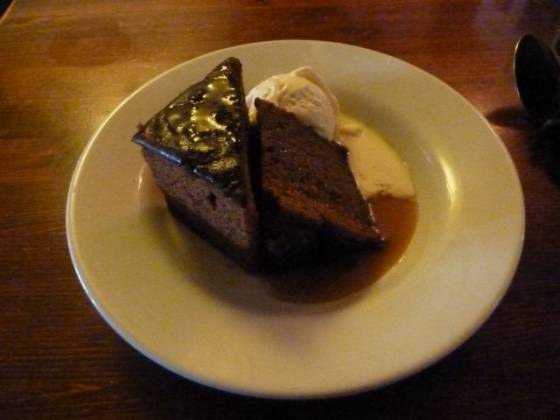 I was impressed with my cheeseboard and this was the highlight of my meal, the presentation was good with large wedges of cheese although not much of a selection – and there wasn't any fruit to go with it even though it was advertised (it actually came with a salad garnish!). John's Grandparents' desserts didn't seem as impressive; his Granny found a whole cinnamon stick in hers and his Granddad found a large piece of fruit that looked like it contained a stone (they were far too polite to grumble about it though). We also ordered teas and coffees but they failed to show up. We eventually had to cancel the drinks as we wanted to leave.
I also would like to note than when I went to the loo, I discovered there to be no hand soap which wasn't pleasant.
To conclude, I think the pub could improve a couple of areas. The vegetables and potatoes could have done with a bit more cooking, but the meat (especially the beef) was good and a generous portion. The venue and the staff were nice enough though not overly attentive (our drinks were forgotten). The lack of soap in the ladies loos was off-putting, but this may just have been an off day for them. Our reviews are very much subjective, but I wasn't overly sure how to mark this pub so looked to John for help with this one. John enjoyed his meal much more than I enjoyed mine so I wasn't sure it was fair to mark them too low, so we decided three plates would be fair.
Claire
Rating:
Share the love of a Sunday lunch!