Stone Street Road, Seal, Sevenoaks TN15 0LT
Telephone: 01732 810 233
Website: Click Here
Cost for a Sunday lunch: Roast Beef – £14.50 ; Mixed Roast Lamb and Beef – £18.50 ; Children's Roast – £7.25
I had booked The Snail previously, but had to cancel at the last minute – a friend mentioned visiting with family and enjoying it, so I took the opportunity to try again.
Reservations
Very easy to reserve, I used the Opentable app and booked for the next day at 1230.
Venue
There was a large car park next to the pub, so we were able to find space. There was a large garden with a lot of children activities and play area (climbing frames, slides, swings and even two football goals – football's available for a £5 deposit). Already better for kids than the vast majority of venues we have visited.
The Snail was an old country inn with a fine dining restaurant. We were met at the entrance and asked whether we would like to eat in the restaurant, the pub or outside. I chose the restaurant – I wanted to experience the table service.
The restaurant had exposed beams and brick work, the tables already laid with linen napkins. We were given menus, and the waitress brought over a colouring book and pencils for JW (our 19 month old son).
Drinks
Claire ordered a Chapel Down rose wine, I asked for a Curious Brew (again made by Chapel Down in Tenterden, Kent). Water was also brought over to the table.
Sunday lunch
We decided to skip starters and go straight to Sunday lunch. We ordered a child's portion of roast lamb for JW, Claire ordered the roast beef (cooked medium-well); as they offered a "mixed meat" for £4.00 extra, I ordered lamb and beef.
Lunch came out fairly quickly. I had two thick slices each of lamb and beef, 3 roast potatoes, parsnips, carrots, broccoli, mange tout, cauliflower, leak, a Yorkshire pudding and stuffing. This was then covered with gravy – as it was gluten free, JW could have some too! Claire had a large and a small slice of beef, along with the same selection of vegetables etc. JW's roast consisted of two small slices of roast lamb, two potatoes and a mix of veg. The gravy was gluten free, so JW also had some of this too.
The meat was so tender and succulent, especially the beef which had been seared on the outside and cooked medium / rare – absolutely delicious. The roast potatoes were nice, not overly crispy but had a good texture and seasoning. The vegetables were cooked exactly to my liking, slightly al dente. The muffin-style Yorkshire pudding was very good too. The stuffing was very meaty-tasting, extremely nice. Lastly, the gravy – it had a really good depth of flavour to it.
Overall, an excellent Sunday lunch. Now, bring on the dessert ;-)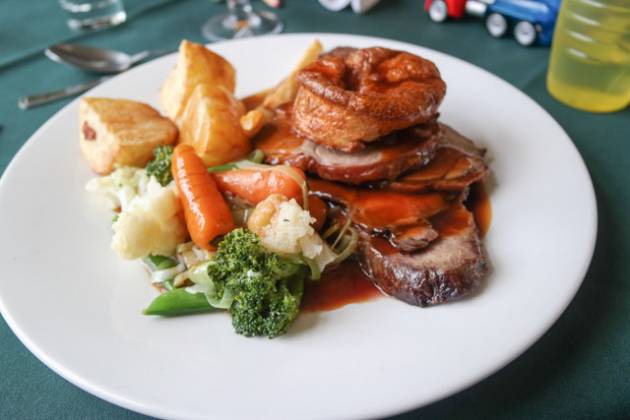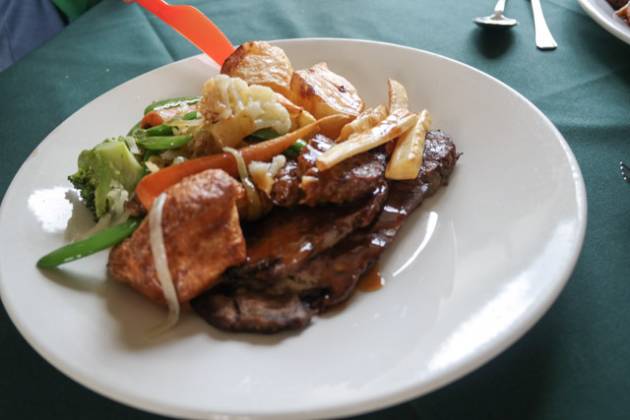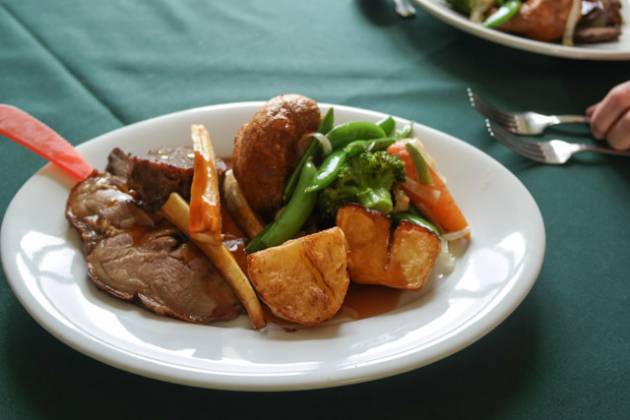 Desserts
I ordered the chocolate fondant, Claire asked for the fruit and brandy snap. For JW, I asked if they could serve him a small fruit salad, perhaps with a little scoop of sorbet – no problem at all!
Our desserts were fairly quick out, considering they had to cook the chocolate fondant. We were really pleased with JW's dessert – lots of berries for him to eat! Claire enjoyed the berry and brandy snap, along with the cream. My fondant was excellent – hot and gooey!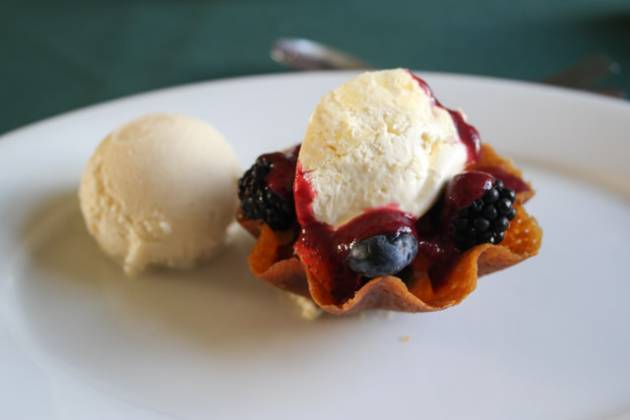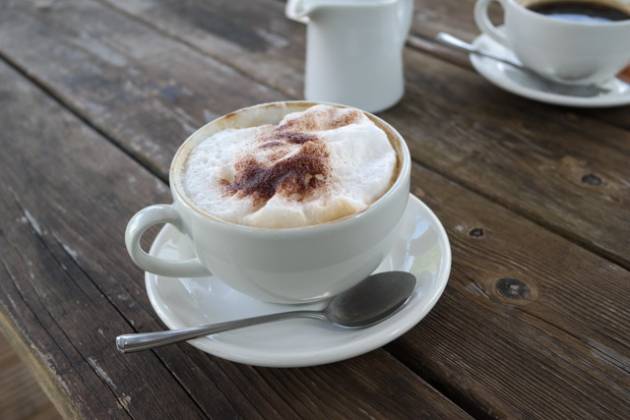 Children's facilities
The Snail had some of the best children's facilities we have seen. The very large garden area was great for him to run around in – he loved climbing on the pirate ship and going down the slide. As mentioned previously, they also had two goals set up along with some rope swings. They were really welcoming with JW – we thought it was just the initial waitress who was good with him, but all the others were kind and attentive too! So refreshing, and put a smile on all our faces.
The children's menu was great – essentially, along with the usual options (x and chips), they would also provide half sizes of the adult menu (for half the price). This suited us perfectly, as JW could have a small roast dinner. Also, they had baby changing facilities in the ladies toilet.
Conclusion
I had quite high expectations of The Snail after the recommendation I received – and they exceeded them! The service was some of the best we've had. The old country inn was very pleasant, and I liked the restaurant. The garden was excellent, a great area for children to let off steam. The food was really good, the lamb and beef were extremely tender. They even got the drink selection perfect, with local Chapel Down wine and beer!
I have nothing negative to say about The Snail, they deservedly receive a Top Rated Sunday lunch award from us. Pretty much suitable for everyone, including families and groups.
John
Rating:
Share the love of a Sunday lunch!