60 High St, Rochester ME1 1JY
Telephone: 01634 845270
Website: Click Here
Cost for a Sunday lunch: Two Courses – £19.50; Kids Roast Lab – £8.00;
Sunday lunch at Topes has been on my radar for a while – in fact, we have had two failed attempts in visiting (all our side – first time I booked the wrong Sunday(!), and the other JW, our toddler, was ill). So, when we had a spare Sunday, I made sure we visited Topes. Easy to book, I actually requested a table through their online system, including information that our toddler needed a gluten, wheat and dairy free menu.
Topes is situated on the High Street, essentially backing on to the Cathedral. There were some seating areas outside, one with views of Rochester Castle. Inside, quite an opulent venue, with Tudor beans, white walls with landscape photography and chandlers. The table was laid out, with linen napkins; music via speakers were playing n the background.
Drinks
I ordered a pint of Curious Brew (made by a Kentish brewery / vineyard in Tenterden). Claire asked for an elderflower spritz. We also had a carafe of table water.
Sunday lunch
We skipped starters (JW was getting restless), so went straight to the Sunday lunch. Claire ordered a roast lamb for herself, and a smaller one for JW. I asked for the roast beef. Before lunch was served, the waitress brought over horseradish and mint sauce, in preparation.
A large plate of food was served, along with side dishes of vegetables and cauliflower cheese (my favourite!)  Mine consisted of two thick slices of beef, two roast potatoes, cabbage and Yorkshire pudding. We also had a few jugs of jus (gravy), one each.
The beef and lamb were served pink and tender. Claire had a nice chutney which complimented the lamb well.
The roast potatoes had some wonderful seasoning, being crispy and quite delicious!
With regards the vegetables, we had carrots, roasted beetroot, swede, green beans and onions. Oh, and as mentioned, who could forget the delicious (and very cheesy) cauliflower! The vegetables were nice, but I would have preferred no beetroot or swede.
Lastly, the Yorkshire pudding was crispy, tasting fresh and good!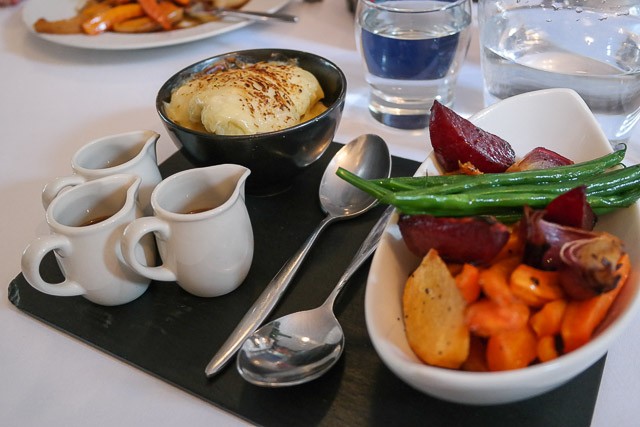 Desserts
We ordered a chocolate sorbet for JW (assured it was dairy, wheat and gluten free), some cheeses for Claire and a blueberry bakewell tart with blueberry ice cream for me.
JW enjoyed the sorbet, not sure I have seen him quite so happy with something like that before. Claire had a nice selection of cheese, quite a lot there and meant she wasn't able to eat all of them. I loved the bakewell with the delicious blueberry ice cream.
Children's facilities
We were not made to feel unwelcome with JW, although there were only one other family at Topes (the rest were either couples or older people). We didn't need to use any baby changing facilities. The high chair was clean and sturdy, although it was a bit of squeeze on our table. The roast for JW was good quality, and it was nice they could offer this (rather than the usual sausage and chips etc).
Conclusion
A nice Sunday lunch at Topes in Rochester, I am pleased we managed to finally get a booking. The food quality seemed very high, as was the presentation. There was a bit of inventiveness with the roast lamb having chutney, along with the blueberry ice cream. The roast potatoes were good, as was the delicious cauliflower cheese. The service was attentive, we were well looked after throughout. To be honest, apart from a slight change with vegetables, there wasn't anything I would like to be negative about our visit…
So, with that in mind – Sunday lunch at Topes in Rochester scores a Top Rated. Suitable for all, from a casual lunch right through to a celebration with family.
John
Rating:
Share the love of a Sunday lunch!