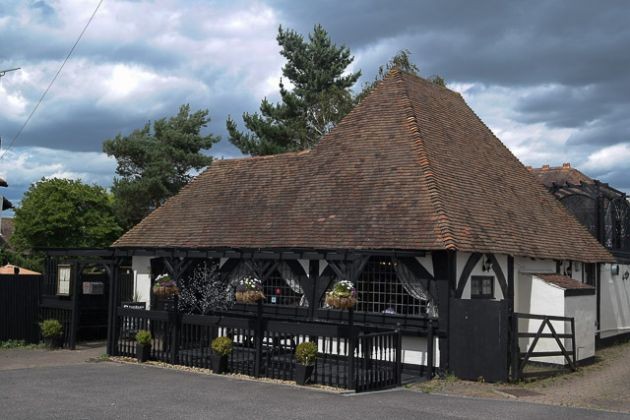 507 Lower Rainham Rd, Rainham, Gillingham ME8 7TN
Telephone: 01634 361363
Website: Click Here
Cost for a Sunday lunch: 2 Courses – £21; 3 Courses – £25; Kids 3 Courses – £12
I had seen The Barn Restaurant on the Gourmet Society Card website (see here for Gourmet Society deals), so it had been on my radar for a little while now. When we had a spare weekend, I decided to give it a go. Booking was simple,I gave them a call and arranged for the following weekend.
Be careful when driving, you'll probably miss it the first time around, and drive into The Three Mariners car park! It's right next door, but a bit hairy to get back to The Barn. The first impressions were quite negative – the car park wasn't properly tarmaced, a child's bike lay outside the house which much have backed on to the restaurant. Around the front, there was a small outside seating area – we were met immediately upon entering the venue and shown straight to our table, which was laid out with linen napkins and comfy chairs. Tudor style beams across the ceiling. An oppulant style to the restaurant, with lots of mirrors dotted around to give a spacious feel to the room.
Drinks
Claire and I both ordered two diet cokes.
Starter
We decided to order a 3 course meal (brave, being that we have a toddler that'll need attention throughout). Claire ordered the prawn and lobster cocktail. I asked for the pea and ham soup. We also ordered JW a small cured meat (he's dairy, wheat and gluten free unfortunately).
We had 4 types of bread brought out to nibble on whilst waiting – with rolls of butter! They were delicious, and consisted of walnut, rosemary focaccia, cheese and lastly granary.
The starters were brought out fairly quickly – Claire really enjoyed the lobster and prawn cocktail. JW had the cured meat, with also hummus (which he loves), pickled onions and olives. The star was my pea and ham soup though – it was presented in a jug, and then poured over the halved quail egg (with a slightly running yolk) and ham. Dipping the croque monsieur was really nice! An excellent starter indeed.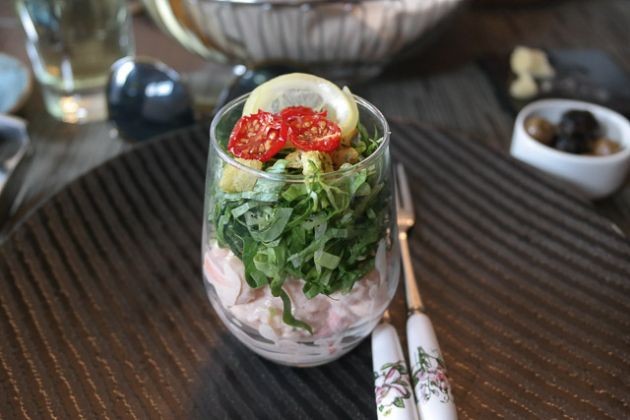 Sunday lunch
Claire ordered the lamb for her and JW the roast chicken, I asked for the roast beef. I was served 5 thin slices of pink beef on top of shredded cabbage. There was 3 roasted potatoes, mashed potato, carrots and also cauliflower cheese in a tiny saucepan. The beef was delicious, and the roast potatoes were crispy with good flavour. The mash had some mustard seeds, and the cabbage was actually creamed. I tried Claire's lamb, it was very tender with a wonderful garlic flavour.
An excellent Sunday lunch.
Desserts
Claire declined a dessert (so instead had a 2 course rather than 3). As the starter and main was so nice, I had to order something – and went with the treacle target with ginger stem ice cream and orange. The waitress confirmed that all the sorbets were free of wheat and gluten (everything being made on site by the chef), and she even brought out some strawberry soya ice cream! My treacle target and ginger stem ice cream was absolutely delicious, and it was really nice that JW could join in with ice cream (rather than the usual fruit salad).
We were also served some petit fours with our coffees – a nice touch.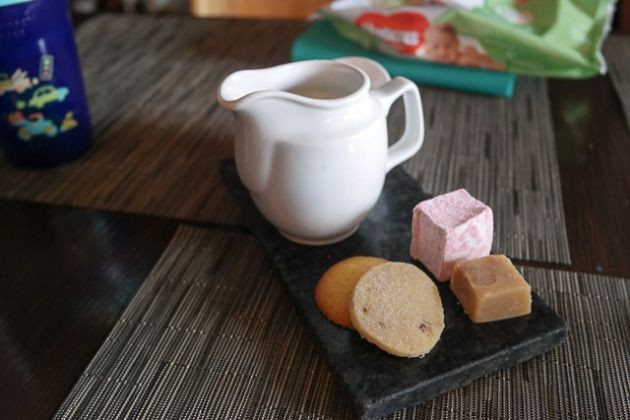 Children's facilities
We didn't need to use any baby changing facilities this time around so couldn't say whether there was any available. The high chair for JW was in good repair though, and the waitress was very friendly towards him. Food-wise, they were accommodating with a menu for a toddler / child – so one for well behaved children.
Conclusion
I am incredibly surprised with our visit to The Barn. I had lived in Medway for a few years previously, and have a few friends and family in the area – I hadn't ever heard of The Barn from any of them (and I checked!). The outside was very unassuming – to the point of being off-putting, but please step through the doors and you'll be met with a friendly face, a good looking venue and excellent food, both in presentation as well as quality. The waitress was friendly and helpful – we really appreciated how accommodating (and prepared!) they were with JW's dietary requirements. An excellent Sunday lunch – worth the travel to visit and suitable for catch up with friends as well as celebrations.
John
Rating:
Share the love of a Sunday lunch!