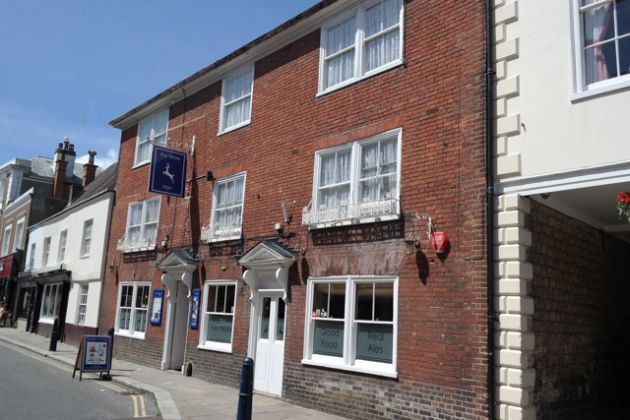 71 High St, Hythe, Kent CT21 5AJ
Telephone: 01303 238304
Website: Click Here
Cost for a Sunday lunch: Roast Beef or Lamb – £11.00; starters ranging from £5.00 upwards
Cost for drinks: Fosters – £3.60; Bottled Water – £1.30; Guest Ales – £3.00
We were staying in Castle Lymne Cottages (through an offer on Groupon) with some friends.  As I am not one to pass up the opportunity for a Sunday lunch, I had a look around the area online.  Hythe was close-by and, after a bit of investigating, The White Hart seemed to be a good choice.
Reservations
Reserving a table was easy, I gave them a call to book a table for 4 adults and 2 babies, and we were all set for Sunday lunch at 12:15.
Venue
The White Hart was situated on Hythe High Street.  We weren't sure where to park, so ended up parking in a side street about 5 minutes walk from the venue.  There was a paid car park near-by, but I was feeling in a money-saving mood and didn't want to pay ;-)
The outside of the venue looked quite promising and this continued upon entering.  A bar area on our right, with some tables and seating on the left.  The restaurant was actually at the back – it was probably one of the sunniest days of the year, but the restaurant felt very dark indeed.  A shame really, we were able to move but we decided to stay where we were due to the hassle of moving everything.
They had Tudor beams, with white walls, and the tables were laid out with linen napkins.  A large fireplace was behind us (not lit), with hops hanging from various places.
Drinks
Phil and I ordered a couple of the guest ales initially, then a Fosters each.  A couple of bottles of water were bought for the table.
Starters
We ordered between us: pate, bruschetta, tiger prawns and the anti-pasta (cured meat platter).  The pate was quite nice, and I believe Phil (our friend) was pleased with the tiger prawns.  The anti-pasta was a bit of a let down, there wasn't a lot of meat but almost mountains of warm bread (Claire ordered this to share with our son, JW – but as he's on a gluten free diet, it was not really suitable). The bruschetta was huge – they obviously like their bread!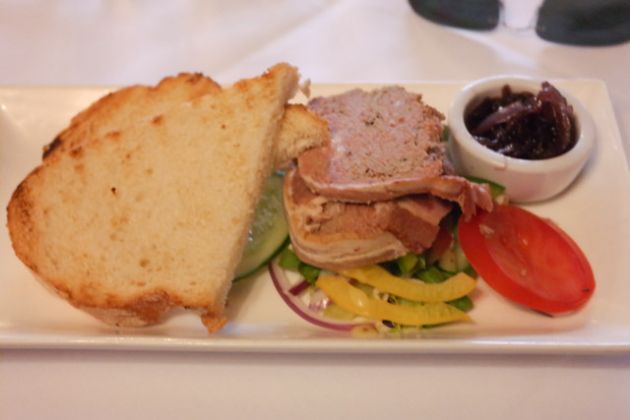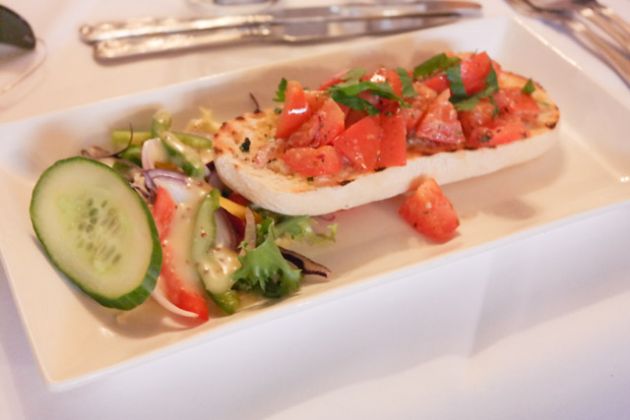 Mains
The waitress took our order for for main course along with the starter.  As we had some "unusual" requirements, these were met with a grumpy attitude (and we over-heard the shout in the kitchen "a complicated one" – I believe this was asking for JW's meal without gravy, after one of us asked for well-done beef).  She did warm up throughout the meal though, so perhaps it was just a difficult morning. Claire and Abi both went for beef, Phil and I ordered roast lamb.
It took quite a while for the food to come out – so the babies were starting to get a bit tetchy.  Out came our plates about half an hour after finishing our starters , with 2 slices of meat, a small yorkshire pudding, 4 roast potatoes, stuffing and gravy.  Also brought out were 4 bowls, 2 per couple: cauliflower cheese, broccoli, cabbage and carrots.
Whilst the presentation needed work, the food was actually really good.  The lamb was tender, the roast potatoes pretty much perfect, and I liked the selection of vegetables (especially the cauliflower cheese!).   The gravy was nice and thick as well.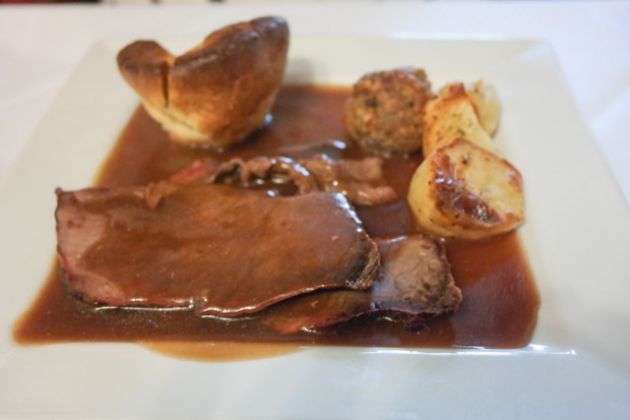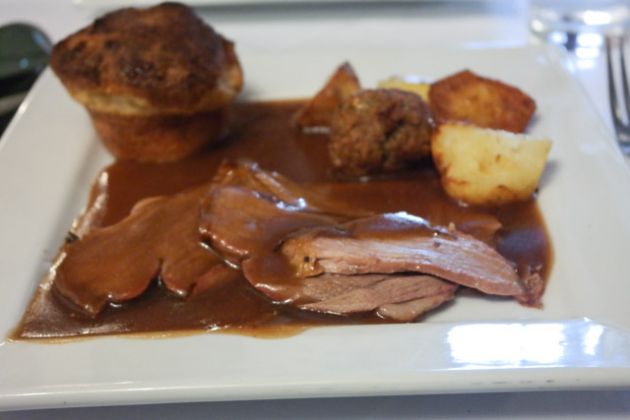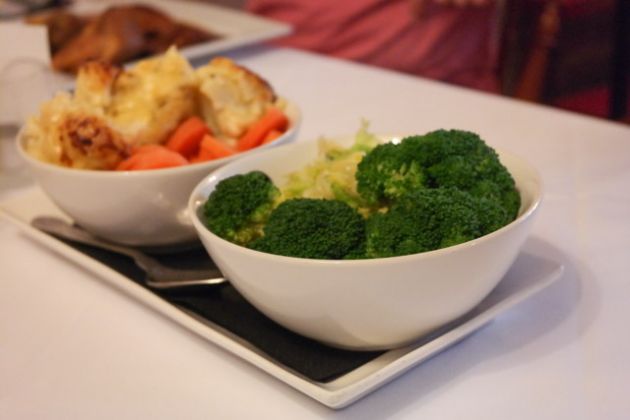 Children's facilities
The children's menu was the usual fish fingers and chips affair, unfortunately no children's roast dinner.  JW shared some of Claire's (she ordered some extra roast potatoes).  The high chairs were clean and in good repair.  They didn't have any changing facilities, but Claire could change JW at the top of some stairs.  So, not completely child friendly, but better than some places we've visited.
Conclusion
The service here was average – initially the waitress was quite difficult, especially with ordering for lunch (don't ask for anything mildly unusual, such as well-done beef), but she did get better during the meal.  The venue was ok, but very dark at the back of the restaurant – a shame as it was bright and sunny outside.  The starters, in my opinion, were quite expensive – £6;50 for liver pate and the tiger prawns were £7.00, being more expensive than some places in London.  The Sunday lunch was nice though, and I really liked the cauliflower cheese along with the roast potatoes.
The White Hart earns an average 3/5 plates.
John
Rating:
Share the love of a Sunday lunch!