Brands Hatch Rd, Fawkham, Kent DA3 8NQ
Telephone: 0845 072 7395
Website: Click Here
Cost for a Sunday lunch: 3 courses – £23.50 (and free use of the swimming pool!)
I knew of Brandshatch Place Hotel previously, having visited briefly when looking at wedding venues; so, when I saw them listed as accepting the Gourmet Society Card and having 2 AA Rosettes, I jumped at the chance to visit for Sunday lunch! Booking over the phone was simple – I checked to make sure I could use the Gourmet Society Card to get 25% off the bill and they called back within 10 minutes to confirm that I could.  It was easy to get to, being just off the A20, with lots of parking spaces outside.
As we got to the bottom of the steps, a lady (I believe she worked on reception) held the door open and then took us through to the plush bar area. It was nice and relaxing with a bar in front of us, mirrors and a door to the lounge as well as the entrance to the restaurant. Whilst waiting for our table, I had found "The Board Room", which was a large room with a table near the front of the building. More on this later… Drinks order was taken (a pint of Carlsberg for me, a soda water for Claire), and we waited for our table to be made ready for us, which took about 10 minutes.
Our table was next to the window (I specifically asked for a window seat – makes it easier to take clear photos) – we were also seated near the entrance to the restaurant. A highchair was set up for us – unfortunately the strap was broken (so unsafe), they immediately changed the highchair. This one's straps were extremely dirty, but at least were not broken. The table was laid out, as one would expect in a fine dining restaurant.
We chose our starters – Claire went for the Pea Soup, I ordered the Duck Rilette. For mains, we both ordered the Roast Beef (Claire asked for Well Done). We also ordered John William his dinner, sausage and mash from the children's menu and asked for it to come out with our starters. Once this was done, John William decided to start making some baby noises – as lunch at Brandshatch Place Hotel was quite a smart affair, I didn't want to impose on other diners and asked if we could move to the Board Room. The waiter was very kind – firstly said that we were not imposing at all on any of the diners, and then made sure all of our cutlery, drinks (and even the correct bread rolls) were taken through and laid out for us. And – "would we like any music?", bringing through a speaker system so we has some ambiance too :-)
Our starters came out quickly – both looked very impressive, especially Claire's pea soup served in a large mug. It had peas, ham and other nice treats along the top.  My duck rilette was superb – creamy and meaty!  The jelly was good and I liked the look of the micro salad (shame I don't eat it!).  The sausage and mash for John William was good – perhaps the gravy and the mash was a bit too salty for a children's menu, but he enjoyed it.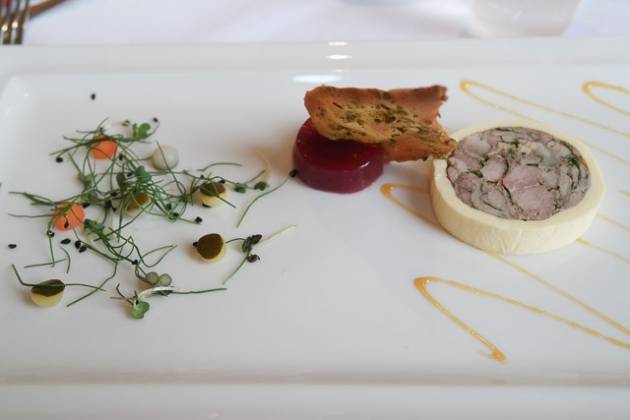 Our main courses were brought out very quickly after our starters (so pleased they were making sure we were looked after in the other room). They had a silver domed lid on each plate to keep the meal hot :-) Our food looked so wonderful. The large, thick slices of roast beef folded over, 3 roast potatoes, a large "muffin" Yorkshire pudding, carrots, green beans and gravy.  Claire's roast beef was cooked to her request, well done.  Both were tender and enjoyable.  The roast potatoes were nice, perhaps not as crispy as we'd like, but enjoyable nonetheless.  The vegetables were cooked perfectly, as was the Yorkshire pudding (such a nice texture and structure inside).  Lastly, the gravy – not too over powering with the seasoning and enough to last the whole meal.  Overall, an excellent Sunday lunch.  On to the pudding!
Claire wanted the Orange Panna Cotta with Chocolate Sorbet, I asked the server if there was anything else he could recommend. He said the panna cotta is what he'll be having later – so, if was good enough for him, it would definitely be good enough for me. Two orange panna cottas with chocolate sorbet please! I also ordered a coffee, to come out with the dessert. As you can see, the dessert looked good. The chocolate sorbet was sweet and "chocolatey" ("shocking that").  In Claire's words: One of my top desserts, definitely!  The panna cotta and sorbet went so well together.  Amazing.  The coffee came out in a peculator, with some petit fours (I didn't take photos of these unfortunately).
So, on to the wrap-up. The food Claire and I had at Brandshatch Place Hotel was superb. Starters were enjoyable, the Sunday lunch excellent and the dessert was to die for. I was a bit concerned that John William's meal was essentially adults food, but a smaller portion (babies under 1 should only have 1g of salt a day) – the mash potato was quiet salty in itself; a lesson learnt for us ordering food for him out. The highchair was a bit crap – please replace the chairs – but not something we can mark down on as we haven't elsewhere. The service was the very best we have ever enjoyed – nothing seemed to be too much trouble, including moving to another room!  Oh, and we received 25% off the whole bill using our Gourmet Society card (and JW's meal was free as he was under 3)!
So, overall, definitely a top rated Sunday lunch.
John
Rating:
Share the love of a Sunday lunch!